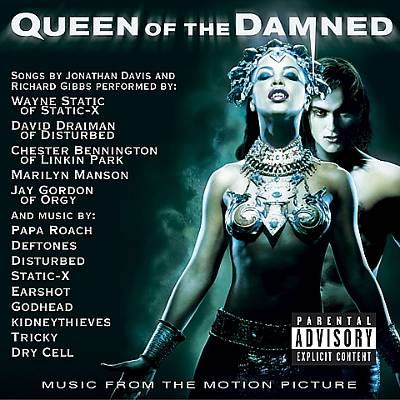 As a prominent representative for troubled, misanthropic youth, American singer/songwriter Jonathan Davis channeled the experiences and emotions of a trauma-filled childhood into his work with '90s nu-metal pioneers Korn before branching out into film score composition for movies like Queen of the Damned (2002), After the Dark (2014), and American Satan (2017), while also experimenting with electronic dance music under the JDevil moniker. As Korn's frontman, Davis transformed his experiences as a social outcast through cathartic lyrics and vocal expressions woven into the Grammy-winning band's combination of hardcore rap stylings and downtuned rhythmic metal, which helped them capture a worldwide audience and sell millions of albums into the 2010s. Davis made his official solo debut in 2018 with Black Labyrinth.
Born Jonathan Howsman Davis in Bakersfield, California in 1971, he endured years of childhood abuse and bullying, later channeling that pain into songs like "Faget," "Kill You," "Daddy," and "Clown." An artist at heart, Davis was a fan of stage shows like Jesus Christ Superstar and new romantic bands like Duran Duran. In honor of his Scottish heritage, he also learned to play the bagpipes (which would become a trademark oddity and fan favorite on future Korn tracks).
While in the band Sex Art, Davis hooked up with the funk metal band L.A.P.D., whose members included James Shaffer, Reginald Arvizu, and David Silveria. With the addition of Brian Welch, the quintet would go on to form Korn in 1993. In addition to his feral scat-singing and intense live performances, Davis often incorporated images of children and innocence twisted with a dark aesthetic. Starting with their self-titled 1994 debut -- home to signature track "Blind" -- Korn issued a dozen albums in two decades, building a sizable international following and solidifying themselves as the one of the most popular acts of the nu metal era, along with Limp Bizkit, Deftones, and Linkin Park.
During this time, Davis would make appearances on tracks by similar acts like Sepultura, Orgy, Deftones, Limp Bizkit, and Linkin Park, while also featuring on songs by rappers like Q-Tip, Tech N9ne, Xzibit, and Bone Thugs-N-Harmony. As Korn's popularity increased, Davis and the band started Elementree Records, a short-lived label that was home to bands like Deadsy, Videodrone, and Orgy. Davis and the band also started the Family Values tour, which brought hard rock, electronic, and hip-hop acts together on the same traveling bill, featuring notable appearances by Rammstein, Dir en Grey, Ice Cube, and Mobb Deep.
With Korn fully established after almost a decade of output, Davis made his first foray outside the band in 2002 as the producer of the Queen of the Damned soundtrack, which featured songs penned by Davis and performed by friends Wayne Static (Static-X), David Draiman (Disturbed), Chester Bennington (Linkin Park), Marilyn Manson, and Jay Gordon (Orgy). Four additional Korn albums were issued before Davis made his solo singing debut in late 2007. Davis and his backing band the SFA ("Simply Fucking Awesome") released Alone I Play that November (months after the release of Untitled (aka Korn II) and Korn's MTV Unplugged set). Alone I Play featured performances of Korn deep cuts, Davis singing the songs written for Queen of the Damned, and covers of New Order's "Blue Monday," Duran Duran's "The Chauffeur," and Neil Diamond's "Love on the Rocks," which had previously appeared on the soundtrack to Wonderland. Live at the Union Chapel -- a live concert version of Alone I Play -- was released in 2011.
After the release of Korn III: Remember Who You Are, Davis began experimenting with electronic music like dubstep, resulting in the tone shift on Korn's tenth LP, The Path of Totality, notable for its collaborations with Skrillex, Datsik, Kill the Noise, and other electronic producers. Davis himself would further delve into the world of EDM as JDevil, his DJ alter ego. JDevil opened Korn's Path of Totality supporting tour and played select club shows into 2012, spinning dubstep, drum'n'bass, and jungle with metal elements. That same year, Davis joined with producer Sluggo (Nick Suddarth) and Tyler Blue to form Killbot, a dubstep-meets-metal outfit that issued the Sound Surgery EP on Dim Mak in late 2012.
After Korn returned to their nu metal roots on 2013's The Paradigm Shift, Davis also set his dubstep alter ego aside to work with Nicholas O'Toole on 2014's score for After the Dark. Korn's twelfth set, The Serenity of Suffering, arrived in 2016, their highest-charting effort since 2010. Following a tour, Davis once again shifted focus to his solo career, releasing the single "What It Is" at the start of 2018. The track was included on his full-length debut, Black Labyrinth, which comprised songs from his SFA era. That year, he embarked on a solo tour in support of the album.