With the exception of Bob Dylan, Joan Baez was the most important artist to rise from the folk music movement that first blossomed in the late 1950s and early '60s. Baez was also the finest and most influential interpretive singer in contemporary folk; blessed with a soprano voice of uncommon clarity, her performances were emotionally compelling without resorting to histrionics. Early on, she recorded striking renditions of classic folk standards, as on her 1960 debut album Joan Baez, while later she would help popularize the work of songwriters such as Bob Dylan, Phil Ochs, and Richard Fariña; songs by all three appeared on 1964's Joan Baez 5. Her early recordings were austere acoustic sessions, but in time she would learn to work effectively with a band, as well as adding her own songs to her repertoire, and the title track to 1975's Diamonds & Rust, a biographical recollection of her relationship with Dylan, would prove to be one of her most enduring hits. Baez would become nearly as well-known for her political activism as her music, lending her talent and media profile to a long list of progressive causes from the early stages of her career to her farewell concert tour in 2019. And while Baez is best remembered by many for her work in the '60s, she continued to release strong and committed music well into the 21st century, including albums like 2003's Dark Chords on a Big Guitar, 2008's Day After Tomorrow, and 2018's Whistle Down the Wind.
Joan Baez was born on January 9, 1941 in Staten Island, New York. Her father, Albert Baez, was born in Mexico, and his dad was a Methodist minister who preached in both Spanish and English to congregations in Brooklyn, New York. Her mother, Joan Chandos Baez (known in the household as "Big Joan") was also the child of a man of the cloth, in her case an English Anglican priest. Joan was the second of three children born to the couple, and her siblings Pauline Marden (aka Pauline Thalia Baez Bryan) and Mimi Fariña (aka Margarita Mimi Baez Fariña) would also earn recognition as musicians and activists. The Baez family converted to the Quaker religion when Joan was a child, and the faith's emphasis on non-violence and progressive activism would have a strong impact on her thinking. When she was ten years old, the family relocated to California, and at 13 she was introduced to folk music when an aunt took her to see Pete Seeger in concert. In 1956, after learning to play rhythm & blues songs she heard on the radio on a ukulele, she bought her first guitar. The following year, her activism took root as she engaged in civil disobedience for the first time, refusing to take part in an evacuation of her school during an air raid drill.
In 1958, after completing high school, Baez recorded an album-length demo tape, with her vocals accompanied by her acoustic guitar. No record labels were interested at the time, but it focused her interest in making music a part of her life. Later that year, her family relocated to Belmont, Massachusetts after Albert accepted a teaching position at the Massachusetts Institute of Technology. Baez began investigating the burgeoning folk music scene in Boston and Cambridge and enrolled at Boston University, but she soon dropped out as her passion for music overwhelmed her interest in academics. By 1959, Baez was performing regularly at Cambridge's most celebrated folk venue, Club 47, and she began sharing stages with Bill Wood, a folk singer who also hosted a radio show on Harvard's radio station WHRB-FM. Baez, Wood, and Ted Alevizos cut a joint album, Folksingers 'Round Harvard Square, which was issued by a small local label, marking her first appearance on record. After landing a gig at the Chicago folk club the Gate of Horn, Baez impressed fellow performers Bob Gibson and Odetta, and when Gibson performed at the Newport Folk Festival that summer, he brought her to the stage to duet on two songs, "Virgin Mary Had One Son" and "We Are Crossing Jordan River." The audience and fellow artists were wowed by Baez's vocals, and she was singled out in reviews of Gibson's set.
On the strength of her Newport performance, Baez signed a recording contract with the Vanguard Recording Society, a label that had a strong reputation among folk and classical listeners. Fred Hellerman of the Weavers produced her debut album, Joan Baez, which was issued in 1960. By the time it appeared in stores, she'd been invited to perform at the 1960 Newport Folk Festival as a solo act, and in November she made her first concert appearance in New York City at the 92nd Street YMCA. Her debut album was a commercial and critical success, and a second LP, Joan Baez, Vol. 2, was issued by Vanguard in 1961. She also met Bob Dylan that year when he opened for John Lee Hooker at New York's Folk City. Baez became an early champion of Dylan's songwriting, and the two would have an on-and-off romantic relationship that came to an end in 1965.
Baez began touring extensively, and insisted that she would refuse to appear before segregated audiences as the Civil Right movement was on the rise. In 1962, she brought out her first live album, Joan Baez in Concert, Pt. 1 (which included a number of international folk tunes and featured her singing in Spanish and Portuguese as well as in English), and her status as the leading star of the folk music community was confirmed when she was the subject of a cover story in Time Magazine's November 23, 1962 issue. The live album earned her a Grammy nomination, she headlined 1963's Newport Folk Festival, and she toured the country with Bob Dylan as her opening act. That year, she also took part in the historic March on Washington for Civil Rights, and joined the boycott of the television series Hootenanny, which had blacklisted performers with a history of leftist views, in particular Pete Seeger. Before 1963 was out, she'd delivered her follow-up to the live LP, Joan Baez in Concert, Pt. 2, and her success received a different kind of confirmation when a bootleg reissue of Folksingers 'Round Harvard Square began to circulate, as well as an unauthorized edition of her 1958 demo album under the title Joan Baez in San Francisco.
1964's Joan Baez 5 saw her interpreting the work of contemporary songwriters like Dylan and Phil Ochs as well as traditional material, and her version of Ochs' "There But for Fortune" became a minor hit in the United States and reached the Top Ten in England. Her U.K. success dovetailed with the arrival of the Beatles in the United States and the subsequent British Invasion took much of the focus off the folk movement. Baez would respond with 1965's Farewell, Angelina, that not only featured a number of songs penned by Dylan, but was her first project recorded with a backing band. She would also work on a collection of contemporary pop/rock songs with singer, songwriter, and novelist Richard Fariña (the husband of her sister Mimi) as producer, though the album would never be completed after Fariña's death in a motorcycle accident in 1966. Composer and arranger Peter Schickele (who later gained fame as the man who "discovered" the work of forgotten classical composer P.D.Q. Bach) would collaborate with Baez on her next three albums -- the 1966 seasonal effort Noel, the 1967 folk-rock-influenced Joan, and 1968's Baptism, an ambitious experiment in fusing music and poetry.
For 1968's Any Day Now, a two-LP set devoted entirely to Dylan songs, Baez traveled to Nashville, where she recorded with many of the same players who appeared on Dylan's Blonde on Blonde. Its release coincided with the publication of her first book, a memoir titled Daybreak. In 1969, she went back to Nashville to cut David's Album, a country-influenced collection dedicated to her then-husband David Harris, who was serving time on draft resistance charges. Baez also took the opportunity to speak about her husband's cause when she performed before the biggest audience of her life at 1969's Woodstock Music and Art Fair. 1970's One Day at a Time was another country-influenced project that featured Baez covering Willie Nelson on the title track long before his commercial breakthrough later in the decade. 1971's Blessed Are … was an epic-scale release spread across two LPs and a bonus 7" single. It featured a major hit single in her cover of the Band's "The Night They Drove Old Dixie Down," and found Baez devoting more room for her own songwriting, with eight of the 22 tracks from her pen. 1971's Carry It On was the soundtrack to a documentary film about Baez and Harris' work in the draft-resistance movement, featuring both music and spoken word pieces. (Baez would also contribute a song to the soundtrack of the Italian drama Sacco and Vanzetti, and her performance at the Big Sur Folk Festival became part of the concert film Celebration at Big Sur.) Carry It On was also her last album for Vanguard.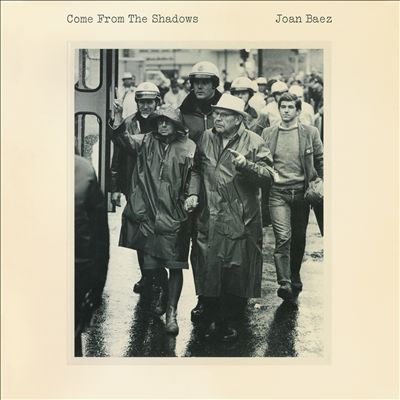 Baez signed a new record deal with A&M Records, and her first album for the label, 1972's Come from the Shadows, fused her interest in country sounds with her impulses as an activist. She also stepped into the producer's chair for the first time, managing the sessions for Jeffrey Shurtleff's album State Farm. In December 1972, Baez was invited to travel to Hanoi as part of an activist charity that was distributing gifts and letters to American Prisoners of War. During her time in Hanoi, the city was subjected to massive bombing raids by U.S. forces, and her experience formed the basis of her next LP, 1973's Where Are You Now, My Son? While Baez had recorded numerous songs in Spanish over the years, 1974's Gracias a la Vida marked the first time she recorded a full album en español. She worked with producer David Kershenbaum and engineer Henry Lewy for her next project, along with a number of respected session musicians who had regularly worked with Joni Mitchell. The result was one of her most accessible albums, Diamonds & Rust, which peaked at number 11 on the U.S. album charts, while the title track (a meditation on the collapse of her relationship with Dylan) was a hit single that became her best-known original composition.
Baez toured heavily in support of Diamonds & Rust, and the Los Angeles and Philadelphia dates were recorded for the 1975 set From Every Stage, a live album whose set list spanned her career to date. She also became part of Dylan's Rolling Thunder Revue tour, which barnstormed the country for much of 1975. (Footage of her appearances in the Rolling Thunder shows appeared in Dylan's 1978 film Renaldo & Clara.) 1976's Gulf Winds was her first album composed entirely of her own original songs. It was her last album under her deal with A&M, and she signed with CBS's Portrait imprint for 1977's Blowin' Away, an especially polished effort which included the witty "Time Rag," depicting an unfortunate encounter with a magazine reporter. Two years later, she issued Honest Lullaby, which was her second and last album for Portrait, and her next album, 1980's Live in Concert: European Tour, was initially released only in Europe and Latin America. The following year, she took part in a fact-finding project in Latin America that coincided with a concert tour; a documentary about her journey, There But for Fortune: Joan Baez in Latin America, aired on PBS in 1982. She continued to perform regularly and devoted much of her time to progressive causes, and she was part of the lineup for the 1985 benefit concert event Live Aid.
In 1987, Baez brought out her first new album in eight years, a powerful collection of contemporary covers and originals titled Recently, which was released by Gold Mountain Entertainment. It was the same year that she published her autobiography, And a Voice to Sing With, which became a New York Times bestseller. 1989 brought two albums from Baez, Diamonds & Rust in the Bullring (recorded during a performance in Bilbao, Spain) and Speaking of Dreams (which included appearances from Paul Simon, Jackson Browne, and the Gipsy Kings). The 1991 compilation Brothers in Arms closed out her relationship with Gold Mountain, and the following year, she delivered Play Me Backwards, released by Virgin Records. In April 1995, Baez staged a series of shows at New York City's renowned Bottom Line club, where she was joined on-stage by a number of friends and admirers, including Mary Chapin Carpenter, the Indigo Girls, Janis Ian, and Dar Williams. Highlights from the shows were featured on the 1995 live disc Ring Them Bells.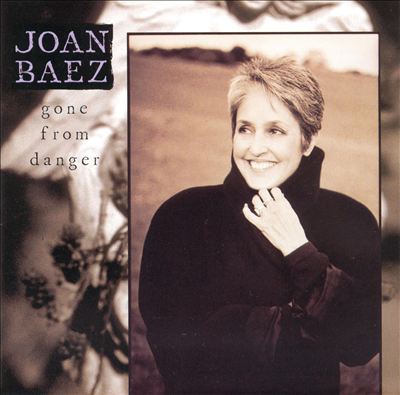 As Baez found it harder to write new songs, she focused on interpreting the work of current songwriters that she admired, and 1997's Gone from Danger would include only one new composition, "Lily," a poem she'd penned set to music by Wally Wilson and Kenny Greenberg. Teatro ZinZanni, a San Francisco performance troupe that incorporates theater, comedy, music, and performance art, invited Baez to join their show, and in 2001 she appeared in the role of "La Contessa," and she would return to ZinZanni several times in the next ten years. Her next studio release was 2003's Dark Chords on a Big Guitar, which concluded with a cover of Steve Earle's "Christmas in Washington." Earle enjoyed her interpretation so much that he produced her next album, 2008's Day After Tomorrow. Earle penned three of the ten songs; other writers included Elvis Costello, Tom Waits, and Eliza Gilkyson. In between the two albums came another live release, 2005's Bowery Songs, which documented an appearance at New York's Bowery Ballroom.
The National Academy of Recording Arts and Sciences presented Baez with their Lifetime Achievement Award at the 2007 Grammy Awards, and she devoted the next nine years to touring, benefit performances, and activism. In 2016, Baez celebrated her 75th birthday with a special concert at the Beacon Theatre in New York. Joined by an all-star cast of musicians, including Emmylou Harris, Judy Collins, Richard Thompson, and Jackson Browne, the show was captured for posterity and issued a few months later as 75th Birthday Celebration. Baez was inducted into the Rock & Roll Hall of Fame in 2017, and she went into the studio with producer Joe Henry to begin work on an album that same year. Whistle Down the Wind was released in March 2018, and was followed by a concert tour that Baez declared would be her last. Though she had retired from music, her recorded legacy continued to interest music fans, and 2020's Timeless Classic Albums (a budget-priced box set featuring her first five Vanguard albums), 2021's Essential Works 1959-1962 (featuring highlights from Folksingers 'Round Harvard Square and her first two Vanguard LPs), and Early Years: The First Albums 1959-1961 (an expanded version of Essential Works 1959-1962) confirmed she would still command the respect of listeners for many years to come.