Guitarist, singer, and songwriter Jerry Garcia was best known as a founding member of the Grateful Dead, the rock band for which he served as de facto leader for 30 years, from 1965 until his death in 1995. Concurrently for much of that time, he also led his own Jerry Garcia Band (JGB), and he performed and recorded in a variety of configurations and a variety of styles, particularly styles of folk and country music, sometimes switching to banjo or pedal steel guitar for the purpose. But the Grateful Dead remained his primary musical outlet, and he performed thousands of concerts with them and appeared on dozens of their albums (many of them live recordings), 28 of which reached the Billboard charts during his lifetime, including the million-sellers Workingman's Dead, American Beauty, Europe '72, Skeletons from the Closet: The Best of Grateful Dead, What a Long Strange Trip It's Been: The Best of the Grateful Dead, and In the Dark, and another eight that went gold. The Grateful Dead were not primarily a singles act, but Garcia composed or co-composed the music for four of the six singles the band placed in the Billboard Hot 100, "Uncle John's Band," "Truckin'," "Alabama Getaway," and the Top Ten hit "Touch of Grey," as well as his only solo chart single, "Sugaree." In addition to his musical efforts, Garcia was viewed as an icon and spokesman for the hippie movement of the 1960s, the counterculture fueled by psychedelic drugs and rock & roll that the Grateful Dead embodied for their fervent fans, the Deadheads, as well as to the public at large.
Jerome John Garcia, named after the show tune composer Jerome Kern, was born August 1, 1942, in San Francisco, California, the second son of Jose Ramon Garcia and Ruth Marie (Clifford) Garcia. His father was a Spanish immigrant who had been a clarinetist/saxophonist and bandleader until a dispute with the musicians union led him to give up music as a profession and buy a tavern; his mother had been a nurse before her marriage. Garcia displayed an early interest in music and took piano lessons as a child. He suffered two early traumas. At the age of four, he lost the top half of the middle finger of his right hand in a wood-chopping accident; the following year, his father accidentally drowned while fishing. His mother took over management of the tavern, and he was sent to live with his grandparents for the next five years, moving back in with his mother after she remarried in 1953. The family lived in various locations in San Francisco and its suburbs, and Garcia attended several different schools where he was an indifferent student, forced to repeat eighth grade. He showed greater interest in art, attending the California School of Fine Arts during the summer of 1957, and for his 15th birthday that year, his mother gave him a guitar (after he convinced her to take back the accordion she had given him at first). Soon, he was playing in bands in high school. He continued to be uninterested in studying, however, and in January 1960, at the age of 17, he dropped out. In April 1960, he enlisted in the Army, but he proved unsuited to Army life and was dishonorably discharged in December 1960.
Now 18 years old, Garcia moved to Palo Alto, California, where he lived informally over the next several years, playing in clubs and bookstores near the campus of Stanford University and encountering many of the people he would work with for the rest of his career. Among them was the aspiring poet Robert Hunter, who would become his lyric partner, but who now played bass with him in a duo, Bob & Jerry, and later in other groups. The early '60s was the period of a folk music revival, and Garcia became an avid student of folk, old-time country, and bluegrass music, playing both the acoustic guitar and banjo in ad hoc groups with names like the Sleepy Hollow Hog Stompers, the Wildwood Boys, and the Hart Valley Drifters over the next two years. In the winter of 1962-1963, he met Sara Lee Ruppenthal, an undergraduate student at Stanford, and they formed a duo called Jerry & Sara. They married on April 25, 1963, and their daughter Heather Garcia, who later became a classical violinist, was born on December 8, 1963.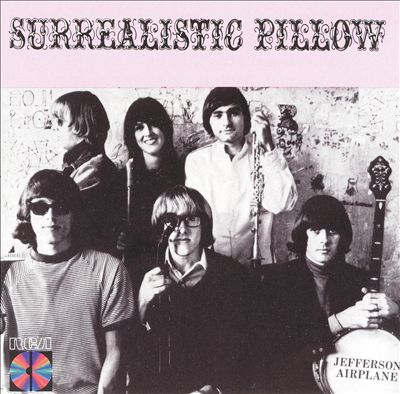 With his marriage, Garcia settled down somewhat, taking a job teaching in a music store. During 1964, he began playing in a jug band, Mother McCree's Uptown Jug Champions, that also featured guitarist/singer Bob Weir and singer/harmonica player/keyboardist Ron McKernan (aka Pigpen). At the turn of 1965, the group took up electric instruments and became a rock & roll band, adding drummer Bill Kreutzmann and renaming themselves the Warlocks. Phil Lesh, another friend of Garcia's, joined on bass by June 1965, and in December the quintet first performed under its new name, the Grateful Dead. Their first single, comprising the traditional songs "Stealin'" and "Don't Ease Me In," was released by Scorpio Records in June 1966, and Garcia was the lead vocalist on both tracks. That fall, he took a step toward greater recognition outside the band by serving (without credit) as the producer of fellow San Francisco rock band Jefferson Airplane's second album, Surrealistic Pillow. In addition to helping with arrangements and playing guitar on the LP, he also suggested its title, but he was barred contractually from being named the album's producer, instead being listed as "musical and spiritual advisor." Meanwhile, the Grateful Dead signed to Warner Bros. Records for the release of their first album, The Grateful Dead, in March 1967. Featuring the Garcia-written song "Cream Puff War," the LP peaked in the Top 100. By this time, Garcia was separated from his wife, from whom he was later divorced, and living with Carolyn Adams (aka Mountain Girl), the woman with whom he had the longest relationship in his complicated romantic life. The couple had two daughters, Annabelle, born in 1970, and Theresa, born in September 1974.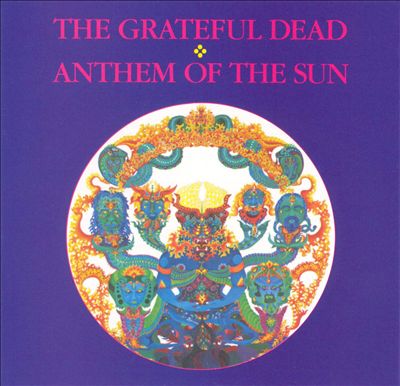 Although all the tracks on the Grateful Dead's second album, a combination of live and studio recordings called Anthem of the Sun released in July 1968, were credited to the group as songwriters, Garcia had enlisted his friend Robert Hunter to write lyrics to some of the songs, and the Garcia/Hunter songwriting partnership officially premiered on the band's third album, Aoxomoxoa, released in June 1969. (Actually, all the songs on the album were written by Hunter, Garcia, and Phil Lesh.) The Grateful Dead favorite "Dark Star," a Garcia/Hunter collaboration, was given its definitive live reading on the band's next album, Live/Dead, released in November 1969. By this point, Garcia had begun to work extensively with other musicians while maintaining his tenure in the Grateful Dead. Taking up the pedal steel guitar, he helped form the New Riders of the Purple Sage with singer/songwriter John Dawson and guitarist David Nelson, the latter one of his old friends from his Palo Alto days, the band filled out by Grateful Dead members Lesh and Mickey Hart (a drummer who had joined the Grateful Dead in 1967). This country-rock outfit began opening shows for the Grateful Dead. At the same time, Garcia was doing recording sessions with other musicians including the Jefferson Airplane (Volunteers), Crosby, Stills, Nash & Young (the pedal steel on the hit "Teach Your Children" from Déjà Vu), and It's a Beautiful Day (Marrying Maiden), among others. His first track as a solo performer was "Love Scene," which appeared on the soundtrack to the 1970 film Zabriskie Point. He also began playing in a pickup band in a club in San Francisco with keyboardist Howard Wales, beginning a string of gigs that would lead to the JGB, although the more immediate result was his first "solo" album, an LP actually credited to Wales and him, called Hooteroll?, released by Douglas Records in 1971.
Garcia's and the Grateful Dead's interest in country-rock was explored on the band's fifth album, Workingman's Dead, released in May 1970, and Garcia composed or co-composed seven of its eight songs, including "Uncle John's Band," which became the Grateful Dead's first chart single. American Beauty, their sixth album, released that November, continued in this style, and Garcia was involved in the writing of seven of its ten songs, among them "Friend of the Devil," later covered by Counting Crows, Ramblin' Jack Elliott, and Chris Smither, among others, and "Ripple," later covered by such varied artists as Rick Danko, Perry Farrell, Jimmie Dale Gilmore, and Chris Hillman. The Grateful Dead reverted to a more eclectic style after these two popular albums, but the self-titled debut album by the New Riders of the Purple Sage, released by Columbia Records in the summer of 1971, continued in the country-rock sound. Garcia amicably exited the New Riders that fall, but played on their next album, Powerglide, and later produced their 1974 live album, Home, Home on the Road. Also something of a follow-up to Workingman's Dead and American Beauty was the first half of Garcia's debut solo album for Warner Bros. Records, Garcia, released in January 1972. (The second half contained more experimental fare.) The LP, featuring the chart single "Sugaree," reached the Top 40. Shortly afterwards, Fantasy Records released Heavy Turbulence, an album credited to keyboardist Merl Saunders, but actually featuring Garcia's club band, which now was co-led by Saunders, who had replaced Wales. The band also would feature on the Saunders album Fire Up (1973) and on the double LP Live at Keystone, recorded in July 1973 and released in the spring of 1974.
Meanwhile, the Grateful Dead's seventh album, a live double LP titled Grateful Dead (and sometimes called "Skull & Roses" for its cover illustration and to distinguish it from the band's debut album), had appeared in September 1971, featuring two new Garcia/Hunter songs, "Bertha" and "Wharf Rat." Their eighth, a triple LP called Europe '72, released in November 1972, introduced such Garcia/Hunter compositions as "He's Gone," "Brown-Eyed Woman," and "Tennessee Jed." While continuing to perform with the Grateful Dead and with his club band with Merl Saunders, Garcia founded a third band in the winter of 1973, returning to his love of bluegrass and playing banjo in a group called Old & in the Way that gave its first public performance on March 1. Along with Garcia, the members included mandolin player David Grisman, guitarist Peter Rowan, and bassist John Kahn (also in the band with Saunders), with the fiddle chair held by either Richard Greene or Vassar Clements. This group lasted a year and cut a live album that was released in 1975 by Round Records and made the Top 100. Round Records was a subsidiary of Grateful Dead Records, which the group founded in 1973 upon the expiration of their contract with Warner Bros. The label's first release was Wake of the Flood, the Grateful Dead's first studio album in nearly three years, which appeared in October 1973 and featured five songs composed by Garcia among its seven selections.
In June 1974, Round Records released Garcia's second solo album, which, like his first, was called Garcia. To avoid confusion, fans began calling it Compliments of Garcia because of the legend "Compliments Of" that appeared on a sticker on promotional copies sent to radio stations, and it later was officially retitled Compliments. The album featured no new compositions by Garcia and was more in the mode of his club band, with numerous cover songs. Nevertheless, it reached the Top 50. Within weeks, Grateful Dead Records released a new Grateful Dead studio album, Grateful Dead from the Mars Hotel, which featured five new Garcia/Hunter songs among its eight tracks. In October 1974, the Grateful Dead played a series of shows at the Winterland Ballroom in San Francisco that were filmed and recorded, preparatory to taking a hiatus from concert work. That had no effect on Garcia's other live work, however. His band with Saunders had acquired a name, the Legion of Mary, and it continued to perform steadily into the summer of 1975, when it broke up. Also in 1975, Garcia broke up with his common-law wife, Carolyn Adams, and began a relationship with aspiring filmmaker Deborah Koons. But when that relationship ended in 1977, he returned to Adams.
Notwithstanding their touring hiatus, the Grateful Dead released a new studio album, Blues for Allah, in August 1975, with most of its songs composed by Garcia. Having split up the Legion of Mary, Garcia put together the first group formally called the Jerry Garcia Band that fall with his longtime sidekick, bassist John Kahn and, initially, pianist Nicky Hopkins (soon replaced by Keith Godchaux, a member of the Grateful Dead since 1971) and drummer Ron Tutt. The band was featured on Garcia's next solo album, Reflections, which was released in February 1976, although half of the tracks featured the Grateful Dead. The album was also split with regard to material, consisting half of covers and half of new Garcia/Hunter songs. Like its two predecessors, it was moderately successful, peaking at number 42 during 14 weeks in the charts, indicating that Garcia's solo albums were selling to a segment of the Grateful Dead audience marking time between the main band's releases.
The Grateful Dead returned to touring in June 1976 and shuttered Grateful Dead Records (temporarily), signing to Arista Records after issuing a live album culled from the October 1974 Winterland shows, Steal Your Face. Meanwhile, Garcia was heavily involved in editing footage shot at the shows for what became The Grateful Dead Movie, which opened on June 1, 1977. The first Grateful Dead Arista album, Terrapin Station, followed on July 27, 1977, Garcia co-composing the sidelong suite "Terrapin Part One." Garcia was also contracted to Arista as a solo artist, resulting in his fourth solo album, Cats Under the Stars, released in April 1978. Credited to the Jerry Garcia Band, the album consisted entirely of original compositions by members of the group, with lyrics by Robert Hunter. Garcia composed or co-composed five of the eight tracks. Despite being such a full-fledged effort, the album failed to reach the Top 100. The Grateful Dead followed in November 1978 with their next studio album, Shakedown Street, which featured only three Garcia/Hunter songs. Toward the end of the year, Garcia and Kahn formed a jazz-oriented group called Reconstruction that included Merl Saunders and played mainly around the San Francisco Bay Area for the next nine months. In October 1979, Garcia reorganized the group, again under the JGB banner, with Kahn, keyboardist Ozzie Ahlers, and drummer Johnny d'Fonseca. Over the next three years, the band would have seven different lineups, with only Kahn a constant.
In April 1980, the Grateful Dead released Go to Heaven, which would turn out to be their last studio album for the next seven years. Only two songs on the disc were Garcia/Hunter songs, but one of them was "Alabama Getaway," a chart single. In the fall, the band did a series of shows at the Warfield Theatre in San Francisco and Radio City Music Hall in New York that were recorded and filmed, the recordings resulting in the live albums Reckoning and Dead Set, while the video footage produced a closed-circuit simulcast, a TV special, and a home video, Dead Ahead. This was the last recording the Grateful Dead did until 1987. On December 31, 1981, backstage at a concert, Garcia married Carolyn Adams, apparently largely for tax reasons; the two had broken up sometime before. Garcia released his fifth solo album, Run for the Roses, in October 1982. It contained three songs on which he got songwriting credits, along with covers of songs by the Beatles and Bob Dylan, and it just reached number 100.
It has been suggested that the dearth of recordings by either Garcia or the Grateful Dead in the early and mid-'80s was partly the result of the guitarist's drug usage during the period. Always known for his affection for psychedelic drugs (and arrested in 1970 and again in 1973 for possession of them, though without being forced to go to jail), Garcia apparently had moved on to harder drugs by this time. On January 18, 1985, he was arrested again, this time for possession of cocaine and heroin. He again avoided jail time by agreeing to seek treatment, attend Narcotics Anonymous meetings, and do a benefit concert. Along with his drug usage, his smoking and other unhealthy behavior contributed to a physical decline during what turned out to be the last decade of his life. On July 10, 1986, following a strenuous Grateful Dead tour, he fell into a diabetic coma lasting three days and nearly died. (During his convalescence, Adams and his daughters by her moved back in with him.) He returned to playing with the JGB in October and with the Grateful Dead in December, and for a time seemed to have a new lease on life.
One result of his resurgence was personal. Despite his reconciliation with Adams, he became romantically involved with a Grateful Dead fan, Manasha Matheson, who gave birth to his fourth daughter, Keelin Noel Garcia, on December 20, 1987. (In 1989, Garcia again split up with Adams and lived either alone or with Matheson.) On a professional level, his return to health brought about the first new Grateful Dead album in seven years, In the Dark, released on July 6, 1987. The double-platinum Top Ten album featured four Garcia/Hunter songs, among them "Touch of Grey," which became the Grateful Dead's only Top Ten single. After touring to support the album, Garcia did a special series of shows at the Lunt-Fontanne Theater on Broadway in New York City in October 1987, leading an acoustic string band in the first set and the JGB in the second. The shows resulted in a live album, Almost Acoustic, credited to the Jerry Garcia Acoustic Band, released by Grateful Dead Merchandising in 1988. The Grateful Dead continued to tour extensively, and Garcia began to increase the geographical reach of the JGB, for instance doing a two-week tour in September 1989 that hit many of the same arenas the Grateful Dead usually played. The Grateful Dead released Built to Last, which turned out to be their final studio album, on Halloween 1989. Featuring three Garcia/Hunter songs among its nine tracks, it did not match the success of In the Dark, but went gold.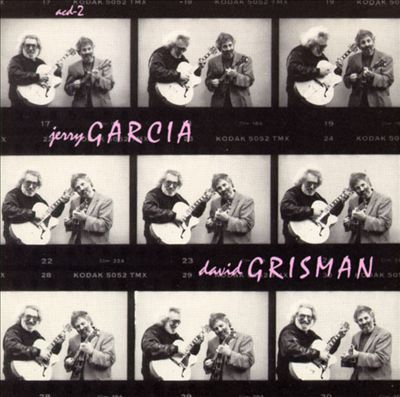 In February 1991, Garcia added a third steady group to his schedule, appearing in an acoustic duo with his old friend David Grisman at the Warfield and, shortly after, releasing the album Jerry Garcia/David Grisman through Grisman's Acoustic Disc label. Warfield shows from 1990 with the JGB were the source for Arista's two-CD set Jerry Garcia Band, released in May 1991, Garcia's first solo chart album in nine years. Still, the bulk of the guitarist's time was given over to the regular touring he did with the Grateful Dead. On August 4, 1992, four days after his 50th birthday, he was reported to have fallen ill again, although he was not hospitalized this time. On October 31, 1992, he returned to performing with the JGB. In December, he separated from Manasha Matheson, and in 1993 he resumed his relationship with Deborah Koons. After finalizing his divorce from Carolyn Adams in 1993, he married Koons on Valentine's Day, 1994.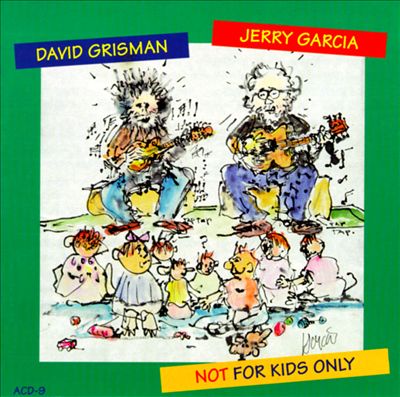 Garcia's musical relationship with Grisman found him collaborating with the mandolin player on a series of recordings, and another duo release, Not for Kids Only, appeared in September 1993. That year, the Grateful Dead were the most successful touring act in the U.S., grossing $45.6 million. In 1994, they grossed $52.4 million, but fell to fifth place in the face of stiffer competition. Meanwhile, they had begun to delve into their archives for vintage live recordings to satisfy the demands of the Deadheads, releasing such albums as One from the Vault (1991), recorded in 1975, and Two from the Vault (1992), recorded in 1968. The summer of 1995 found the Grateful Dead as usual playing outdoor stadiums, and they finished the run with a show at Soldier Field in Chicago on July 9. It was the band's last concert. A week later, Garcia checked into the Betty Ford Clinic, his first-ever attempt at formal rehab to kick his heroin habit. He stayed a couple of weeks, but did not complete the clinic's one-month program. On August 8, he entered another rehab facility in Forest Knolls, California. In the early hours of August 9, 1995, he died there in his sleep of a heart attack at the age of 53.
Although Garcia eschewed the title of leader of the Grateful Dead, his significance to the band was obvious, and the surviving members' announcement in December 1995 that the group was breaking up without him was no surprise. (In 1998, some former members toured in band called the Other Ones. Later Weir, Lesh, Kreutzmann, and Hart, with other added musicians, performed as the Dead.) Also attesting to his importance, a lengthy string of posthumous releases have continued to appear since his death. The Grateful Dead's series of archival concert releases became an assembly line, helping to ease the loss of touring revenue to the organization. Grisman culled a number of albums from the sessions Garcia played in his studio (Shady Grove [1996], So What [1998], The Pizza Tapes [2000], Been All Around This World [2004]). And a JGB archival concert release series called Pure Jerry was launched on a Jerry Garcia label by the guitarist's estate. A similar series called Garcialive was later launched by the ATO label, focusing on a variety of JGB and other solo-related archival concerts. Over the ensuing decades, his legacy has lived on through numerous tribute albums and concerts as his and the Grateful Dead's music was introduced to younger generations.
In May 2015, 20 years after his death, his surviving bandmates led an all-star tribute to his memory called Dear Jerry. Two months later they reunited to celebrate their 50th anniversary with a series of farewell concerts held at Chicago's Soldier Field, the site of their last performance with Garcia. It was the first time they had performed under the Grateful Dead banner since Jerry's passing, and his role in the band was filled by longtime admirer Trey Anastasio of Phish. In 2016, a record by one of Garcia's earliest pre-Dead projects, the Hart Valley Drifters, was issued for the first time.