A firebrand trumpeter with a warm tone and deft improvisational style, Jeremy Pelt balances his deep grasp of the jazz tradition with a searching brand of post-bop jazz. Initially rising to prominence in the early 2000s, Pelt drew praise and earned comparisons to icons Freddie Hubbard and Lee Morgan with a handful of straight-ahead acoustic dates, including 2002's Profile and 2008's November. Over the years, he has matured into a richly nuanced performer with an aesthetic that draws liberally from 1970s fusion, funk, and Latin traditions, as on 2013's Water and Earth, as well as his own refined modern jazz sensibilities, as on 2016's #Jiveculture and 2021's Griot: This Is Important!.
Born on November 4, 1976 in Southern California, Pelt first began playing the trumpet in elementary school, focusing on classical studies. However, it was not until joining his high school jazz band that he became strongly interested in changing directions and pursuing jazz full-time. This led to studying jazz improvisation and film scoring at Berklee College of Music in Boston, where he earned his B.A. in professional music. Following his graduation from college, Pelt performed and/or recorded with some of the jazz world's most high-profile players, including Roy Hargrove, Ravi Coltrane, Greg Osby, Cassandra Wilson, and the Mingus Big Band, among others. He released his solo debut, Profile, for Fresh Sound in 2002. A year later, he returned with Insight on Criss Cross.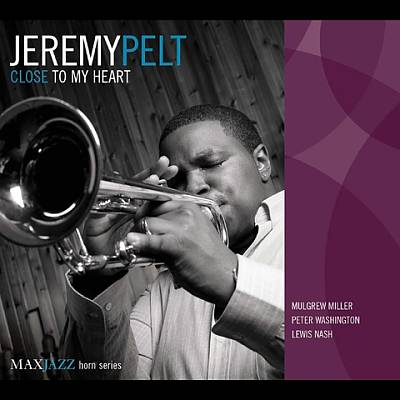 From 2003 to 2008, he released several albums for Maxjazz, including the orchestral-accented Close to My Heart, Identity, Shock Value: Live at Smoke, and November, all of which showcased his growing facility on the trumpet and penchant for progressive, harmonically adventurous post-bop and modal jazz. In 2010, Pelt moved to High Note and released Men of Honor, an album influenced by Miles Davis' work with his classic mid-'60s quintet. Backing Pelt was his own quintet featuring saxophonist J.D. Allen, pianist Danny Grissett, bassist Dwayne Burno, and drummer Gerald Cleaver. The same group returned for the similarly focused The Talented Mr. Pelt in 2011 and Soul in 2012.
With 2013's Water and Earth, Pelt began transforming his sound, exploring funk, Brazilian traditions, and electronic textures. He also put together a new ensemble with pianist David Bryant, saxophonist Roxy Coss, bassist Burniss Earl Travis, and drummer Dana Hawkins. A similar group with Bryant and Coss also appeared on his forward-thinking 2014 album Face Forward, Jeremy. In 2015, Pelt delivered his 12th studio album, Tales, Musings, and Other Reveries, which featured his two-drummer quintet with percussionists Billy Drummond and Victor Lewis.
For 2016's #Jiveculture, Pelt returned to a more straight-ahead acoustic quartet format featuring Drummond, pianist Danny Grissett, and legendary bassist Ron Carter. Small-group acoustic jazz and Afro-Latin rhythms were also the focus for 2017's Make Noise!, featuring pianist Victor Gould, bassist Vicente Archer, drummer Jonathan Barber, and percussionist Jacquelene Acevedo.
An evocative album titled The Artist arrived in 2019; it found the trumpeter drawing inspiration from the work of famed French sculptor Auguste Rodin. Joining him again were pianist Gould and bassist Archer, as well as guitarist Alex Wintz, marimba player Chien Chien Lu, and percussionist Ismel Wignall. The following year, he joined veteran pianist George Cables and bassist Peter Washington for the lyrical ballads album The Art of Intimacy, Vol. 1. A quintet album, Griot: This Is Important!, arrived in early 2021 and was released in conjunction with Pelt's book of jazz interviews Griot: Examining The Lives of Jazz's Great Storytellers.