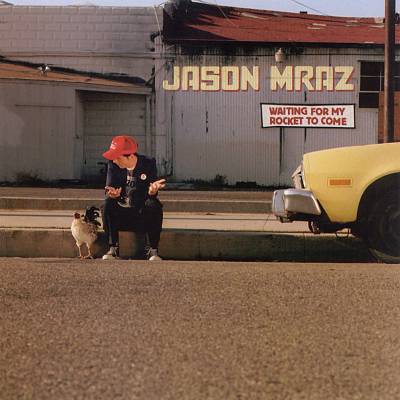 With stylistic nods toward folk, jam band music, hip-hop, and soft rock, and with equal parts cheeky humor and earnest sincerity, Jason Mraz's breezy melodic pop is often synonymous with the beachfronts of his adopted home state of California. Mraz first came to the public's attention with "The Remedy (Don't Worry)" from his 2002 debut, Waiting for My Rocket to Come, and by the time he achieved global success with 2008's international Top Ten-charting "I'm Yours" -- a Grammy nominee for Song of the Year -- Mraz was already one of the more prominent singer/songwriters of the era. He took home two Grammy Awards in 2010 -- for "Make It Mine" (Best Male Pop Vocal Performance) and "Lucky" (Best Pop Collaboration with Vocals, with Colbie Caillat) -- both, like "I'm Yours," from 2008's sleek We Sing. We Dance. We Steal Things., which reached number three on the Billboard 200. He had another smash single with 2012's "I Won't Give Up" from that year's '70s soul-infused Love Is a Four Letter Word, a U.S. number two. While "I Won't Give. Up" proved to be his final Top 40 outing, Mraz went on to chart highly with albums of upbeat, seduction-preoccupied pop throughout the decade, including 2014's Yes! (number two, U.S. and Canada) and 2018's Know. (number nine and ten, respectively). This period also included a Broadway turn in Sara Bareilles' musical Waitress. As a recording artist, Mraz continued down a path of positivity into the 2020s with long-players like 2023's disco-inflected Mystical Magical Rhythmical Radical Ride.
Born and raised in Mechanicsville, Virginia, Jason Thomas Mraz was actively involved in musical theater during his high school years. While attending the American Musical and Dramatic Academy in New York, he learned how to play the guitar and subsequently dropped out to focus on his newfound passion for songwriting. After a brief return to Virginia, he made his way out West and settled in San Diego, where he became active in the city's burgeoning coffeehouse scene. Mraz began playing shows and soon landed a weekly residency at the local hot spot Java Joe's, a venue which had helped launch the careers of singer/songwriters like Jewel and Steve Poltz. Often backed by percussionist Noel "Toca" Rivera, he honed his live act while releasing a series of homemade sets like 1999's A Jason Mraz Demonstration and 2001's Live at Java Joe's. By this point he'd begun to attract the attention of several record labels, and after signing with Elektra in late 2001, he was sent out on tour supporting Jewel early the next year.
Produced by John Alagía (Dave Matthews Band, John Mayer) and backed by his old hometown heroes the Agents of Good Roots, Mraz's debut album, Waiting for My Rocket to Come, was released in November 2002. From the start, audiences were enamored of his breezy, earnest songwriting and melodic pop sense with hooky lead single "The Remedy (I Won't Worry)" (co-written by hitmakers the Matrix) becoming a Top 20 hit. While touring in support of it, Mraz recorded an October 2003 date in Milwaukee which was released the following year as Tonight, Not Again: Jason Mraz Live at the Eagles Ballroom. Having switched from Elektra to Atlantic Records, his 2005 studio follow-up, Mr. A-Z, debuted at number five and yielded another hit in the song "Wordplay." It was Mraz's third album, however, that proved to be his breakout. Released in May 2008, We Sing. We Dance. We Steal Things. was built around "I'm Yours," a nimble folk-pop love song he'd written several years earlier that had become something of a fan favorite. As the album's lead single, the song soon became a massive success, topping four U.S. charts along with many global ones, reaching number six on the Hot 100, and earning a pair of Grammy nominations for Song of the Year and Best Male Pop Vocal Performance. Meanwhile, the album landed in the Top Three in the U.S., Canada, and Australia. At the peak of his game, Mraz launched a lengthy world tour and played some high-profile concerts, including a sold-out show at Royal Albert Hall in London and an appearance at Oslo's Nobel Prize Peace Concert. He won his first two Grammy Awards for the album's second and third singles, "Make It Mine" (Best Male Pop Vocal Performance) and "Lucky" with Colbie Caillat (Best Pop Collaboration with Vocals).
Using his celebrity for good causes, he established the Jason Mraz Foundation in 2011 which supported a number of humanitarian aid charities around the world. He became an outspoken advocate for environmental causes, human rights, and LGBT equality. He also remained musically prolific, releasing another live album (Jason Mraz's Beautiful Mess - Live on Earth) and two EPs (Life Is Good and Live Is a Four Letter Word) prior to his fourth album, Love Is a Four Letter Word. Released in April 2012, it was another significant success for Mraz, peaking at number two on the Billboard 200 and in the U.K., topping the album chart in Canada, and spawning another global hit in "I Won't Give Up," which rose to number eight on Billboard's Hot 100. Sold-out dates at major venues like Madison Square Garden and London's O2 Arena followed, and he even made an appearance at the White House. Mraz's 2014 album, Yes!, was an all-acoustic affair backed by the all-female folk-rock outfit Raining Jane. It went to number two in the U.S. and Canada. The following year, he appeared on Sara Bareilles' album What's Inside: Songs from Waitress, singing the songs "Bad Idea" and "You Matter to Me" from her musical Waitress. He then made his Broadway debut in 2017, taking over the role of Dr. Pomatter in Waitress for a ten-week run. After this he resumed his recording career with 2018's Know. A continuation of his enduring folk-pop style, it again featured contributions from Raining Jane, and it peaked at number nine on the Billboard 200 while also cracking the Top Ten in Canada.
Know also wrapped up Mraz's contract with Atlantic. He signed with Interrabang/BMG in 2020, releasing the reggae album Look for the Good that June. Recorded with producer Michael Goldwasser, who also founded Easy Star Records, the record featured a cameo by Tiffany Haddish. February 2022 saw the release of Lalalalovesongs, a compilation of love songs taken from previous albums. He resurfaced on Interrabang/BMG in June 2023 with his eighth studio LP, the Martin Terefe-produced Mystical Magical Rhythmical Radical Ride, another set of uplifting pop, this time incorporating dance flavors including disco.