Singer/songwriter Jacques Brel created and performed a catalog of literate, thoughtful, and theatrical songs that brought him a large, devoted following in France. His audience eventually extended internationally, making him a major influence on English-speaking writers and performers including Leonard Cohen and David Bowie, while translations of his songs were recorded by a wide range of performers from the Kingston Trio to Frank Sinatra.
Born in Brussels, Belgium, on April 8, 1929, Brel was the son of Romain Brel, who worked in an import-export firm, but later became co-director of a company that manufactured cardboard cartons, and Elisabeth (Lambertine) Brel. He began playing the guitar at the age of 15. After quitting school, he took a job in his father's plant in August 1947. During this period, he became increasingly interested in music, beginning to perform while a member of a church youth group and starting to write his own songs. In 1952, he first performed on local radio, and in February 1953 he was signed by Philips Records, which released his debut single, "La Foire"/"Il Y A," in March. Its modest success led to professional bookings locally and, soon, a move to Paris, where he built up a following in the clubs. In July 1954, he made his first appearance at the prestigious Olympia Theater in Paris, followed by his first French tour, and at the end of the year Philips released his debut album, a nine-song, 10" LP called Jacques Brel et Ses Chansons. More touring followed, and he achieved a commercial breakthrough in 1956 when his song "Quand On N'A Pas Que l'Amour" (later adapted into English as "If We Only Have Love"), released on an EP, became a hit, reaching number three in the French charts. His subsequent LP releases were Jacques Brel 2 (1957), Jacques Brel 3 (1958), and Jacques Brel 4 (1959).
In 1960, Brel earned a U.S. release with American Début on Columbia Records, a compilation of Philips tracks. In France, he switched from Philips to the recently formed Barclay Records in March 1962, his first LP release for the label being the live album A l'Olympia 1962, followed by his first studio album in four years, Jacques Brel Accompagne Pas François Rauber et Son Orchestra. After performing mainly in French-speaking territories, he was becoming a star worldwide and touring internationally much of the year. In February 1963, he made his U.S. performing debut at Carnegie Hall in New York. American poet and singer Rod McKuen began writing English lyrics to Brel's songs, and the Kingston Trio recorded "Seasons in the Sun," McKuen's version of a song Brel had titled "Le Moribond." That year in France, Jacques Brel 6 and another live album, Olympia 64, appeared.
In 1965, Reprise Records licensed tracks from Barclay for a U.S. release called Jacques Brel, and Brel returned to Carnegie Hall on December 4. In 1966, Damita Jo recorded "If You Go Away," McKuen's version of the Brel composition "Ne Me Quitte Pas," and it reached the charts. The wistful song, with its alternating happy and sad lyrics and lush melody, became a pop standard recorded by dozens of singers, including Tom Jones, Frank Sinatra, and Neil Diamond. Also in 1966, Judy Collins put an English-language version of Brel's "La Colombe" ("The Dove") on her In My Life album (Joan Baez covered the same song the following year on her album Joan), and Glenn Yarbrough sang "The Women" ("Les Biches") on his LP The Lonely Things. Philips Records, meanwhile, weighed in with an American Brel compilation, The Poetic World of Jacques Brel.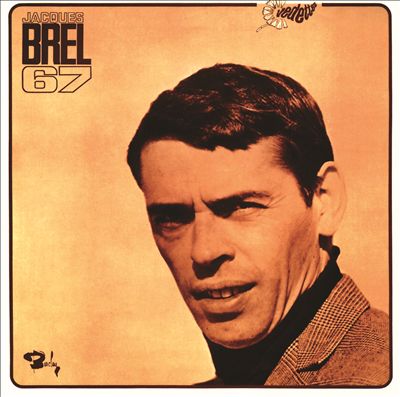 Brel announced his retirement from concert work in 1966, giving a final series of shows in Paris at the Olympia in the fall, but after that he had six months of performances internationally to fulfill. These included appearances in the U.S., where Reprise issued Encore, another compilation drawn from Barclay, and Vanguard Records had Le Formidable Jacques Brel. His last concert came on May 16, 1967. He was not, however, retiring from other kinds of performing: he continued to record, his next LP appropriately being titled Jacques Brel '67 (though it turned out to be his last new studio album for a decade); he starred in his first feature film, the non-musical drama Les Risques du Metièr, before the end of the year (with nine more movies to follow through 1973, some featuring his music); and he also turned to the legitimate stage, translating and taking the leading role in a French production of the American musical Man of la Mancha that opened in Brussels on October 4, 1968, and moved to Paris, where it ran from December until June 1969. (A cast album was released.)
Overseas, meanwhile, his name was given greater prominence by a New York stage production in which he did not appear, an off-Broadway revue of his songs that, keying off of speculation about his decision to stop touring, was called Jacques Brel Is Alive and Well and Living in Paris. It opened at the Village Gate in Greenwich Village on January 22, 1968. Songwriter Mort Shuman and playwright Eric Blau had translated Brel's lyrics more closely than McKuen, conveying in English the pathos and wit of his story-songs, and the effect was overwhelming -- the revue played nearly 2,000 performances, becoming one of the longest-running off-Broadway shows in history. Columbia Records released a double-LP box set of the complete show as an original cast album. The revue was revived on Broadway, in 1972 and 1981, and off-Broadway in 2006, and it was turned into a film in 1975, with Brel himself making a cameo appearance. The success of Jacques Brel Is Alive and Well and Living in Paris increased Brel's profile in English-speaking countries. In England, American expatriate Scott Walker's recording of "Jackie" (aka "La Chanson de Jacky") from the show hit the charts the month before the New York opening, reaching the Top 40. (Marc Almond's revival, drawn from his tribute album Jacques, made the British Top 20 in 1991.) "Jackie" was included on Walker's debut solo LP, Scott, which also featured Brel's "Mathilde," "Amsterdam," and "My Death" ("La Mort"), and Walker also put Brel songs on his subsequent albums Scott 2 (1968) and Scott 3 (1969). Other British Brel fans included David Bowie, who released a version of "Amsterdam" as a B-side single in 1973 while also performing "My Death" in concert, and the Sensational Alex Harvey Band, which titled an album after Brel's song "Next" ("Au Suivant") in 1973. In the U.S., Judy Collins recorded "Marieke" for her Whales & Nightingales album in 1970; Frank Sinatra put "I'm Not Afraid" (a McKuen lyric for "Fils De") on the B-side of a single in 1971; Dionne Warwick scored a chart entry with "If We Only Have Love" in 1972; and at the end of 1973 Terry Jacks released a revival of "Seasons in the Sun" that hit number one in both the U.S. and the U.K., followed by a chart entry with his version of "If You Go Away."
Brel himself, meanwhile, continued to appear in French films, making his screenwriting and directorial debut with Franz in 1972 and memorably taking his final starring role opposite stone-faced Lino Ventura in Edouard Molinaro's 1973 black comedy L'Emmerdeur (released in the U.S. with the title A Pain in the A-), which was remade in 1981 with Jack Lemmon and Walter Matthau as Buddy Buddy. In July 1974, having bought a yacht, Brel set off on what was intended to be a circumnavigation of the globe. But in October, while in the Canary Islands, he was diagnosed with lung cancer. He went to Brussels for an operation to remove part of his left lung. After recovering, he returned to his boat and continued on his journey. In November 1975, he reached the Marquesas Islands, where he decided to stay. He returned to France in July 1977 to record a new album, Brel, issued in November. The LP became a massive hit, reportedly selling 650,000 copies on its first day of release and eventually topping two million copies. Suffering a recurrence of cancer, Brel again returned to France in July 1978 for treatment, but he died three months later at the age of 49. In France, Brel's reputation as one of the major singers and songwriters of the 20th century is secure. In the English-speaking world, his influence is limited by the language barrier and by his musical taste in traditional pop and cabaret, rather than the predominant style of the second half of the century, rock. Nevertheless, his lyrics, delving into personal, dark, and adult subjects, are in keeping with the trend toward frankness and seriousness of popular songwriting from Bob Dylan on and even anticipate that trend. As such, Brel is something of a French older brother to the likes of Dylan, Leonard Cohen, and all the confessional singer/songwriters who followed them. At the same time, his work, as translated into often bowdlerized English (especially in the McKuen versions), has extended his influence as a songwriter across genres. In addition to those already mentioned, the list of performers who have recorded Brel's songs is an amazingly broad selection of rock, pop, jazz, and country artists, including Karen Akers, Shirley Bassey, Acker Bilk, Ray Bryant, Glen Campbell, Ray Conniff, John Denver, Dion, Celine Dion, the Fortunes, Robyn Hitchcock, Shirley Horn, Julio Iglesias, Jack Jones, Cyndi Lauper, Brenda Lee, Ute Lemper, Vera Lynn, Al Martino, Paul Mauriat, Helen Merrill, Ronnie Milsap, Nana Mouskouri, Olivia Newton-John, Freda Payne, Pearls Before Swine, Mitch Ryder, the Seekers, Dusty Springfield, Bobby Vinton, Andy Williams, and Nancy Wilson.