Often called the Godfather of Punk, Iggy Pop created a Dionysian performance style and a variety of street-smart primitivism that made him one of rock's most influential figures when he co-founded the Stooges in 1967. There are few bands in punk (or any sort of left-of-center hard rock) that didn't draw influence from the three studio albums the Stooges released between 1969 and 1973 (especially 1970's Fun House and 1973's Raw Power). After the original collapse of the Stooges, Pop launched a career on his own that was every bit as uncompromising and significantly more diverse, and his first two solo albums, produced by David Bowie (1977's The Idiot and Lust for Life) helped blaze a trail for post-punk. Through much of the 1970s and '80s, Pop explored a variety of musical avenues for his iconoclastic world view, but found a successful middle ground between the expressive and the commercially viable with 1990's Brick by Brick, which even produced a hit single, "Candy" (a duet with Kate Pierson of the B-52's). Into the 2000s, Pop sought to blend a new level of social commentary with impassioned hard rock, which climaxed with a Stooges reunion in 2003; along with extensive touring, the revived band cut a pair of new albums, The Weirdness (2007) and Ready to Die (2013). After the end of the Stooges, Pop collaborated with Josh Homme of Queens of the Stone Age for an album that recalled his work with Bowie, 2016's Post Pop Depression, and he explored new musical avenues outside the boundaries of rock music on 2009's Euro-pop-inspired Preliminaires, the ambient guitar and electronic soundscapes of 2019's Free, and an experimental collaboration with composer Catherine Graindorge, 2022's The Dictator.
Born on April 21, 1947, in Muskegon, Michigan, James Newell Osterberg was raised by his parents in a trailer park close to Ann Arbor, in neighboring Ypsilanti. Intrigued by rock & roll (as well as such non-musical, monotonous, and mechanical sounds as his father's electric razor and the automobile assembly plants in and around Metro Detroit), Osterberg began playing drums and formed his first band, the Iguanas, in the early '60s. Via the Rolling Stones, he discovered the blues and formed a similarly styled outfit called the Prime Movers upon graduating from high school in 1965. When a brief stint at the University of Michigan didn't work out, he moved to Chicago instead, where he played drums alongside the city's bluesmen.
His heart remained with rock & roll, however, and shortly after returning to Ann Arbor, Osterberg decided to form a rock band. This time, he would leave the drums behind and be the frontman, taking inspiration from the likes of the Velvet Underground's Lou Reed and the Doors' Jim Morrison. He tried to find musicians who shared his musical vision: to create a band whose music would be primordial, sexually charged, aggressive, and repetitive (using his early electric razor/car plant memories for reference). In 1967, he hooked up with an old acquaintance from his high school days, guitarist Ron Asheton, who also brought along his brother, drummer Scott, and bassist Dave Alexander, thus forming the Psychedelic Stooges. Although it would take a while for their sound to jell -- they experimented with such non-traditional instruments as empty oil drums, vacuums, and other objects before returning to their respective instruments -- the group fit in perfectly with such other high-energy Detroit bands as the MC5, becoming a local attraction.
It was around this time that the group shortened its name to the Stooges, and Osterberg changed his own stage name to Iggy Pop. Using this moniker, Pop became a man possessed on-stage, going into the crowd nightly to confront members of the audience and working himself into such a frenzy that he would be bleeding by the end of the night from various nicks and scratches. Elektra Records signed the quartet in 1968, issuing their self-titled debut a year later and a follow-up effort, Fun House, in 1970. Although both records sold poorly upon release, they've since become rock classics, and can be pointed to as the official catalysts for what later became punk rock.
The Stooges were dropped from their record company in 1971 due to the public's disinterest and the group's growing addictions to hard drugs. Pop's continuous death-defying acts also worried the label, whose decision to drop the band led to the Stooges' breakup the same year. One of the band's more celebrated fans, David Bowie, tracked Pop down and convinced the newly clean and sober singer to restart his career. Pop enlisted guitarist James Williamson (who was briefly a second guitarist for the Stooges before their breakup) and, after the pair signed to Bowie's Mainman management company and relocated to England, they eventually reunited with the Asheton brothers, with Ron moving from the six-string guitar to the bass.
Signed by Columbia Records and hoping to follow in Bowie's footsteps toward a major commercial breakthrough, the Stooges penned another punk classic, the brutally explosive Raw Power. Pop's plan for the Stooges' third release was equally brutal; he wanted to create a record that would be so powerful, so sonically over the top, that it would physically hurt the listener as it poured forth from the speakers. Although the resulting album wasn't quite that extreme, it came fairly close, with Bowie lending his own contributions as the album's producer. Once again, the album sank without a trace. By 1974, Pop and most of the Stooges had fallen back into the world of heavy drugs, and with their star fading, the band called it quits for a second (and final) time.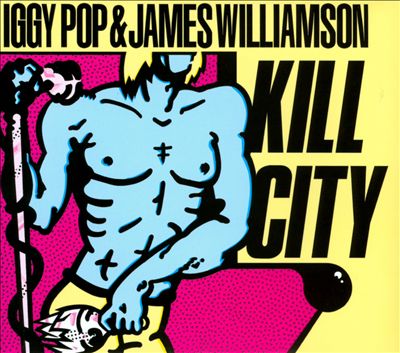 After spending a brief spell homeless on the streets of Hollywood, during which time there was an unsuccessful attempt to form a band with Pop and former Doors keyboardist Ray Manzarek, Iggy Pop checked himself into the Neuropsychiatric Institute in Los Angeles. During his stay at the hospital, Pop made an attempt at writing and recording some new tunes with Williamson, but when no labels expressed interest, the two went their separate ways. (Completed demos of the sessions would surface on the Kill City release in 1977; they would also appear on the 2005 compilation Penetration, which featured a number of widely circulated demos, outtakes, and alternate mixes from the Raw Power sessions.)
During his hospital stay, another old friend came to visit him: David Bowie, whose career was still in high gear. Bowie offered to take Pop on the road with him during his tour in support of Station to Station, and the pair got along so well that they both moved to Berlin in late 1976, during which time Bowie helped Pop secure a solo record deal with RCA. Bowie had become interested in European electronic rock (Kraftwerk, Can, etc.) and later admitted that he used Pop as a musical guinea pig on such releases as The Idiot and Lust for Life (both issued in 1977 and produced/co-written by Bowie). Both albums sold better than the singer's previous efforts with the Stooges (particularly in the U.K., where Pop was looked upon as an icon by the burgeoning punk rock movement) as Bowie joined Pop on his world tour as a keyboardist. Shortly thereafter, a live album was culled from Pop's most recent tour, titled TV Eye (1977 Live). It was also around this time that Pop severed his ties with Bowie and struck out on his own.
Signing on with another new label, Arista, Pop reunited once more with James Williamson for 1979's New Values, an album that touched off a string of varied recordings on which Pop tried to reinvent himself as a new waver: 1980's Soldier, 1981's Party, and 1982's Zombie Birdhouse. Also in 1982, Pop penned his autobiography, I Need More, a fascinating book of rock & roll excess that chronicled his early years straight up to the then-present day. Despite the flurry of activity, Pop began succumbing to his vices once again and stepped out of the spotlight for a long stretch to sort his life out, during which time Bowie scored a massive hit with a remake of the Pop/Bowie nugget "China Girl" (recorded earlier on Pop's The Idiot). It wasn't until 1986 that Pop resurfaced, signing a new contract with A&M and issuing the Bowie-produced Blah Blah Blah, which featured his first U.S. hit single (albeit a moderate one), a cover of "Real Wild Child." Released in 1988, Instinct saw Pop try his hand at hard rock/heavy metal, joined by ex-Sex Pistols guitarist Steve Jones. Its "Cold Metal" was nominated for a Grammy in the category of Best Hard Rock/Metal Performance. Pop's first album for Virgin, 1990's Brick by Brick, resulted in his first U.S. gold-certified album and Top 20 hit single "Candy," a tuneful duet with the B-52s' Kate Pierson.
Just as in the mid-'70s when Pop was looked up to by a slew of up-and-coming punk bands, history repeated itself in the early '90s with the emergence of such Stooges disciples from Seattle as Nirvana, Mudhoney, Soundgarden, etc. Around the same time, a wide variety of bands covered Pop and/or Stooges tracks -- Slayer, Duran Duran, Guns N' Roses, R.E.M., and Tom Jones -- while Pop issued another fine solo set, 1993's American Caesar. In 1996, Pop attempted to re-create the Stooges' sound and approach with Naughty Little Doggie, and enjoyed another hit when the nearly 20-year-old "Lust for Life" was used prominently in the movie Trainspotting. Throughout the decade, Pop also tried his hand at acting in movies, scoring bit parts in such flicks as Cry Baby, Dead Man, and The Crow II: City of Angels, plus a recurring role on the TV show The Adventures of Pete & Pete. Although he wasn't involved in it, the 1998 movie Velvet Goldmine was allegedly based on Bowie and Pop's relationship in the early '70s (Ewan McGregor's character, Curt Wild, was obviously patterned after Stooges-era Pop).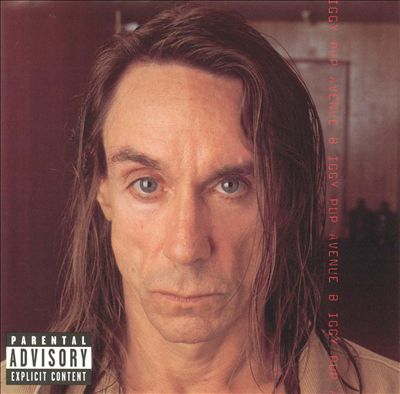 With just about every new rock band listing the Stooges as a major influence by the late '90s, Iggy tentatively began looking back to the band's legacy. He personally remixed a newly remastered version of Raw Power in 1997, after the long-lost original master tapes were rediscovered, and Pop moved the album closer to his original vision of a total sonic onslaught. Also released around this time was another Pop/Stooges-related book, the must-read Please Kill Me: The Oral History of Punk, which recounted the Stooges' career in great detail (featuring interviews with all the band's surviving members). The year 1999 was a busy one for Pop as he was the subject of a VH1 Behind the Music episode, and a new solo album was issued, the laid-back Avenue B. But his more "refined" musical approach was strictly a detour, as proven by his next release, 2001's in-your-face rockfest Beat Em Up.
After abandoning a promised Stooges reunion in the late '90s, Pop finally made good on his pledge in 2003, bringing Ron Asheton and Scott Asheton aboard to write and record four songs with him for his album Skull Ring, and taking the reconstituted Stooges on the road for a short but riotously received tour (with Mike Watt standing in for the late Dave Alexander on bass, and with the set dominated by tunes from The Stooges and Fun House). In 2004, Iggy appeared in Jim Jarmusch's Coffee and Cigarettes. After issuing the January 2005 effort Penetration, Pop released the retrospective A Million in Prizes: The Anthology, which spanned his entire career and included a 37-track CD, a previously unreleased live DVD, and a round of essays about Pop's legacy penned by notables like Bowie and Lou Reed. Pop released another compilation, Where the Faces Shine, the following year.
Iggy Pop maintained his profile during the subsequent years by appearing on an album by Praxis, singing on the Teddybears track "Punkrocker," performing several Madonna songs at the induction ceremony of the Rock and Roll Hall of Fame, and appearing in TV advertisements for the British insurance company Swiftcover. Back in Ann Arbor, however, Asheton suffered a fatal heart attack in early 2009, robbing Pop of his best friend and plunging the Stooges' career into instability. Nonetheless, Pop released another solo record, Preliminaires, that May, taking his inspiration from jazz music and the work of French novelist Michel Houellebecq. In 2010, Pop and the rest of the Stooges were inducted into the Rock and Roll Hall of Fame.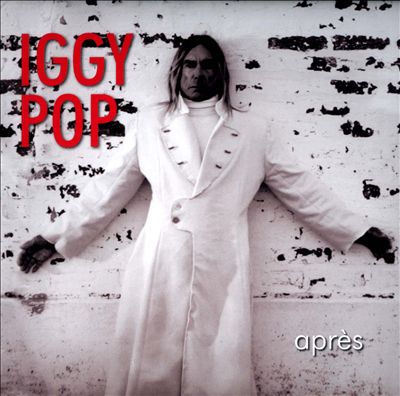 Iggy continued to tour with the Stooges (now featuring James Williamson on guitar) throughout 2010 and into 2011, taking time to pursue a couple of solo side projects, including singing with the Lilies and with Ke$ha, plus the 2012 album Apres, where he sang French standards (and the Beatles' "Michelle," which does have a verse in French). In 2013, Pop went full-bore with the Williamson-fueled Raw Power era of the Stooges, touring and releasing the Ready to Die album in April of that year. However, after the death of Stooges drummer Scott Asheton in 2014,the band quietly broke up, and the next time Pop set out on a tour of the United States in 2015, it was as a solo artist with a different backing band.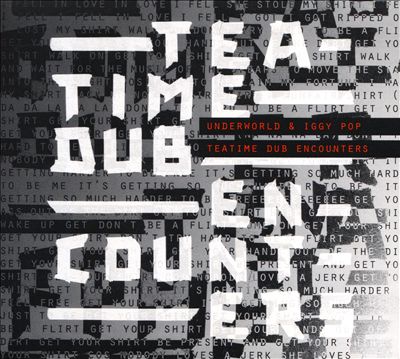 In January 2016, a surprise announcement from Pop and Josh Homme (Queens of the Stone Age, Eagles of Death Metal) revealed that the pair had written an album together with the help of Dean Fertita (QOTSA, the Dead Weather) and Matt Helders (Arctic Monkeys). Recorded secretly and funded entirely independently, Post Pop Depression (Loma Vista) featured the single "Gardenia" and a short supporting tour with live backing from Troy Van Leeuwen (QOTSA) and Matt Sweeney (Chavez). Frequently compared to Pop's first two solo albums with David Bowie, the set was nominated for a Grammy in the Best Alternative Music Album category. Teatime Dub Encounters, a four-track EP produced by fellow Trainspotting soundtrack contributors Underworld, appeared in 2018. Iggy's next solo project found him stepping back from rock & roll; 2019's Free was dominated by trumpet and atmospheric guitar patterns, and included a musical adaptation of Dylan Thomas' "Do Not Go Gentle Into That Good Night."
A pair of artifacts from Iggy's past would soon surface: 2019's The Prime Movers Blues Band collected unreleased live recordings of the Ann Arbor blues band he played drums with in the mid-'60s, and 2020's Live at Goose Lake, August 8, 1970 was sourced from a soundboard tape that captured the Stooges' appearance at the Goose Lake International Music Festival, where they played Fun House in full. Pop stayed busy with European touring and collaborations with a rich variety of artists. Bill Laswell and the Opening Performance Orchestra brought him on board to read the narration for their 2020 musical adaptation of William S. Burroughs' The Acid Lands. He popped up on a 2021 release from jazz organ master Dr. Lonnie Smith, Breathe, adding vocals to covers of Donovan's "Sunshine Superman" and Timmy Thomas' "Why Can't We Live Together." 2021's I'll Be Your Mirror: A Tribute to the Velvet Underground and Nico was an all-star re-creation of the iconic proto-punk album, and he was matched with guitarist Matt Sweeney for an interpretation of "European Son." A poem Pop wrote after the death of his parents, "Mom and Dad," was an alternately bitter and poignant meditation on life and loss, and classical harpist Lavinia Meijer set it to music for her 2022 album Are You Still Somewhere?, with Iggy as narrator. Pop lent suitably histrionic vocals to the reworked version of "Kick Me" that appeared on Danny Elfman's 2022 remix album Bigger. Messier. Pop encountered the work of Belgian composer/violinist Catherine Graindorge, and quickly became a fan, playing two of her compositions during an appearance on BBC Radio 6. Graindorge reached out to Pop and asked if he would be willing to work together. Pop immediately agreed, and together they created four songs, with Graindorge composing and performing the music and Pop writing and reading the narration. The four pieces appeared on an EP, 2022's The Dictator, from Glitterbeat Records.