Gregg Allman's most visible contribution to rock music was as lead singer, organist, and songwriter with the Allman Brothers Band, founded by his brother Duane in 1969. He never threatened to eclipse the band that carried his family name, but he found occasional success and popularity with his solo work, which was distinctly different, more soulful, and less focused on high-wattage virtuosity.
Allman's instrument was the organ, and he was most effective, when in top form, as a singer. His first instrument, ironically enough, was the guitar, and he took it up before his older brother Duane did. But Duane learned it better and quickly eclipsed Gregg. Where Gregg did excel, however, was on the organ and as a singer (a role Duane was never comfortable with), which proved important but not at the center of a group that became famous for its 40-minute instrumental jams and three-hour sets. Through their early efforts, in bands like the Allman Joys and the Hour Glass, they shared the spotlight, with Duane taking the lengthy solos and Gregg fronting the band and offering Booker T. Jones-type keyboard playing. Liberty Records signed the Hour Glass and tried making Gregg into the focus of their efforts during the late '60s, but it never quite worked.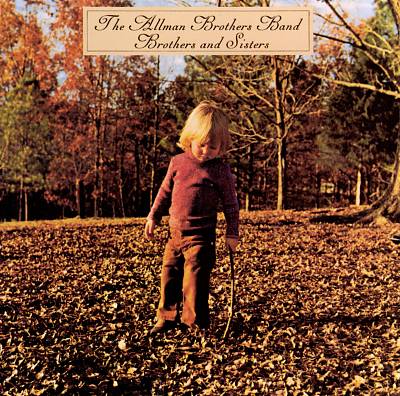 When the Allman Brothers were organized, the flashy (and vital) instrumental moments belonged to his brother and Dickey Betts and, later still, Warren Haynes and Derek Trucks, nephew of Allman Brothers drummer Butch Trucks. Gregg's songs, however, including "Whipping Post" and "Midnight Rider," were among the group's notable originals during its classic period, 1969-1972. Beginning with Brothers and Sisters, Betts' songwriting and singing assumed increasing prominence.
It was during the period that Brothers and Sisters was burning up the charts that Gregg Allman emerged as a solo artist with his first album, the critically well-received hit Laid Back, which put the softer, more serious, soul- and gospel-tinged side of his work in sharper focus. A tour followed, which yielded a live album that was also a success. This first period of solo popularity was interrupted by a combination of professional and personal conflicts; the Allman Brothers Band toured extensively and struggled to come up with a follow-up to Brothers and Sisters, and Gregg Allman began a relationship with Cher, the ex-wife and singing partner of Sonny Bono, which resulted in a tumultuous marriage for the two. These activities were played out amid Allman's well-publicized drug problems, which culminated with his testifying against a band employee in a federal drug case, which, in turn, led to the temporary but extended dissolution of the Allman Brothers Band.
Ironically, it was during this period, in 1977, that he delivered Playin' Up a Storm, a pop-soul effort that proved to be one of his most accomplished and successful albums. His next two albums, I'm No Angel and Just Before the Bullets Fly, released at the end of the 1980s, were quickly eclipsed by the re-formed and reinvigorated Allman Brothers Band's success on-stage and on record. His 1997 release Searchin' for Simplicity and the double-CD anthology One More Try didn't match the urgency or success of the band's activities. In 2009, Australia's Raven Records imprint issued a 19-track, single-disc retrospective, entitled The Solo Years 1973-1997: One More Silver Dollar, that covered the whole of Allman's solo career to that date from his years at Capricorn and Columbia. In 2011, some 14 years after his last solo album, Allman released the T-Bone Burnett-produced Low Country Blues on Rounder Records.
Allman published his autobiography, My Cross to Bear, in 2012, which was the beginning of several retrospective, or at least nostalgic, projects from the singer. Most of these came to fruition in 2014. He kicked off that year with All My Friends: Celebrating the Songs & Voice of Gregg Allman, a star-studded show in Atlanta, Georgia that was released later that year as a live DVD and CD. A few days after that show, he went to his hometown of Macon, where he gave a set that was released in 2015 as Back to Macon. The Allman Brothers Band gave a series of farewell concerts at the Beacon Theater in New York City that fall and Allman continued to perform with his own band, and also entered FAME Studios in Muscle Shoals, Alabama to record another solo album, Southern Blood, with producer Don Was and a host of friends. Allman's health began to fail and he had to cancel scheduled live appearances. He returned to working on th album, completing it shortly beforepassing away from complications due to liver cancer on May 27, 2017. Southern Blood was issued that fall.