One of the 1970s' most successful hard rock bands in spite of critical pans and somewhat reluctant radio airplay (at first), Grand Funk Railroad built a devoted fan base with constant touring, a loud, simple take on the blues-rock power trio sound, and strong working-class appeal. The band was formed by Flint, MI, guitarist/songwriter Mark Farner and drummer Don Brewer, both former members of a local band called Terry Knight & the Pack. They recruited former ? & the Mysterians bassist Mel Schacher in 1968, and Knight retired from performing to become their manager, naming the group after Michigan's well-known Grand Trunk Railroad.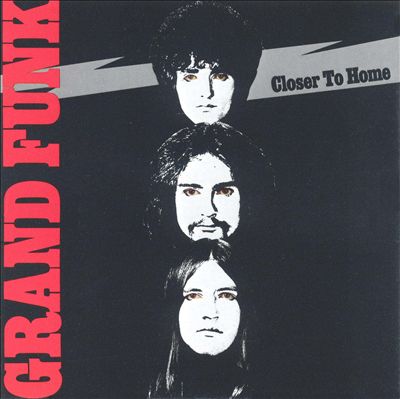 They performed for free at the 1969 Atlanta Pop Festival, and their energetic, if not technically proficient, show led Capitol Records to sign them at once. While radio shied away from Grand Funk Railroad, the group's strong work ethic and commitment to touring produced a series of big-selling albums over the next few years; five of their eight releases from 1969 to 1972 went platinum, and the others all went gold. Meanwhile, Knight promoted the band aggressively, going so far as to rent a Times Square billboard to advertise Closer to Home, which turned out to be the band's first multi-platinum album in spite of a backlash from the rock press. However, Grand Funk Railroad fired Knight in March of 1972, who promptly sued; the band spent most of the year in a court battle that ended when they bought Knight out.
Keyboardist Craig Frost joined the group for the Phoenix LP at the end of 1972. Following that album, the band's name was officially shortened to Grand Funk, and the group finally scored a big hit single (number one, in fact) with the title track of the Todd Rundgren-produced We're an American Band. The follow-up, Shinin' On, contained another number one hit in a remake of Little Eva's "The Loco-Motion." However, following Grand Funk's next album, All the Girls in the World Beware!!, interest in the group began to wane. Reverting back to Grand Funk Railroad, they remained together in 1976 solely to work with producer Frank Zappa on Good Singin', Good Playin'. Farner left for a solo career, and the remainder of the band released an album as Flint with guitarist Billy Elworthy.
Grand Funk Railroad re-formed in 1981 with Dennis Bellinger on bass and released two albums; only Grand Funk Lives even managed to scrape the bottom of the charts. The group disbanded again, with Brewer and Frost joining Bob Seger's Silver Bullet Band and Farner embarking on a new career as a CCM artist; his "Isn't It Amazing" was a number two gospel hit in 1988. In 1997, Grand Funk Railroad reunited once again to record a benefit album titled Bosnia; two years later, Capitol issued a three-disc box set retrospective, Thirty Years of Funk: 1969-1999.