Gorillaz began as something of a lark for Damon Albarn, a way for the singer/songwriter to explore music his Brit-pop group Blur otherwise couldn't make. And yet, the "virtual band" he conceived with artist Jamie Hewlett in the twilight years of the 20th century turned into his main gig in the new millennium. Gorillaz's eponymous debut was an international hit right out of the gate in 2001, thanks in part to the moody, slinky smash single "Clint Eastwood." Its sunny counterpart, "Feel Good Inc.," was an even bigger hit in 2005, while its parent album, Demon Days, revealed how Albarn used Gorillaz as a way to absorb non-rock music while also addressing larger political and societal concerns, which was taken a step further with 2010's environmentally minded Plastic Beach. Hewlett's cartoon characters gave Gorillaz a patina of frivolity, and that joviality, when combined with a revolving cast of collaborators, balanced Albarn's darker moments. Guest musicians helped Gorillaz stay surprising and current -- over the years, the group recorded with Del the Funky Homosapien, De La Soul, Shaun Ryder, Mick Jones of the Clash, Lou Reed, James Murphy, André 3000, George Benson, and Elton John -- but throughout their career, Albarn remained the band's musical constant, a role made clear on their 2023 album Cracker Island, where the collaborators essentially functioned as another texture in the arrangement.
The initial lineup of Gorillaz blended the musical talents of Albarn, Dan "The Automator" Nakamura, Cibo Matto's Miho Hatori, and Tom Tom Club's Tina Weymouth and Chris Frantz with the arresting visuals of Jamie Hewlett, best known as the creator of the cult comic Tank Girl. Nakamura's Deltron 3030 cohorts Kid Koala and Del the Funky Homosapien rounded out the creative team behind the Gorillaz quartet, whose virtual members included 2-D, the cute but spacy singer/keyboardist; Murdoc, the spooky, possibly Satanic bassist and the brains behind the group; Russel, a drummer equally inspired by "Farrakhan and Chaka Khan" and possessed by "funkyphantoms" that occasionally rise up and provide some zombie-style rapping; and last but not least, Noodle, a ten-year-old Japanese guitar virtuosa and martial arts master. The group's website showcased Hewlett's visuals and the group's music in eye- and ear-catching detail.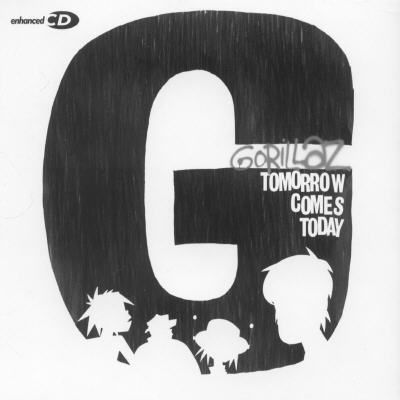 Gorillaz debuted in late 2000 with the Tomorrow Comes Today EP, which they followed early the next year with the popular Clint Eastwood single. A self-titled full-length debut album arrived in spring 2001. Gorillaz was a massive worldwide success and achieved platinum-level sales in the U.S.; worldwide, it sold over seven million copies. The group's Svengalis were quick to capitalize, and released the B-sides collection G-Sides, the Phase One: Celebrity Takedown DVD, and the dub-inspired remix album Laika Come Home in 2002. The project soon went on hiatus, however, as Albarn resumed work with Blur for their seventh album, 2003's Think Tank.
When he was ready to begin the next Gorillaz album, Albarn turned to Danger Mouse (the DJ behind The Grey Album, the infamous mash-up of the Beatles' White Album and Jay-Z's Black Album) and a host of other collaborators, including De La Soul, Shaun Ryder, Debbie Harry, Dennis Hopper, and Martina Topley-Bird. Although Del the Funky Homosapien and Nakamura did not return, 2-D, Russel, Murdoc, and Noodle were all present and accounted for on Demon Days, another Top Ten hit, which arrived in spring 2005. The album went double platinum in America and enjoyed even more success in the U.K.; it also received a host of Grammy nominations, a sign that the band had secured critical as well as commercial approval.
Gorillaz broke ground for a new album in 2007, but the project wasn't released until 2010, when Plastic Beach marked the group's third studio effort. Greeted to generally positive reviews, Plastic Beach received more attention for its tour, as ex-Clash members Paul Simonon and Mick Jones were both part of Gorillaz. During that tour, Albarn recorded a new Gorillaz album called The Fall on his iPad. Initially digitally released to fan club members on Christmas Day 2010, the album saw a wide official release in the spring of 2011. Unlike previous efforts that featured a vast array of guest artists, The Fall only featured four guest collaborations, three of whom (Bobby Womack, Mick Jones, and Paul Simonon) had appeared on Gorillaz tracks before.
Aside from the best-of compilation The Singles Collection 2001–2011, which was issued in November 2011, the following five years saw a period of inactivity in the Gorillaz camp, with rumors materializing about an apparent fallout between Albarn and Hewlett. However, these rumors were put to bed in early 2015 when Hewlett posted new illustrations of the virtual members online. Later that year, Albarn confirmed that a new record was indeed in the works. The following year passed, and the first track to promote the album, the politically charged "Hallelujah Money" (featuring English musician and poet Benjamin Clementine), appeared in January 2017. The full-length effort, entitled Humanz, arrived that April. Alongside Clementine, it featured appearances from Vince Staples, Popcaan, Danny Brown, Mavis Staples, Grace Jones, Jehnny Beth (Savages), and Albarn's onetime rival Noel Gallagher. Months later, Albarn released the Humanz B-side "Garage Palace" with rapper Little Simz. To support Humanz, the band embarked on a major world tour, their second ever and first since 2010, during which they also began recording another album. Featuring fewer collaborators than usual, Gorillaz issued their sixth LP, The Now Now, in June 2018, which debuted at number five on the U.K. Albums chart and number four on the U.S. Billboard 200.
In early 2020, the band began issuing a series of singles and music videos as part of a conceptual project called Song Machine. Gorillaz collected these tracks -- featuring the likes of Robert Smith, Beck, Schoolboy Q, St. Vincent, Elton John, and many more -- as the official release Song Machine, Season One: Strange Timez, which appeared in October 2020. The set debuted at number two in the U.K. (their fifth Top Three effort) and number 12 in the U.S. The brief Meanwhile EP appeared in 2021. Shortly afterward, Albarn abandoned the Song Machine concept. After recording "Tormenta," a collaboration with Bad Bunny, Albarn channeled his energy toward Cracker Island, an album co-produced by Albarn, Greg Kurstin, and Remi Kabaka. A brisk, streamlined record that emphasized Gorillaz's melodic and rhythmic strengths, Cracker Island also featured contributions by Thundercat, Stevie Nicks, Tame Impala, and Beck.