George Clinton revolutionized funk and R&B at large as the mastermind of Parliament and Funkadelic. Versed in gospel, doo wop, and soul, Clinton -- a singer, songwriter, bandleader, and master conceptualist -- scored his first hit as co-writer and lead vocalist of the Parliaments' "(I Wanna) Testify" (1967), a fiery if tame precursor to what he and his ever-changing collective unleashed the following decade, highlighted by a clutch of animated and everlasting funk classics that topped the R&B chart. While P-Funk temporarily laid dormant, Clinton went solo with Computer Games (1982), the source of another number one R&B hit, "Atomic Dog," leading to three additional albums for Capitol and sporadic solo affairs during the following decades with Epic, Paisley Park, and a series of independents. A hip-hop godfather, his P-Funk and solo recordings have been sampled innumerable times, and he has worked in the flesh with many of those whose creativity he has fueled, from Digital Underground and Snoop Dogg to OutKast and Kendrick Lamar. Also the driving force of the unmatched Parliament-Funkadelic live spectacle, Clinton toured relentlessly until 2019, the same year he was handed a Lifetime Achievement Award by the Recording Academy. If there was a Mount Rushmore for funk, Clinton would no doubt be part of the sculpture between the likes of James Brown and Sly Stone. Given that the P-Funk Mothership made its final touchdown at the Smithsonian's National Museum of African-American History and Culture, the notion is not all that absurd.
Born in Kannapolis, North Carolina, on July 22, 1941, Clinton became interested in doo wop in the early '50s while living in Plainfield, New Jersey. In 1955, he formed the Parliaments, a vocal group based out of the back room of a barbershop where he straightened hair. The group debuted in 1959 with "Poor Willy," released on a subsidiary of ABC. An audition for Motown was unsuccessful, but the Parliaments linked with smaller Detroit labels Golden World and Revilot, and Clinton landed a gig as a staff writer for Motown publishing wing Jobete. Clinton split time between Plainfield and Detroit, owning and operating the Silk Palace hair parlor and grooming the Parliaments back home, while co-writing songs such as an obscure 1966 pop-soul gem titled "I'll Bet You" -- recorded by Golden World artist Theresa Lindsey -- and running the short-lived Marton label as an outlet for more of his compositions. The Parliaments reached their apex in 1967 with the Revilot platter "(I Wanna) Testify," which climbed to number three on Billboard's R&B chart and number 20 on the pop chart. Clinton was the only Parliaments member at the session, but he consequently reconvened with the group and expanded the lineup with a full band of backing musicians to tour.
A legal dispute with the bankrupt Revilot temporarily prevented the Parliaments from continuing under that name. Clinton renamed the group Funkadelic and seized the opportunity for a makeover, pushing the instrumentalists to the fore and embracing psychedelic rock without losing a grip on gospel, soul, and funk. Shortly thereafter, Clinton used the same lineup to launch Parliament, whose 1970-1972 output for Holland-Dozier-Holland's Invictus label, amounting to an album and a handful of singles, was often as raucous as Funkadelic's concurrent wealth of recordings for Westbound, another Detroit-based independent. When Parliament joined up with the more commercially minded Los Angeles label Casablanca, the group became increasingly distinct from Funkadelic (who moved up to major-label Warner Bros.), favoring a slicker sound enhanced by Fred Wesley's Horny Horns. By the end of the '70s, Parliament and Funkadelic had a combined 39 charting singles, peaking toward the end of the decade with the number one R&B hits "Flash Light," "One Nation Under a Groove," "(Not Just) Knee Deep," and "Aqua Boogie (A Psychoalphadiscobetabioaquadoloop)." Seven of their albums through 1979 went either gold or platinum. Clinton's extended collective had also hatched groups such as U.S. (United Soul), Parlet, and the Brides of Funkenstein, among numerous solo projects, and repurposed a few early Clinton compositions -- "I'll Bet You" and "(I Wanna) Testify" among them -- to freakier effect.
Clinton began to be weighed down by legal difficulties arising from Polygram's acquisition of Parliament's label, Casablanca. Jettisoning the Parliament and Funkadelic names after LPs released in 1980 and 1981, Clinton signed to Capitol as a solo act and around the same time got the descriptively named P-Funk All-Stars off the ground. Clinton's first solo album, 1982's Computer Games, contained the Top 20 R&B hit "Loopzilla" and the chart-topping "Atomic Dog." Clinton released three more albums for Capitol from 1983 through 1986 -- You Shouldn't-Nuf Bit Fish, Some of My Best Jokes Are Friends, and R&B Skeletons in the Closet -- and hit the R&B Top 20 again with "Nubian Nut" and "Do Fries Go with That Shake?" During the same period, P-Funk All-Stars were behind a couple independent singles and an album through major-label CBS, and Clinton produced Red Hot Chili Peppers' Freaky Styley. Through the remainder of the '80s (and repeatedly across the following decades), Clinton was on both sides of legal disputes regarding royalty and copyright issues. Some of Clinton's associates were dissatisfied with their compensation, a matter complicated by the large volume of recordings for several labels, among other factors contributing to disorganization. Clinton claimed that his signature was forged on a document that signed away his rights to over 150 of his songs to Bridgeport, the music publishing company operated by Westbound founder Armen Boladian. This was particularly devastating for Clinton given that Parliament and Funkadelic songs were being sampled by an increasing quantity of rap producers.
At the tail-end of the '80s, MCA released "By Way of the Drum," a single credited to Funkadelic with production from Clinton and Jeff Lorber. (A like-titled album's worth of material, recorded from 1983 to 1985, was shelved but released by Hip-O Select in 2007.) Clinton also signed with Prince's Paisley Park and eventually released two solo albums for the Warner Bros.-distributed label, 1989's The Cinderella Theory and 1993's Hey Man...Smell My Finger. After the lower-profile George Clinton & the P-Funk All-Stars album Dope Dogs and other independent projects, Clinton joined the roster of Epic's 550 Music, where he released the 1996 album T.A.P.O.A.F.O.M. (standing for "the awesome power of a fully operational mothership"). Clinton and the P-Funk All-Stars were active performers all the while, playing for multiple generations of funk devotees, and they reached younger rock-favoring audiences as part of early Lollapalooza lineups. In 1997, Parliament-Funkadelic were inducted into the Rock and Roll Hall of Fame, and Kirk Franklin's "Stomp," which interpolated "One Nation Under a Groove," was nominated for a Grammy in the category of Best Rhythm & Blues Song, thereby granting Clinton his first Grammy nomination. Another indicator of P-Funk's enduring clout was the large number of varied disciples who featured Clinton on tracks throughout the '90s. Digital Underground, Snoop Dogg, Ice Cube, Primal Scream, 2Pac, and OutKast account for only a small percentage.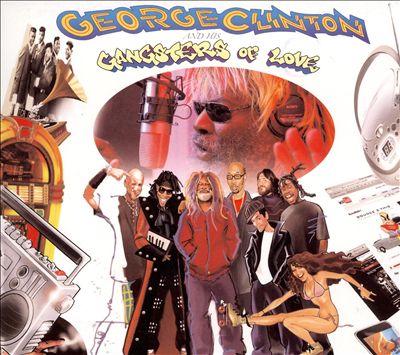 Due in part to legal entanglements, full-length Clinton projects during the 2000s and 2010s were limited to one album each from the P-Funk All-Stars and the revived Parliament and Funkadelic. Clinton also released an LP as a headliner, 2008's George Clinton and His Gangsters of Love. Regardless of how each release was billed, they were all truly P-Funk, overseen by Clinton with a mix of established and new associates. Clinton himself continued to collaborate with a vast assortment of artists and earned a second Grammy nomination due to his introductory role on Kendrick Lamar's To Pimp a Butterfly, which was up for Album of the Year. In 2019, the same year Clinton retired from touring, he and Parliament-Funkadelic were recipients of a Lifetime Achievement Award from the Recording Academy.