Gabrielle Roth, known as the "urban shaman," is music director of the Mirrors. Her primal trance-dance music grew from her involvement with ballet, drama, movement therapy, ritual, and shamanic principles. The cultural melting pot of New York City and the emerging consciousness scene at California's Esalen Institute also helped shape Roth's style. As Roth encouraged her dance students to move and emote, she noticed a natural rhythmic progression, which she calls The Wave or the 5 Rhythms. She saw that many of life's events, such as childbirth and lovemaking, moved from flowing to staccato to chaos to lyrical and then to stillness. Dancing to these natural rhythms could move beyond the ego's personality and help catalyze and release the emotions of fear, anger, grief, joy, and peace -- ending with the state of ecstasy.
Roth's slogan, "Sweat Your Prayers," epitomizes her approach to both her movement workshops and recordings, released on her Raven Recording label. "We can dance our prayers and sweat our pain," says Roth. "Prayer is like letting go of everything that impedes the inner silence, of the tone, the OM, the essence of self and soul. Each of the five rhythms represents a state of being, and being is the language of existence. Movement, then, is our medicine and our path to ecstasy. So The Wave is how I pray. "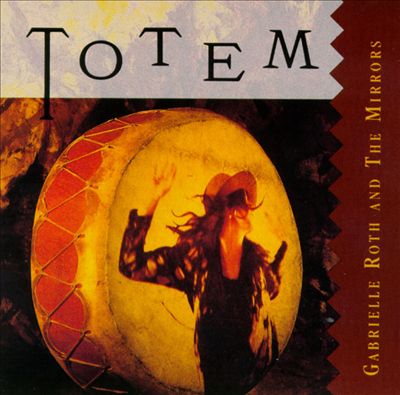 Roth's recordings began from her work with the rock & roll band of her New York ritual theatre company, the Mirrors. "The first two albums I wrote were tribal rock and roll," she explains, "but then we decided to make simpler, primal recordings, like the music I used for my movement workshops. That's how Totem was born in 1985. This album was a groundbreaker; at that time the New Age stores could not relate to rhythms and drums as a spiritual path. Totem changed that." Roth seldom plays on her albums, but as music director, she assembles musicians appropriate for each concept and "conducts" the music by moving. Longtime Mirrors regulars include drummers Sanga of the Valley, a student of master Nigerian drummer Babatunde Olatunje, and Roth's husband and producer Robert Ansell. Over the years, other contributors have included composer/guitarist Lenny Kaye (of the Patti Smith Band); Allison Cornell, strings (of Joe Jackson and Pat Benatar); Jai Uttal (Indian fusion musician); space music composer Raphael; and percussionists Gordy Ryan, Arthur Hull, and Cyro Baptista (of Paul Simon and Laurie Anderson).
Several of Roth's albums present musical workouts of entire 5 Rhythms: Initiation, Bones, Trance, and The Endless Wave: Vol. I, (the soundtrack from her video dance workout, The Wave). Other albums emphasize single rhythms: Stillpoint (stillness), Waves (chaos), and Ritual (flowing). Luna, a finalist for the 1994 INDIE Best New Age Album, explores women's mysteries, while Tongues incorporates primal vocal chanting. 1997's Zone Unknown uses techno tracks for the first time. "You'll still know Zone Unknown is the Mirrors," says the group's drummer and producer Robert Ansell, "but we will push to new territory." For more information about Roth's rhythm work, read her book Maps to Ecstasy: Teachings of an Urban Shaman (Nataraj Publishing).