Combining an outrageously flamboyant stage persona with an immense talent for writing catchy and complex songs -- in addition to possessing one of the greatest voices in modern music -- vocalist Freddie Mercury remains one of rock's all-time greatest entertainers. Alongside Queen bandmates guitarist Brian May, bassist John Deacon, and drummer Roger Taylor, Mercury initially emerged as one of the most indelible rock artists of the 1970s. Working at first largely within the hard rock genre, Mercury embraced a wide array of sounds with Queen ranging from classical to music hall, from glitter to prog rock, eventually even making influential forays into funk and disco as the band progressed into the '80s. Mercury's albums with Queen are considered classics and spawned a large number of hits including "Killer Queen," "Bohemian Rhapsody," "We Are the Champions/We Will Rock You," and "Another One Bites the Dust." He continued this artistic exploration away from Queen, working with Giorgio Moroder on the 1979 single "Love Kills" and further delving into synth-based pop on his only proper solo album, 1985's Mr. Bad Guy. He also paired with opera diva Montserrat Caballe for their 1988 orchestral album Barcelona. Whether on his own or with Queen, Mercury's immense talent, unmistakable passion, and outsized persona continues to endure long after his death from AIDS in 1991.
Born Farrokh Bulsara on September 5, 1946, in Zanzibar to parents from the Parsi community in India (his father worked as a high court cashier for the British government), young Mercury was nicknamed Freddie by fellow classmates while attending an English boarding school, and embraced the moniker. He soon discovered his love for art and music, both subjects that he explored voraciously (he began taking piano lessons around this time), putting his newly found piano talent to use as he played in rock & roll bands with friends. Due to political upheaval in Zanzibar, Mercury and his family fled Zanzibar for England in 1964. There, he enrolled in the Ealing College of Art and fell under the spell of guitar wizard Jimi Hendrix. It was while attending Ealing that he befriended a fellow aspiring musician, bassist Tim Staffell, who was a member of a local band called Smile. Mercury soon began attending Smile's rehearsals and struck up a friendship with the group's other members, guitarist Brian May and drummer Roger Taylor. Inspired by his new friends, he began playing in bands himself (such as Ibex, Wreckage, and Sour Milk Sea, among others), but instead of just playing piano as he did back in Zanzibar, he began singing. To pay the bills, he opened up a stall on Piccadilly Circus with Taylor, selling clothing geared toward fellow rock musicians. By 1970, he had become frustrated that his music career had yet to blossom, and when he heard that Staffell had left Smile, he promptly took his place, finally uniting musically with May and Taylor.
Inspired by the heavy rock of Led Zeppelin/Hendrix as well as the vocal harmonies of the Beatles and the over the top look of the burgeoning glam rock movement (David Bowie and T. Rex), the new group decided to mix up all these influences in one big melting pot, resulting in the formation of Queen. Sensing that it was only natural that a soon-to-be rock star should have an equally grand name, Bulsara adopted a new last name, becoming Freddie Mercury. The new band honed their sound throughout the early '70s (ultimately signing with EMI in England and Elektra in the U.S.), and after going through a succession of bassists, finally found a permanent member, John Deacon, just prior to the recording of their first album. But just before the release of Queen's self-titled debut in 1973, Mercury issued the solo single "I Can Hear Music"/"Going Back" (with his Queen bandmates backing him) under the pseudonym Larry Lurex. The single sank from view shortly after release, while Queen's debut fared little better. It was during an early Queen show that Mercury's microphone stand accidentally snapped in half, and instead of replacing it, he carried on with the damaged stand, which ultimately became an on-stage trademark for the singer. Dressed in outrageous Zandra Rhodes-designed threads, dolled up in makeup and eyeliner, and wearing black nail polish on his right hand, he instantly stood out from the rest of the then-current rock pack. Although there was speculation about his sexuality throughout his career, Mercury refused to confirm or deny that he was bisexual during his lifetime.
Slowly but surely, Queen built up an enormous and dedicated worldwide following due to their bombastic stage show and such hit releases as 1974's Queen II and Sheer Heart Attack, but it was the Mercury-penned "Bohemian Rhapsody" off 1975's breakthrough A Night at the Opera that solidified Queen as one of rock's top bands. Further hit albums followed: 1976's A Day at the Races, 1977's News of the World, 1978's Jazz, and 1979's Live Killers, during which Mercury penned such hit songs (and eventual rock radio staples) as "Killer Queen," "Somebody to Love," "We Are the Champions," "Don't Stop Me Now," and "Crazy Little Thing Called Love." By the late '70s, he had become one of rock's leading frontmen as his image changed from his early glam rock look to one that was met with some consternation from fans: he cut his hair short and grew a mustache. In addition to his work with Queen, Mercury fulfilled a longtime dream by performing with the Royal Ballet in October of 1979.
The '80s would prove to be puzzling time for Queen, as they kicked off the new decade with their biggest album yet, The Game -- scoring one of 1980's biggest hits, the dancefloor anthem "Another One Bites the Dust" -- and most successful tour. But instead of treating the successful musical experiment as a brief detour, Queen decided to explore dance music more thoroughly on their follow-up, Hot Space, resulting in their worst-selling release since Queen II. While Queen were quickly able to recapture their following everywhere in the world on the strength of such solid releases as 1984's The Works and 1986's A Kind of Magic (and a show-stopping performance at the mammoth Live Aid benefit concert in 1985), the band's popularity in the U.S. dwindled considerably.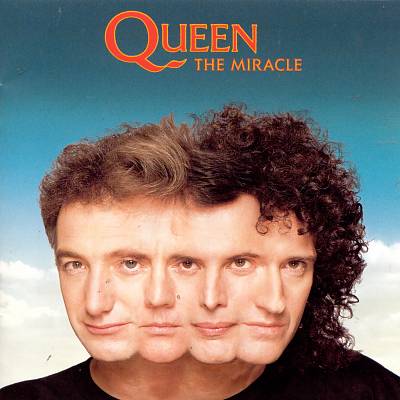 It was while on hiatus from Queen that Mercury issued his first solo album in 1985, Mr. Bad Guy, a more pop-oriented album than his previous work, it featured the driving synth anthem "I Was Born to Love You" and the ballad "Made in Heaven;" both of which were later reworked by Queen. By the late '80s, Mercury had also been diagnosed with AIDS, but decided to keep his condition under wraps as he focused on recording further albums with Queen (1989's The Miracle and 1991's Innuendo), as well as issuing sporadic solo singles ("The Great Pretender," "Time") and an opera-meets-pop album with Montserrat Caballé entitled Barcelona. But by 1991, Mercury's battle with AIDS had taken a turn for the worse, and on November 24, 1991 (just one day after deciding to go public with his ailment), Mercury died at his home in London. On April 20, 1992, the surviving members of Queen organized a star-studded tribute concert for Mercury at Wembley Stadium (with all proceeds going to the newly founded AIDS benefit group The Mercury Phoenix Trust) featuring such Queen/Mercury admirers as Elton John, Guns N' Roses, Seal, Metallica, David Bowie, Robert Plant, Roger Daltrey, George Michael, and Liza Minnelli, among others. Shortly thereafter, Queen regained their footing in the U.S. when Hollywood Records reissued their entire catalog and "Bohemian Rhapsody" (and two compilations: Classic Queen and Greatest Hits) rocketed up the charts due to the song's inclusion in the movie Wayne's World. Up until his death, Mercury continued to write music with Queen, and surviving bandmembers completed several unfinished tracks for the 1995 posthumous release Made in Heaven. The '90s also saw the arrival of a few Mercury solo compilations: in 1992 the U.K. received The Freddie Mercury Album while the U.S. got The Great Pretender (both included mostly similar track listings) and a year later, the six-track Remixes was issued in Europe only.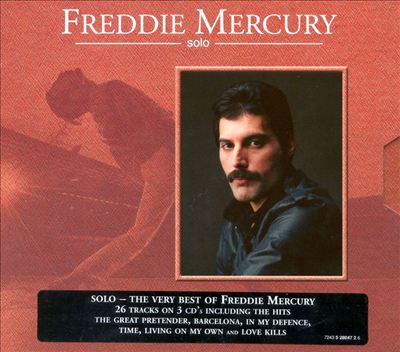 In 2000, a mammoth ten-CD/two-DVD box set was unveiled, titled The Solo Collection, collecting all of his solo tracks and promotional videos as well as rarities. Also released at the same time was the three-CD box set Freddie Mercury Solo and the DVD Video Collection, which included highlights from the bigger set. The more economical single-disc collection Very Best of Freddie Mercury Solo: Lover of Life, Singer of Songs appeared in 2006. In 2016, the double-disc collection Messenger of the Gods: The Singles brought together all of Mercury's solo A- and B-side singles. In 2018, actor Rami Malek portrayed Mercury in the Queen biopic Bohemian Rhapsody. In the wake of the film's success (it took home four Academy Awards), Virgin/EMI and Hollywood Records compiled the singer's solo work on the 2019 box set Never Boring.