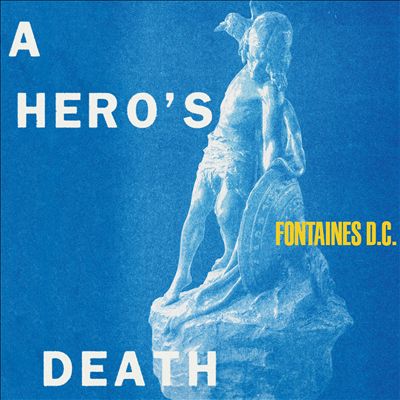 Dublin five-piece Fontaines D.C. have strong ties to their native city, which they translate into abrasive vocals and driving percussion with a healthy dose of melody. Debuting in 2019, the group rose quickly to international success, evolving their sound on 2020's A Hero's Death. Their third album, 2022's Skinty Fia, topped the charts in the U.K., Ireland, and Scotland.
All five members of the band met while attending Dublin City Music College. Grian Chatten (vocals), Conor Deegan III (bass), Conor Curley (guitar), Carlos O'Connell (guitar), and Tom Coll (drums) attended the same class, and gravitated toward each other in the first few months. They had all previously been in other bands, but their chemistry together as musicians persuaded them to leave their former groups and form the Fontaines. They named themselves after a character from The Godfather, but were soon legally challenged by a band from L.A. with the same name; as a result, they added D.C., which stands for Dublin City. They organized their first tour in 2017 after the release of their debut single, "Hurricane Laughter." Doors soon began opening for them, and their live reputation grew. The following year saw three more singles, "Boys in the Better Land," "Chequeless Reckless," and "Too Real," all of which were featured on the group's Dan Carey-produced debut album, 2019's Dogrel.
Working quickly, Fontaines began writing a follow-up just six months after the release of their debut, decamping to Los Angeles to record A Hero's Death. Produced once again by Carey and released in July 2020, it made the Top Ten on a number of prominent charts and netted the band a Grammy Award nomination in the U.S. It also marked an evolution in the band's sound by featuring more prominent vocal harmonies and psychedelic elements. A 2021 live LP, Fontaines D.C. Live at Kilmainham Gaol, bridged the gap as Fontaines and Carey prepared their third album. Taking its name from an old Irish saying, 2022's Skinty Fia became their first effort to top the charts at home and in the U.K.