It's almost impossible to overstate the impact and importance of Fela Anikulapo (Ransome) Kuti -- or just Fela, as he's more commonly known -- to the global musical village. As a producer, multi-instrumentalist, and bandleader with a larger than life personality, Kuti combined the raw guitars and jazzy undercurrents of traditional highlife with tight horn arrangements, electrifying polyrhythms, and politically charged lyrical content for the creation of Afrobeat. Kuti had an unparalleled hot streak throughout the '70s with frequent electrifying concert performances and genre-defining Afrobeat albums like 1975's Expensive Shit and 1977's Zombie. A star in Nigeria at the time, his music would have a global ripple effect long after his death in 1997. Countless musicians would eventually catch up with the vision Kuti launched in his '70s heyday, as the ideas that he was working on found their way into new sounds from jazz players, American rock acts like the Talking Heads, and new waves of Afrobeat revivalists. While the infectiousness and excitement of Afrobeat grew and morphed with subsequent generations, it began with Fela.
Born in 1938 in Abeokuta, Nigeria, north of Lagos, Kuti grew up in a firmly middle-class family who were politically active. His father was a pastor and talented pianist; his mother was active in the anti-colonial, anti-military Nigerian home rule movement. So, at an early age, Fela experienced politics and music in a seamless combination. His parents, however, were less interested in his becoming a musician and more interested in his becoming a doctor, so they packed him off to London in 1958 for what they assumed would be a medical education; instead, Fela registered at Trinity College's school of music. Tired of studying European composers, he formed his first band, Koola Lobitos, in 1961, and quickly became a fixture on the London club scene. He returned to Nigeria in 1963 and started another version of Koola Lobitos that was more influenced by the James Brown-style singing of Geraldo Pina from Sierra Leone. Combining this with elements of traditional highlife and jazz, Fela dubbed this intensely rhythmic hybrid "Afro-beat," partly as critique of African performers whom he felt had turned their backs on their African musical roots in order to emulate current American pop music trends.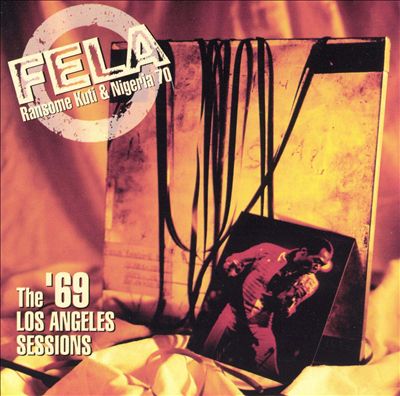 In 1969, he brought Koola Lobitos to Los Angeles to tour and record. They toured America for about eight months, using Los Angeles as a home base. It was while in L.A. that Fela hooked up with a friend, Sandra Isidore, who introduced him to the writings and politics of Malcolm X, Eldridge Cleaver (and by extension the Black Panthers), and other proponents of Black nationalism and Afrocentrism. Impressed at what he read, Fela was politically revivified and decided that some changes were in order: first, the name of the band, as Koola Lobitos became Nigeria 70; second, the music would become more politically explicit and critical of the oppression of the powerless worldwide. After a disagreement with an unscrupulous promoter who turned them in to the Immigration and Naturalization Services, Fela and band were charged with working without work permits. Realizing that time was short before they were sent back to Nigeria, they were able to scrape together some money to record some new songs in L.A. What came to be known as the '69 Los Angeles Sessions were remarkable, an indication of a maturing sound and of the raucous, propulsive music that was to mark Fela's career. Afro-beat's combination of blaring horn sections, antiphonal vocals, Fela's quasi-rapping pidgin English, and percolating guitars -- all wrapped up in a smoldering groove (in the early days driven by the band's brilliant drummer Tony Allen) that could last nearly an hour -- was an intoxicating sound. Once hooked, it was impossible to get enough.
Upon returning to Nigeria, Fela founded a communal compound-cum-recording studio and rehearsal space he called the Kalakuta Republic, and a nightclub, the Shrine. It was during this time that he dropped his given middle name of "Ransome," which he said was a slave name, and took the name "Anikulapo" (meaning "he who carries death in his pouch"). Playing constantly and recording at a ferocious pace, Fela and band (who were now called Africa 70) became huge stars in West Africa. His biggest fan base, however, was Nigeria's poor. Because his music addressed issues important to the Nigerian underclass (specifically a military government that profited from political exploitation and disenfranchisement), Fela was more than a simply a pop star; like Bob Marley in Jamaica, he was the voice of Nigeria's have-nots, a cultural rebel. This was something Nigeria's military junta tried to nip in the bud, and from almost the moment he came back to Nigeria up until his death, Fela was hounded, jailed, harassed, and nearly killed by a government determined to silence him. In one of the most egregious acts of violence committed against him, 1,000 Nigerian soldiers attacked his Kalakuta compound in 1977 (the second government-sanctioned attack). Fela suffered a fractured skull as well as other broken bones; his 82-year-old mother was thrown from an upstairs window, inflicting injuries that would later prove fatal. The soldiers set fire to the compound and prevented firefighters from reaching the area. His recording studio, all his master tapes, and musical instruments were destroyed.
After the Kalakuta tragedy, Fela briefly lived in exile in Ghana, returning to Nigeria in 1978. In 1979, he formed his own political party, MOP (Movement of the People), and at the start of the new decade renamed his band Egypt 80. From 1980-1983, Nigeria was under civilian rule, and it was a relatively peaceful period for Fela, who recorded and toured nonstop. Military rule returned in 1983, and in 1984 he was sentenced to ten years in prison on charges of currency smuggling. With help from Amnesty International, he was freed in 1985.
As the '80s ended, Fela recorded blistering attacks against Nigeria's corrupt military government, as well as broadsides aimed at Margaret Thatcher and Ronald Reagan (most abrasively on the album Beasts of No Nation). Never what you would call progressive when it came to relationships with women or patriarchy in general (the fact was that he was sexist in the extreme, which is ironic when you consider that his mother was one of Nigeria's early feminists), he was coming around to the struggles faced by African women, but only just barely.
Fela's musical output slowed throughout the '90s as he grew increasingly unwell physically. His death on August 3, 1997, of complications from AIDS deeply affected musicians and fans internationally, as a musical and sociopolitical voice on a par with Bob Marley was silenced. A press release from the United Democratic Front of Nigeria on the occasion of Fela's death noted: "Those who knew you well were insistent that you could never compromise with the evil you had fought all your life. Even though made weak by time and fate, you remained strong in will and never abandoned your goal of a free, democratic, socialist Africa." This is as succinct a summation of Fela's political agenda as one is likely to find.