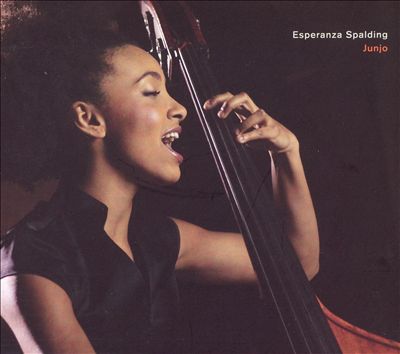 Bassist and singer Esperanza Spalding is a Grammy-winning performer with an ambitiously cross-pollinated approach to contemporary jazz. Hailed as a prodigy in her teens, she garnered wider attention in the 2000s with the release of her debut, Junjo, and its follow-up, Esperanza, the latter of which topped the contemporary jazz charts. In 2010, she won Best New Artist at the Grammys, an accolade that helped propel her third album, Chamber Music Society, into the Billboard Top 40 as the best-selling contemporary jazz album that year. At the same time, Spalding won respect as a teacher, becoming the youngest faculty member at the Berklee College of Music. She took home a second Grammy for 2012's Radio Music Society. Spalding has remained a forward-thinking maverick artist, issuing a series of increasingly concept-driven albums, including 2016's Emily's D+Evolution, 2019's Twelve Little Spells, and 2021's Songwrights Apothecary Lab, all of which found her moving far afield of jazz into art rock, R&B, Afro-Latin styles, neo-prog, and experimental pop. Still, intimate and artfully rendered standards and post-bop jazz remain a core of her musical identity as on her 2023 duo album with Fred Hersch, Alive at the Village Vanguard.
Born in Portland, Oregon, in 1984, Spalding suffered from chronic pneumonia and rheumatoid juvenile arthritis, side effects of an autoimmune deficiency disorder. Subsequently, she spent much of her childhood being home-schooled. It was during these years, starting at age five, that she began playing violin after seeing Yo-Yo Ma perform on an episode of Mister Rogers' Neighborhood. She excelled at the instrument and joined the Chamber Music Society of Oregon. By the time she was 15, Spalding had been named the ensemble's concertmaster violinist. It was also at age 15 that she returned to public school. There, she joined the school band and first began playing the acoustic double bass. She immediately connected with the instrument, and at age 16 again left school to focus on music full time. She completed a GED and enrolled in classes at Portland State University, where she earned her B.A. in just three years. She also began playing locally, and studying privately with noted Portland jazz artists Ron Steen, Thara Memory, Darrell Grant, and others. Leaving Portland, she transferred to the Berklee School of Music in Boston, where she graduated in 2005 and was subsequently hired as an instructor, becoming the school's youngest faculty member at age 20.
Away from teaching, Spalding enjoyed a burgeoning performance career, leading her own trio and working with a host of artists including Joe Lovano, Patti Austin, Michel Camilo, Charlie Haden, Regina Carter, Pat Metheny, Dave Samuels, and many others. In 2006, Spalding released her solo debut, Junjo, on the Barcelona-based Ayva imprint. Two years later, she released Esperanza (on Heads Up Records), which proved a critical and commercial success. The album topped Billboard's Contemporary Jazz Albums chart, where it remained for over 70 weeks. In addition, it became the best-selling album by a new jazz artist internationally during 2008.
In August 2010, Spalding returned with Chamber Music Society, a more stylistically expansive production that found her straddling the line between contemporary modern jazz, R&B, and Brazilian traditions. It included eight originals and three covers, and featured guest vocal appearances from Milton Nascimento and Gretchen Parlato, as well as a small string section, and guitarist Ricardo Vogt. The album reached number one on Billboard's Contemporary Jazz Albums chart, and helped earn Spalding the Grammy for Best New Artist.
On the heels of her Grammy attention, Spalding issued 2012's Radio Music Society. Conceived as a companion piece to Chamber Music Society, the set featured drummer Terri Lyne Carrington and pianist Leo Genovese, with assistance from longtime collaborator saxophonist Joe Lovano and numerous guests, including drummers Jack DeJohnette and Billy Hart, guitarists Jef Lee Johnson and Lionel Loueke, hip-hop producer and DJ Q-Tip, and a slew of vocalists, Parlato and Lalah Hathaway among them. Also well-received, it peaked at number ten on the Billboard 200 and earned Spalding her second Grammy Award, this time for Best Jazz Vocal Album. The following year, she popped up on several albums by other artists, including appearing on Janelle Monáe's The Electric Lady and Lovano's Cross Culture. Similarly, in 2014, Spalding was featured on vocalist Dianne Reeves' Beautiful Life and pianist Billy Childs' Map to the Treasure: Reimagining Laura Nyro.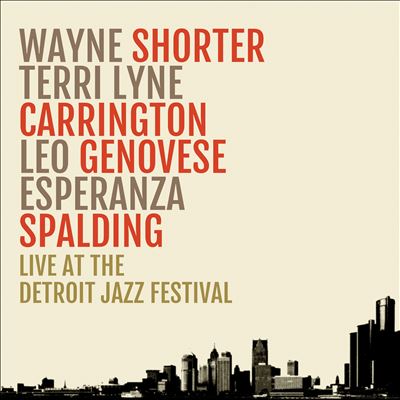 In 2016, she returned to her own work with Emily's D+Evolution, an ambitious, prog rock-infused concept album revolving around a central character named Emily, Spalding's middle name. She followed that up in 2019 with another deeply artful concept album, the Grammy-nominated Twelve Little Spells, which featured 12 songs each explicitly inspired by 12 separate parts of the body. Songwrights Apothecary Lab, an album peripherally connected to a class Spalding curated at Harvard, arrived in September 2021 and found her exploring an expansive blend of sounds. The Grammy-nominated set featured contributions by singer Ganavya Doraiswamy and singer/trombonist Corey King. A concert album, Live at the Detroit Jazz Festival, appeared in 2022 documenting the bassist's 2017 performance at the festival as part of a multi-generational super group with Wayne Shorter, Terri Lyne Carrington, and Leo Genovese. Another concert album, Alive at the Village Vanguard, arrived in January 2023 and featured her duo collaboration with pianist Fred Hersch.