Recognized worldwide as "The First Lady of Song," Ella Fitzgerald is arguably the finest female jazz vocalist of all time. Blessed with a highly resonant voice, wide range, and near-perfect elocution, Fitzgerald also possessed a deft sense of swing, and with her brilliant scat technique, could hold her own against any of her instrumental contemporaries. She came to initial popularity as a member of drummer Chick Webb's band in the 1930s, scoring a hit with a "A-Tisket, A-Tasket," before ascending to wide acclaim in the 1940s with Jazz at the Philharmonic and Dizzy Gillespie's Big Band, and issuing landmark performances like "Flying Home" and "How High the Moon." Working with producer/manager Norman Granz, she gained even more acclaim with her series of albums on Verve, recording definitive versions of the music of the Great American Songbook composers, including 1956's Sings the Cole Porter Songbook. Over her 50-year career, she earned 13 Grammy Awards, sold over 40 million albums, and picked up numerous accolades including a National Medal of Arts and the Presidential Medal of Freedom. A hugely important cultural figure, Fitzgerald made an immeasurable impact on the development of jazz and popular music, and remains a touchstone for fans and artists decades after her passing.
Born in 1917 in Newport News, Virginia, Fitzgerald grew up in a working-class family in Yonkers, New York. Her parents split up soon after her birth, and she was largely raised by her mother, Temperance "Tempie" Fitzgerald, and her mother's boyfriend Joseph "Joe" Da Silva. She also had a younger half-sister, Frances, who was born in 1923. To help with the family's finances, Fitzgerald often worked odd jobs including, at times, running bet money for local gamblers. By her teens, the self-professed tomboy was active in sports and often played in local baseball games. Influenced by her mother, she also enjoyed singing and dancing, and spent many hours singing along to records by Bing Crosby, Connee Boswell, and the Boswell Sisters. She also began taking the train to see shows with friends at Harlem's Apollo Theater. In 1932, her mother died from injuries sustained in a car accident. Deeply distraught over the loss, Fitzgerald went through a difficult period that found her skipping school and getting in trouble with the police. She was subsequently sent to a reform school, where she endured abuse by her caretakers. Eventually breaking free from the reformatory, she found herself on her own in New York during the height of the Great Depression. Despite her struggles, she worked to pursue her love of performing. In 1934, she entered and won an amateur contest at the Apollo, singing Hoagy Carmichael's "Judy" in the style of her idol, Connee Boswell. In the house band that night was saxophonist Benny Carter, who took the young vocalist under his wing and encouraged her to keep developing her career.
More contests followed, and in 1935 Fitzgerald won a weeklong spot singing with Tiny Bradshaw at the Harlem Opera House. There, she met influential drummer Chick Webb, who agreed to try her out with his orchestra at a one-nighter at Yale University. She won the crowd over, and spent the next few years with the drummer, who became her legal guardian and reworked his show to feature the singer. The band's fame grew exponentially with Fitzgerald, as they dominated at the Savoy battle of the bands, and issued a string of Decca 78s, scoring hits "A Tisket-A-Tasket," in 1938, and the B-side "T'aint What You Do (It's the Way That You Do It)," as well as "Liza," and "Undecided." As the singer's career was on the rise, Webb's health had begun to decline. Though only in his thirties, the drummer, who had struggled with congenital spinal tuberculosis throughout his life, would purportedly collapse from exhaustion after playing a set. Nonetheless, he forged onwards, hoping to keep his band working through the Depression. In 1939, not long after undergoing major surgery at Johns Hopkins Hospital in Baltimore, Maryland, Webb died. Following his death, Fitzgerald continued to front his band with much success until 1941, when she decided to pursue a solo career.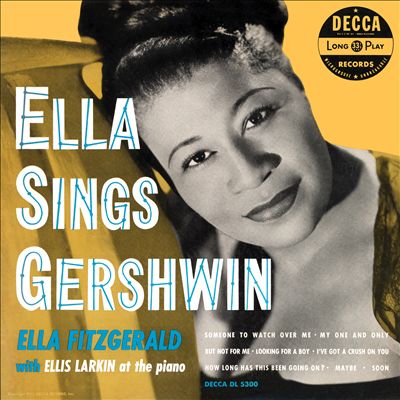 Sticking with Decca, Fitzgerald was teamed with the Ink Spots, Louis Jordan, and the Delta Rhythm Boys for several best-sellers, and in 1946 began working regularly for manager Norman Granz's Jazz at the Philharmonic. Though often regarded as a pop vocalist during her time with Webb, Fitzgerald had begun to experiment with scat singing, a sound she further developed during these years. She toured with Dizzy Gillespie's big band, and soon adopted bebop as an integral part of her style, punctuating her live sets with instrumental-style scat solos that wowed audiences and earned her respect from her fellow musicians. Her recordings of "Lady Be Good," "How High the Moon," and "Flying Home" during 1945-1947 were released to great acclaim and helped solidify her stature as a major jazz vocalist. It was while working with Gillespie that she met and married bassist Ray Brown, living with him from 1947 to 1953, during which time she often performed with his trio. The couple also adopted a son, Ray Brown, Jr., (born to Fitzgerald's half-sister Frances in 1949) who would go on to his own career as a pianist and vocalist. In 1951, the singer paired with pianist Ellis Larkins for the duets album Ella Sings Gershwin, on which she interpreted George Gershwin songs, prefiguring her later Songbooks series.
After appearing in the film Pete Kelly's Blues in 1955, Fitzgerald signed with Norman Granz's Verve label. Her longtime manager, Granz had specifically launched Verve with the sole purpose of better showcasing her voice. Beginning with 1956's Sings the Cole Porter Songbook, she would record an extensive series of Songbooks albums, interpreting the music of the Great American Songbook composers, including Cole Porter, George and Ira Gershwin, Rodgers & Hart, Duke Ellington, Harold Arlen, Jerome Kern, and Johnny Mercer. The prestigious albums, which earned Fitzgerald her first four Grammys at the 1959 and 1958 Grammy Awards, further raised her stature as one of the great singers of all time. Other soon-to-be-classic albums followed, including her 1956 pairing with Louis Armstrong Ella & Louis, 1957's Like Someone in Love, and 1958's Porgy and Bess with Armstrong. Also under Granz's guidance, Fitzgerald toured often, issuing a handful of highly regarded live concert albums. Among them, 1960's Ella in Berlin included her off-the-cuff take on "Mack the Knife" in which she forgot the lyrics and improvised her own. One of the best-selling albums of her career, Ella in Berlin earned her Grammy Awards for Best Vocal Performance Single Record or Track, Female, and Best Vocal Performance Album, Female. The album was later inducted into the Grammy Hall of Fame in 1999.
Verve was sold to MGM in 1963, and by 1967 Fitzgerald found herself without a contract. She spent the next few years recording for a number of labels like Capitol, Atlantic and Reprise. Her albums during these years also found her updating her repertoire with modern pop and rock songs such as Cream's "Sunshine of Your Love" and the Beatles' "Hey Jude." She sang traditional hymns on 1967's Brighten the Corner, while 1969's Ella included her last U.S. chart single with a cover of Smokey Robinson's "Get Ready." Nonetheless, Fitzgerald remained an immensely popular and highly regarded performer. In 1967, she was bestowed with the Bing Crosby Award (later named the Grammy Lifetime Achievement Award) at the 10th Annual Grammy Awards.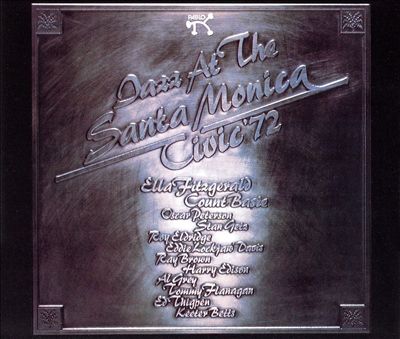 However, her later years were again marked by the influence of Granz after he founded the independent Pablo Records. A concert album, Jazz at the Santa Monica Civic '72, featuring Fitzgerald, pianist Tommy Flanagan, and the Count Basie Orchestra, gained popularity via mail-order sales and helped Granz launch the label. More albums followed throughout the '70s and '80s, many pairing the singer with artists like Basie, Oscar Peterson, and Joe Pass, among others. While diabetes affected her eyes and heart during this period, forcing her to take breaks from performing, Fitzgerald always retained her joyful style, and exuberant sense of swing. Away from the stage, she was committed to helping disadvantaged youth, and made contributions to various charity organizations. In 1979, she was honored with a Kennedy Center for the Performing Arts Medal of Honor Award. Also, in 1987, President Ronald Reagan awarded her the National Medal of Arts. More accolades followed, including a Commander of Arts and Letters award from France, and numerous honorary doctorates from Yale, Harvard, Dartmouth, and other institutions. Following a concert at New York's Carnegie Hall in 1991, she retired from her career. Fitzgerald passed away on June 15, 1996, at her home in Beverly Hills, California. In the decades following her death, Fitzgerald's reputation as one of the most influential and recognizable figures in jazz and popular music only increased. She remains a household name around the world, and has received a number of posthumous accolades, including four Hall of Fame Grammys and the Presidential Medal of Freedom.