Long underrated in the pantheon of jazz greats, Eddie Harris was an eclectic and imaginative saxophonist whose career was marked by a hearty appetite for experimentation. For quite some time, he was far more popular with audiences than with critics, many of whom denigrated him for his more commercially successful ventures. Harris' tastes ranged across the spectrum of black music, not all of which was deemed acceptable by jazz purists. He had the chops to handle technically demanding bop, and the restraint to play in the cool-toned West Coast style, but he also delved into crossover-friendly jazz-pop, rock- and funk-influenced fusion, outside improvisations, bizarre electronic effects, new crossbreedings of traditional instruments, blues crooning, and even comedy. Much of this fell outside the bounds of what critics considered legitimate, serious jazz, and so they dismissed him out of hand as too mainstream or too gimmicky. To be fair, Harris' large catalog is certainly uneven; not everything he tried worked. Yet with the passage of time, the excellence of his best work has become abundantly clear. Harris' accomplishments are many: he was the first jazz artist to release a gold-selling record, thanks to 1961's hit adaptation of the "Exodus" movie theme; he was universally acknowledged as the best player of the electric Varitone sax, as heard on his hit 1967 album The Electrifying Eddie Harris; he was an underrated composer whose "Freedom Jazz Dance" was turned into a standard by Miles Davis; he even invented his own instruments by switching brass and reed mouthpieces. Plus, his 1969 set with Les McCann at the Montreux Jazz Festival was released as Swiss Movement, and became one of the biggest-selling jazz albums of all time.
Harris was born in Chicago on October 20, 1934. His first musical experiences were as a singer in church, starting at age five, and he soon began playing hymns by ear on the piano. He spent part of his high school years at Du Sable, where he studied the vibraphone under the legendary band director Walter Dyett, a disciplinarian who trained some of the South Side's greatest jazzmen: Nat King Cole, Johnny Griffin, Gene Ammons, Julian Priester, and many others (even rocker Bo Diddley). He later returned to the piano and took up the tenor sax as well, and went on to study music at Roosevelt College. He landed his first professional job as a pianist, backing saxman Gene Ammons, and got the chance to sit in with greats like Charlie Parker and Lester Young. After college, he was drafted into the military; while serving in Europe, he successfully auditioned for the 7th Army band, which also included the likes of Don Ellis, Leo Wright, and Cedar Walton, among others. Following his discharge, he lived in New York and played in whatever groups and venues he could, still chiefly as a pianist. Harris returned to Chicago in 1960 and soon signed with the successful, locally based Vee Jay, which was better known for its R&B and blues acts. Although the label signed Harris as a pianist, he played only tenor sax on his first album. That album, 1961's Exodus to Jazz, would become one of jazz's most surprising success stories. The key track was "Exodus," Harris' easygoing rearrangement of Ernest Gold's theme from the epic Biblical film of the same name. It was an unlikely source for a jazz tune, and an even unlikelier hit, but it managed to catch on with mainstream radio; released as a single in a shortened version, it even climbed into the lower reaches of the pop Top 40. Its success pushed the LP all the way to number two on the pop album charts, and Exodus to Jazz became the first jazz album ever certified gold.
Many critics lambasted Harris for his commercial success, overlooking his very real talent; for one, Harris played so sweetly and smoothly in the upper register of his horn that many listeners assumed he was playing an alto, or even a soprano sax. Stung by the criticism, Harris long refused to play "Exodus" in concert; nonetheless, he recorded several albums for Vee Jay over the next two years that often contained attempts to duplicate his movie-theme-adaptation idea. None of his records were as popular as Exodus to Jazz, though they sold quite respectably. In 1964, Harris moved over to Columbia, pursuing a similar musical direction (albeit with orchestral backing at times). Harris switched over to Atlantic in 1965 and promptly rejuvenated his jazz credentials with The In Sound, a classic, fairly straight-ahead bop album that introduced his original "Freedom Jazz Dance" (later covered by Miles Davis on the classic Miles Smiles). On the follow-up, 1966's Mean Greens, Harris dabbled in the electric piano; later that year, on The Tender Storm, he first experimented with the electric Varitone saxophone, which was essentially a traditional instrument fitted with an amplification system and an electronic signal processor that allowed for different tonal effects. That instrument became the focus of 1967's The Electrifying Eddie Harris, a bluesy, funky soul-jazz classic that marked Harris as one of the very few sax players to develop a distinctive, personal style on the electric sax that was also unique to the instrument's capabilities. A re-recorded version of "Listen Here" (originally featured on The Tender Storm) gave Harris a second major hit single; it just barely missed the R&B Top Ten, which helped send the LP to number two on the R&B album charts. Subsequent follow-ups -- Plug Me In, High Voltage, the Echoplex-heavy Silver Cycles -- found Harris' electrified brand of jazz-funk selling well on both the jazz and R&B charts over 1968-1969, regularly making the Top Five on the former and the Top 40 on the latter.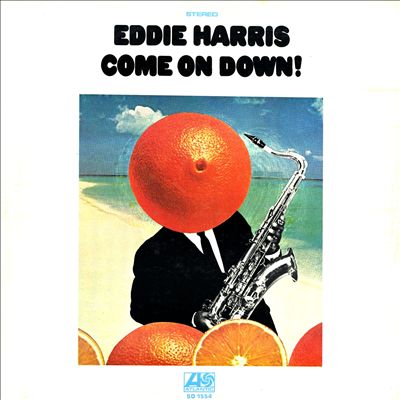 In 1969, Harris joined pianist Les McCann's regular group at the Montreux Jazz Festival; despite a complete lack of rehearsal time together, the on-stage chemistry was immediate, and the gig was released as the LP Swiss Movement, credited to McCann and Harris. Paced by the hit singles "Compared to What" and "Cold Duck Time," Swiss Movement hit number two on the R&B charts en route to becoming one of the biggest-selling jazz albums of all time. Meanwhile, Harris' solo career continued apace, with increasingly playful -- and sometimes bizarre -- experiments. 1970's Come On Down! was a more jazz-rock-flavored session that found Harris singing into his horn through its effects unit. He also began to experiment with new horns, inventing such instruments as the reed trumpet (basically a trumpet fitted with a sax mouthpiece; heard most notably on 1970's Free Speech and 1971's Instant Death) and the saxobone (a sax with a trombone mouthpiece). 1972's Eddie Harris Sings the Blues further explored the concept of singing through his horn, with often strange results; the following year's E.H. in the U.K. took him to Britain to record jazz-rock with Steve Winwood, Albert Lee, Jeff Beck, and others. The spacy, heavily electronic Is It In, issued in 1974, ranked as one of his most creatively successful experiments. Subsequent albums like I Need Some Money, Bad Luck Is All I Have, and That Is Why You're Overweight were all over the musical map, but favored comic R&B-style vocal numbers, now without the electronic effects.
Harris' sales had been slipping, but were still fairly strong for a jazz artist, up until 1975's The Reason Why I'm Talking Shit, which abandoned humorous songs in favor of full-on, adults-only stand-up comedy. Only a few bits of music were interspersed between all the nightclub patter, and the results were so left-field that Harris' audience stayed away in droves. Thus, 1976's wide-ranging How Can You Live Like That? was largely ignored, and Harris parted ways with Atlantic by 1978. Harris went to RCA for two albums recorded in 1979, the limp fusion outing I'm Tired of Driving and the completely solo Playing With Myself, on which Harris dubbed horn solos over his own piano work. He didn't stay for long; over the course of the '80s and '90s, he recorded mostly for small labels like Steeple Chase, Enja, Timeless, and Flying Heart, among others. These albums found Harris returning to traditional hard bop, generally in acoustic quartet settings. He made his final studio recordings in the mid-'90s, and was forced to stop performing by the combined effects of bone cancer and kidney disease. He passed away in Los Angeles on November 5, 1996, about six months after a final concert engagement in his hometown of Chicago.