Boasting a mix of Southern pride, erudite lyrics, and a muscled, guitar-heavy attack, Drive-By Truckers became one of the most well-respected alternative country-rock acts of the 2000s and onward. Led by frontman Patterson Hood (vocals, guitar and songwriting) and fellow guitarist and tunesmith Mike Cooley, and featuring a rotating cast of Georgia and Alabama natives, the Drive-By Truckers celebrated the South while refusing to paint over its sometimes shameful past. History, folklore, politics, and character studies all shared equal space in the Truckers catalog, which offered up its first blast of gutsy, twangy rock with 1998's Gangstabilly. It was the band's ambitious double-disc concept album, 2001's Southern Rock Opera, that became their unlikely magnum opus and breakthrough release, exploring Hood's fascination with '70s Southern rock while tackling the cultural contradictions of the region, and it helped lay the groundwork for much of the band's later work. While they lacked the narrative cohesion of Southern Rock Opera, 2003's Decoration Day, 2004's The Dirty South, and 2008's Brighter Than Creation's Dark found the band's deep-focus songwriting and smart but hard-hitting rock growing stronger than ever. 2016's American Band pushed their progressive political views front and center, and they doubled-down on their social and political commentary on their first two albums in the 2020s, The Unraveling and The New OK. 2023's The Complete Dirty South was an ambitious archival project, with the band reworking one of their best albums into the form they originally intended.
In 1985, college friends Mike Cooley and Patterson Hood (whose father, David Hood, was a Muscle Shoals session player who played bass on the Staple Singers' "I'll Take You There") formed a punk-inspired band named Adam's House Cat. The group split up six years later, and Cooley and Hood launched several follow-up projects before moving to different cities. They eventually returned to Athens, Georgia, where they formed Drive-By Truckers in 1996. Gangstabilly announced the band's official debut in 1998, and its follow-up, Pizza Deliverance, saw Cooley emerging as a strong songwriter in his own right. (The contrast between Cooley and Hood's songs, as well as those compositions written by bandmembers Rob Malone, Shonna Tucker, and Jason Isbell, would soon prove to be one of the Truckers' biggest strengths.) In 2000, the band documented its strength as a live act with Alabama Ass Whuppin', a concert recording taken from a show in Athens.
The vision for Drive-By Truckers' heralded rock opera took shape as Hood began to address his own Southern roots. Recorded during a September heat wave in Birmingham, Alabama -- and boasting the band's three-guitar attack (à la Skynyrd) -- the album veered from nervy, powerful rock & roll to a bruised, jagged tone that recalled Neil Young & Crazy Horse. It was also an underground success, receiving a four-star rating from Rolling Stone and catching the ear of roots rock label Lost Highway, which reissued the album in 2002. Unfortunately for the label, many people who would otherwise have purchased the album already owned a copy; unfortunately for the Truckers, they were released from their contract just as their first album for Lost Highway was finished. After several months of between-label limbo, the band was picked up by New West Records, a Texas-based label that released Decoration Day in mid-2003. The album featured several songs by newcomer Jason Isbell, a young singer/guitarist who had replaced Rob Malone two years prior.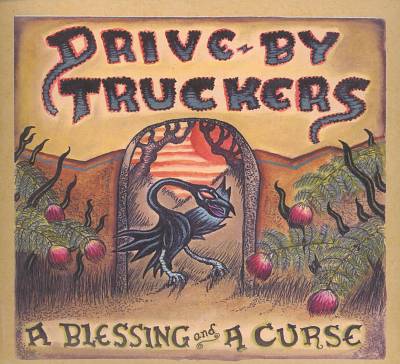 Tour dates and further lineup changes followed the album's release, with bassist Earl Hicks departing and studio musician Shonna Tucker (who was also Isbell's wife) climbing aboard to join Hood, Cooley, Isbell, and drummer Brad Morgan. The new lineup made its debut on 2004's The Dirty South, a concept album that spun Southern tales of small towns, violent sheriffs, and legendary record producers. A concert DVD, Live at the 40 Watt: August 27 & 28, 2004, arrived in 2005, followed one year later by Isbell's final album with the group, A Blessing and a Curse. In light of Isbell's decision to quit the band in favor of a solo career, pedal steel guitarist John Neff officially joined in 2007, having contributed to several Drive-By Truckers albums in the past. Brighter Than Creation's Dark introduced the revised lineup in 2008; additionally, it showcased Shonna Tucker's abilities as a songwriter, marking the first time that any of her contributions had appeared on record. Drive-By Truckers returned to the road that summer to support the record's release.
Although the band remained on tour well into 2009, the Truckers also found time to release their second concert album, Live from Austin TX, as well as a collection of unreleased material entitled The Fine Print: A Collection of Oddities and Rarities. Patterson Hood rounded out the year by recording his second solo record, Murdering Oscar (And Other Love Songs), and getting his bandmates back together after its release for another round of recording sessions. Two albums resulted from those sessions, 2010's The Big To-Do and 2011's Go-Go Boots, both of which were released by ATO and featured the group's new keyboard player, Jay Gonzalez, who also contributed to Hood's third solo effort, 2012's Heat Lightning Rumbles in the Distance. Meanwhile, New West Records combed through the band's first decade of material to help compile Ugly Buildings, Whores, and Politicians: Greatest Hits 1998-2009, which marked the band's final release for New West in August 2011. In 2012, Mike Cooley followed Hood's lead with his debut solo effort, The Fool on Every Corner, drawn from a pair of solo acoustic performances. Returning to the studio in 2013 with longtime producer David Barbe, the group (now a five-piece with the departure of John Neff and the addition of new bassist Matt Patton, who replaced Tucker after she left for a solo career) opted for a stripped-back sound for its 12th album, 2014's English Oceans. The DBT's followed the release of English Oceans with their usual rounds of extensive touring, and a three-night stand at the Fillmore Auditorium in San Francisco in the fall of 2014 was recorded for the group's most ambitious live album to date. The three-CD (or five-LP) concert set It's Great to Be Alive! was issued by ATO in October 2015.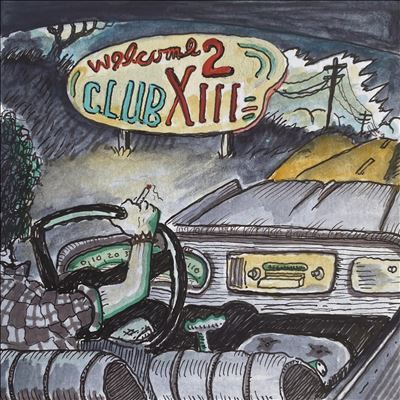 In 2016, as issues of race, class, and violence became dishearteningly common in the daily news, Drive-By Truckers recorded their most explicitly political album to date. American Band found the band speaking directly about the growing divisions in the United States, with Hood and Cooley each taking on an equal share of the songwriting. American Band was released in September 2016, followed by a run of concerts they dubbed the Darkened Flags Tour. The dark themes continued on 2020's The Unraveling, a more somber and introspective effort but no less forceful. The Unraveling appeared in late January, and two months later, the DBTs' touring schedule was scuttled by the closing of venues due to the COVID-19 pandemic. Without live shows to keep them occupied, the group reworked several songs recorded during the sessions for The Unraveling, and in October 2020, they brought out another album largely informed by political discord in the United States, The New OK. In the summer of 2021, the DBTs went into the studio to demo some new songs ahead of a concert tour. The band felt unusually inspired, and at the end of three days, they had recorded most of what would become their 2022 release Welcome 2 Club XIII, with most of the tunes nailed in one or two takes. Named for a state-line club Hood and Cooley played in during their scuffling days, the album featured vocal contributions from Margo Price and former R.E.M. bassist Mike Mills.
In 2023, the DBT's teamed with New West Records for an archival project, The Complete Dirty South. The band had originally planned for the 2004 album to be a two-disc, but New West persuaded the band to edit it down to fit on a single CD. The Complete Dirty South restored the album to its original length and intended sequence with the addition of three outtakes, "TVA," "The Great Car Dealer War," and "Goode's Field Road" (the latter was rerecorded for Brighter Than Creation's Dark). Patterson Hood also recorded new vocals for two songs (he also revised the lyrics), and the vinyl edition included new liner notes, commentary on the songs, and revised artwork from the late Wes Freed.