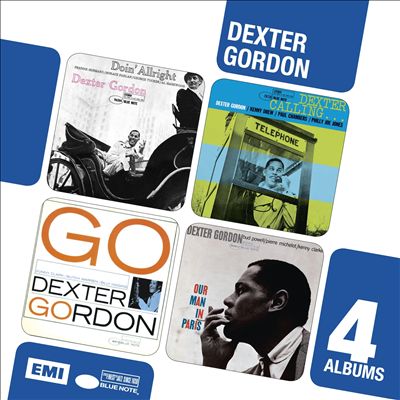 As one of the great tenors to emerge from Los Angeles' Central Avenue scene of the 1940s, Dexter Gordon led a colorful and eventful, sometimes tragic life that included three triumphant comebacks in a four-plus-decade career. Gordon was the top tenor saxophonist during the bop era and possessed his own distinctive sound, he created a large body of superior work and could successfully battle nearly anyone at a jam session. His years as a leader and co-leader at Dial, Savoy, and especially Blue Note as with 1961's Doin' Alright, 1962's Go!, and 1963's Our Man in Paris, were enough to make him a legend. Living in Europe for more than a dozen years, he recorded equally fine albums for Prestige, Steeplechase, and other labels, and his return to the U.S. resulted in several classic later-career releases, including 1977's Homecoming: Live at the Village Vanguard and 1979's Sophisticated Giant. As a beloved, influential member of the bebop generation, his story (and Bud Powell's) inspired French director Bertrand Tavernier to tell a portion of it in the 1986 drama Round Midnight in which Gordon played the lead role. Along with earning a Best Actor Oscar nomination, the film won him a Grammy for Best Improvised Solo for his companion album The Other Side of Round Midnight, which was also his final album, released five years before his 1990 passing.
Gordon was born to renowned parents in Los Angeles in 1923. His father, Dr. Frank Gordon, was among the first Black doctors in the city after graduating from Howard Medical School in Washington, D.C. in 1918. (His patients included Duke Ellington and Lionel Hampton.) His mother, Gwendolyn Baker, was the daughter of Captain Edward Baker, one of the five Black Medal of Honor recipients during the Spanish–American War. Gordon began playing clarinet at age 13 and switched to saxophone two years later. While at school, he played in bands with Chico Hamilton and Buddy Collette. His first important gig was with Lionel Hampton (1940 to 1943) although, due to Illinois Jacquet also being in the sax section, Gordon did not get any solos.
In 1943, he did get to stretch out on a recording session with Nat King Cole. Short stints with Lee Young, the Fletcher Henderson Orchestra, and Louis Armstrong's big band preceded his move to New York in December 1944, where he was hired for Billy Eckstine's Orchestra, trading off with Gene Ammons on Eckstine's recording of "Blowin' the Blues Away." Gordon recorded with Dizzy Gillespie ("Blue 'N' Boogie") and as a leader for Savoy before returning to Los Angeles in the summer of 1946. He was a major part of the Central Avenue scene, trading off with Wardell Gray and Teddy Edwards in many legendary tenor battles; studio recordings of "The Chase" and "The Duel" helped to document the atmosphere of the period.
After 1952, drug problems resulted in jail time and periods of inactivity during the rest of the '50s (although Gordon did record two albums in 1955). By 1960, he had recovered sufficiently to cut a core series of dates for Blue Note including Doin' Alright, Dexter Calling, Swingin' Affair and Go). After re-establishing his reputation, he moved to Europe in 1962 and remained there until 1976. While on the continent, he was in peak form -- Gordon's many SteepleChase recordings rank with the finest work of his career and include four dates with altoist Jackie McLean.
Gordon returned to the U.S. on an occasional basis, recording in 1965, 1969 and 1970, and 1972, but by then he was almost forgotten in the U.S. although he remained a major attraction in Europe. Given this status, it proved an odd yet welcome surprise that his return to America in 1976 was treated as a major media event, illustrated by the double-live Homecoming LP from his American tour, and the studio date Sophisticated Giant in 1977. A great deal of interest was suddenly given the living legend, with long lines of people waiting at clubs to see him. In 1978, appearing with Johnny Griffin, he sold out Carnegie Hall. Gordon remained a popular figure until his gradually worsening health made him only semi-active by the early '80s. His third comeback occurred when he was picked to star in director Bertrand Tavernier's 1986 motion picture 'Round Midnight. An evocative and moody film loosely based on both Gordon's and pianist Bud Powell's lives, 'Round Midnight returned the saxophonist to the public's attention. Along with playing on the Herbie Hancock-helmed soundtrack, Gordon's acting was quite realistic and touching, earning him an Academy Award-nomination for Best Actor in a Leading Role. A companion album, The Other Side of Round Midnight, also arrived the same year, winning him a Grammy for Best Improvised Solo. The album proved to be his last as Gordon's health continued to deteriorate. He died on April 25, 1990 following a battle with cancer of the larynx, as well as kidney failure.
In the 21st century, several important live finds have been issued, including the Dutch Archives' In the Cave: Live at Persepolis, Utrecht, 1963, Rhino's vinyl-only Live at the Playboy Jazz Festival, and Elemental's At the Subway Club 1973. In 2018, Go! was selected for preservation by the Library of Congress.