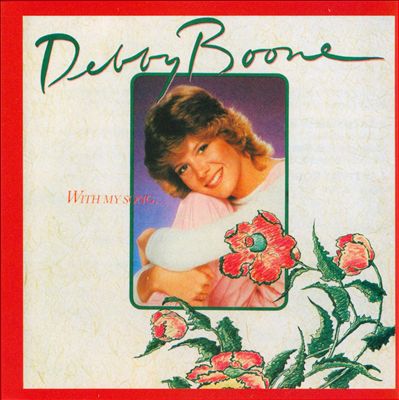 Pop singer, author, and actress Debby Boone is known for her hit "You Light Up My Life," which stayed at number one for ten weeks in 1977 and won her a Grammy Award for Best New Artist. Born in Hackensack, New Jersey, Boone's young life was full of music. Her father was singer and actor Pat Boone and her mother, Shirley Foley, was the daughter of popular country singer Red Foley. At the age of 14, Boone began touring with her three sisters and her father, then later with just her sisters as the Boones or the Boone Girls. Producer Mike Curb encouraged her to pursue a solo career and she struck gold with first solo effort, "You Light Up My Life," rising quickly to stardom with one of the most popular songs of the decade. Subsequent pop singles failed to make as big an impact and Boone eventually tried her hand at country music, finding success in the late-70's with albums like Midstream and Love Has No Reason. At the dawn of the '80s, Boone again transformed herself, launching a successful career recording Christian and inspirational music. Signing with prominent CCM label Sparrow Records, she released 1980's With My Song, followed in 1983 by Surrender, eventually winning two more Grammy awards in the Christian and inspirational categories as well as two GMA Dove Awards.
Throughout much of the '80s and '90s, Boone devoted herself to her acting career, appearing across the country in productions of Seven Brides for Seven Brothers, Camelot, The King and I, and The Sound of Music, as well as on television. Beginning in 1988, she began yet another phase of her creative career writing children's books. Inspired by her own four children, Boone wrote Hours for Little Ones and Tomorrow Is a Brand New Day. Her 1997 book, Nightlights, was illustrated by her husband, Gabriel Ferrer. She has also produced two children's videos, Bobby Boone's Hug-A-Long Songs, Vol. 1 and Bobby Boone's Hug-A-Long Songs, Vol. 2.
In 2005, Boone made a return to music, releasing her first album since her 1989 holiday set, Home for Christmas. A tribute to her late mother-in-law, singer and actress Rosemary Clooney, Reflections of Rosemary saw Boone covering classic jazz and pop songs that Clooney had made famous, as well as songs that she felt warmly reflected the singer's personality. Touring heavily over the next several years, Boone continued to move toward a jazz and pop standards repertoire, releasing the big-band album, Swing This! in 2013. In 2017, she celebrated the 40th anniversary of her debut album, You Light Up My Life, with an expanded deluxe reissue.