Marked by an adventurous, harmonically fluid style, alto saxophonist David Binney has established himself as a true original and critically acclaimed performer in progressive jazz. Emerging in the late '80s after earning a grant from the National Endowment for the Arts, he released his debut album, 1991's Point Game. From there, he has collaborated on projects with such similarly inclined luminaries as Chris Potter, Donny McCaslin, and Uri Caine. A prolific artist, he founded his own Mythology label, and has continued to earn critical attention, including winning three Down Beat Critics Polls for alto saxophone.
Born in Miami, Florida, on August 2, 1961, he spent some time in Detroit while his parents, who were big music fans, were at Wayne State University. They introduced him to the music of John Coltrane, Miles Davis, Bobby Hutcherson, Wayne Shorter, Jimi Hendrix, Milton Nascimento, and Sly & the Family Stone, among others. Growing up in the beach community of Carpenteria, California, Binney began formal studies on the saxophone with various teachers in nearby Los Angeles. In 1980, at the age of 19, he moved to New York City, where he was tutored by Phil Woods, Dave Liebman, and George Coleman. He was awarded a grant from the National Endowment for the Arts in 1989, using it to record his first CD, Point Game, in 1991 for the Owl label. He was a sideman for Aretha Franklin and Maceo Parker, was initially and briefly associated with the M-Base techno-funk crowd, and then formed a special partnership with tenor saxophonist Chris Potter.
Binney has been a member of or collaborator with Lost Tribe, Lan Xang (with fellow saxophonist Donny McCaslin), Uri Caine's Gustav Mahler and J.S. Bach projects, the Drew Gress-led combo Jagged Sky, the Maria Schneider and Gil Evans orchestras, and Medeski, Martin & Wood. Audioquest released his second album as a leader, The Luxury of Guessing, in 1995. He started his own record label, Mythology, yielding the albums Free to Dream and the first Lan Xang CD (1998), as well as Welcome to Life (2004) and Out of Airplanes (2006). The 2001 recording South for the ACT label brought Binney's collaboration with Potter to full fruition.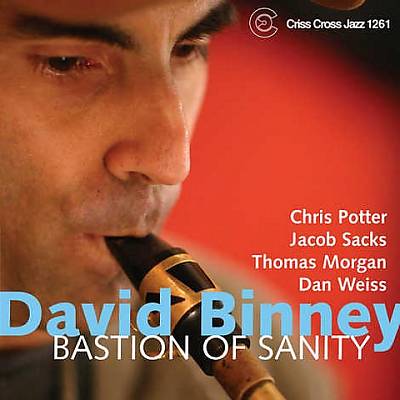 He's also led sessions for the Criss Cross label on Bastion of Sanity (2005) and Cities and Desire (2006), and for the Italian Red label on Afindad (2001) and Fiestas de Agosto (2005), while Lan Xang issued a second disc for the Naxos label in 2000. A follow-up on ACT, Balance (2002), found Binney teamed again with McCaslin. More highly regarded albums followed on Criss Cross, including 2010's Aliso, 2013's Lifted Land, and 2014's Anacapa. He then paired with guitarist Adam Rogers for 2015's R&B, and in 2017 he delivered the quartet date The Time Verses. Here & Now arrived 2019 and found Binney utilizing electronics and synths alongside his saxophone. Also that year, he joined fellow reed players David Liebman, Donny McCaslin, and Samuel Blais for Four Visions: Saxophone Quartet.