Working toward the traditional side of contemporary country, singer, songwriter, pianist, and Georgia native Craig Campbell is blessed with a deep, expressive voice, an awareness of the genre's history, and a no-gimmicks approach to performance that brings out the sincerity in his songs. Born in Lyons, Georgia, Campbell played piano at his mother's Baptist church from the age of ten until he was 18 and his home was filled with the sound of gospel music, but he also fell under the spell of country music, particularly Travis Tritt, whose gospel-fueled delivery suited Campbell's own vocal style. While still a teenager he formed a band, Out of the Blue, and began playing the bar circuit, learning how put together a performance and capture an audience.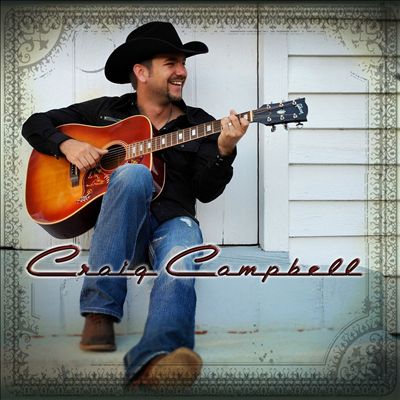 In 2002, he relocated to Nashville, quickly immersing himself in the music scene there. He landed a steady gig at The Stage, one of the biggest clubs in historic Lower Broadway and doing demo sessions for other singers. Fellow Georgian Luke Bryan suggested Campbell try his hand at writing his own songs, and in time he mastered the craft, honing his original material at gigs. He met another singer, Mindy Ellis, fell in love, and the pair married; he also began playing piano in her band, which in turn led to a touring stint with Tracy Byrd. Keith Stegall caught one of Campbell's performances at The Stage in 2008 and the young singer was soon signed to Bigger Picture, which released a debut single, "Family Man," in 2010, following it with a full-length album, the self-titled Craig Campbell, in 2011. "Family Man" peaked at number 14 on the Country Singles chart, and two more singles taken from the album, "Fish" and "When I Get There," made the Country Top 40.
Campbell kept up a hectic touring schedule, and in May 2013 Bigger Picture released his second album, Never Regret. Two singles from the album charted on the Country Singles chart, "Outta My Head" (which peaked at number 25) and "Keep Them Kisses Comin'" (which rose to number 15). In May 2014, however, Campbell got the bad news that Bigger Picture was going out of business, though the singer lobbied country radio stations to keep spinning his music despite the lack of label support. Since Campbell was known as Bigger Picture's best-selling artist with a solid chart history, other labels soon came calling, and in December 2014 he announced he'd signed a new deal with Red Bow Records. May 2015 saw Campbell release his debut for his new label, the single "Tomorrow Tonight." A second single, "Outskirts of Heaven," arrived a year later and peaked in the Top 40 of the Hot Country Songs chart.