A band of many firsts (and quite a few lasts, too), Coven was a unique product of their liberal, late-'60s environment, transforming their concerts and albums into full-fledged satanic rituals on a scale never seen in pop music up to that time. But once stripped of its considerable shock value, the band's uneven mixture of psychedelic and early progressive rock was really more flawed than groundbreaking.
Coven was formed in late-'60s Chicago by Jinx Dawson (an Indiana native, first name Esther, who had previously studied opera), bassist Oz Osborne (no relation to the Black Sabbath singer), and drummer Steve Ross, and by 1967/1968, they could be seen opening local shows for visiting luminaries ranging from Vanilla Fudge to the Yardbirds, with the help of ancillary players Chris Nielsen on guitar and John Hobbs on keyboards. From the very beginning, Coven's performances took the shape of elaborate satanic rites that largely overshadowed their music, but this didn't stop local producer Bill Traut (the owner of local independent, Dunwich Records, and a major mover and shaker in the Windy City rock scene) from recognizing the core trio's potential, then pairing them with external songwriters, and securing a wider distribution deal with Chicago's own Mercury Records. The first spawn of their unholy union was 1969's legendary Witchcraft Destroys Minds and Reaps Souls album, which draped Coven's diffuse mix of psychedelic prog rock and pop under a veritable catalog of deeply occult lyrics, opening with a song named -- remarkably enough -- "Black Sabbath," and culminating in a 13-minute reading of the Satanic Black Mass itself. What's more, the album contained a now-infamous poster depicting said Black Mass, where bandmembers and associates dressed in monks' robes hoisted torches, upside-down crosses, and threw devil's horns hand signs over a stark naked Dawson, who herself served as the object of their human sacrifice. It should be noted, however, that the striking singer (who made it a point to cast the devil's horns throughout the band's shows) possessed a highly distinctive and refined voice reminiscent of Grace Slick, only much more powerful. Unfortunately, none of this would matter when the not-unexpected controversy that followed the album's release led to widespread boycotts from retailers and mass returns. Then, the imminent rise to fame of Britain's Black Sabbath and their own Ozzy Osbourne just a few months later muddled the situation even further, simultaneously causing much confusion for consumers and overshadowing Coven's quickly dating psych tendencies under the deadweight of heavy metal's leaden boots. The final blow came when Coven were cited in a March 1970 article in Esquire Magazine entitled "Evil Lurks in California," that linked the counterculture with the occult via Charles Manson and his family's heinous acts, convincing Mercury to officially withdraw Witchcraft Destroys Minds and Reaps Souls from circulation.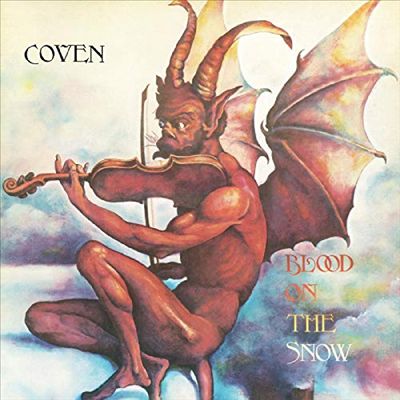 Coven would never really recover from this setback, and had effectively disbanded by the end of 1970; but a new lineup fronted by a then California-based Jinx Dawson was given a second chance at success via the recording of a single called "One Tin Soldier" for a movie soundtrack, which surprisingly charted three separate times in Billboard Magazine's Hot 100 over the next few years: reaching number 26 in 1971, number 79 in 1973, and number 73 in 1974. Amid these recurring signs of life, Dawson and co. recorded an eponymous Coven album for MGM in 1972 and third opus named Blood on the Snow for Buddah Records in 1974; moving closer, each time out, to the hard rock and heavy metal sounds that their iconoclastic debut had influenced indirectly, in terms of imagery and aesthetics, if not the music itself. Blood on the Snow's title track was also the subject of one of the first true music videos ever produced (ironically in partnership with Disney Studios), but its failure to impact the charts would mark the dwindling of Coven's activities over the next few years, as Dawson began focusing on a budding acting and modeling career, instead. Sure enough, it was through Dawson's movie industry work that Coven would eventually reemerge in 1990, when the singer collaborated with original drummer Steve Ross on the soundtrack to a film entitled Heaven Can Help, and then appeared in it with assorted new bandmembers, but this, too, proved a short-lived reunion. Coven's next resurrection would, as with so many cult bands of every stripe, result from organic rediscovery via the worldwide web, followed by renewed engagement by Dawson herself as she realized the lasting power of her "Goth Queen" legacy. Come 2008, she had assembled a new CD of unreleased Coven material entitled Metal Goth Queen: Out of the Vault, which reputedly featured session work from original Steppenwolf guitarist Michael Monarch, one-time Jethro Tull bassist Glen Cornick, and even James Gang/Deep Purple guitarist Tommy Bolin, captured on some of his final recordings.