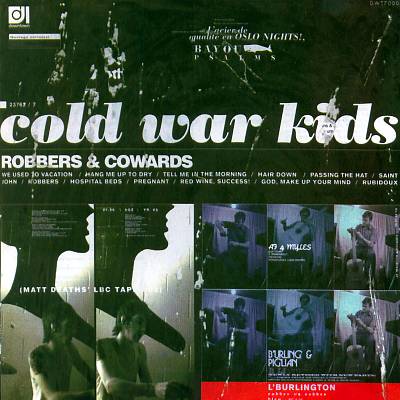 As they grew from quirky mid-2000s blog darlings into a rock band with a polished yet passionate sound, Cold War Kids' music spanned influences as diverse as Tom Waits, Billie Holiday, Nick Cave, and U2. The group's shifting lineup reflected their evolving sound over the years, from the stomping blues-punk of 2006's debut Robbers & Cowards to the slick alt-rock of 2011's Mine Is Yours. Cold War Kids grew more anthemic, and more popular, as time went on: 2017's L.A. Divine, which celebrated the mythos of their adopted hometown as well as the power of sweeping rock, made the Top Ten of Billboard's Top Rock Albums chart. However, the band remained adventurous with their New Age Norms trilogy, which ranged from the funk and disco influences of 2019's New Age Norms, Vol. 1 to the dance-rock leanings of 2021's New Age Norms, Vol. 3.
Years before the band formed, bassist Matt Maust thought of the name Cold War Kids while on an Eastern European trip in 1997. Maust and the group's other founding members -- vocalist/guitarist/pianist Nathan Willett, drummer Matt Aveiro, and guitarist Jonnie Russell -- met at Biola University and began crafting their soulful, blues-inflected take on indie rock as Cold War Kids in 2004. They worked on songs in Russell's Fullerton, California apartment, which was above a restaurant named Mulberry Street; in 2005, they named their debut EP for Monarchy Music for the eatery. On the strength of their subsequent EPs With Our Wallets Full and Up in Rags, and their impassioned live performances, Cold War Kids signed to Downtown Records in 2006. That year, the label released the band's acclaimed debut, Robbers & Cowards, which featured production by Kevin Augunas.
After spending two years on the road, Cold War Kids relocated to Long Beach, California, and reunited with Augunas for their introspective second effort, 2008's Loyalty to Loyalty. While touring in support of the album, they found time to record the following year's Behave Yourself EP, a set of songs that emphasized their soulful ballads. Early in 2010, Cold War Kids went into the studio with Grammy-winning producer Jacquire King (Tom Waits, Kings of Leon) to record their polished third album, 2011's Mine Is Yours. Late in 2012, Russell departed Cold War Kids. Former Modest Mouse and Murder City Devils guitarist Dann Gallucci joined the band for 2013's Dear Miss Lonelyhearts, which he also co-produced with Lars Stalfors. A few months later, the digital-only Tuxedos EP arrived. At the end of the year, Aveiro left the group and was replaced by Modest Mouse drummer Joe Plummer.
Though Maust and Willett worked on their side project French Style Furs -- whose debut, Is Exotic Bait, arrived in 2014 -- Cold War Kids also returned that year with Hold My Home. Recorded at the band's personal studio and once again produced by Gallucci and Stalfors, the album was released in October 2014 and was their first to feature multi-instrumentalist and vocalist Matthew Schwartz as a full member of the group. It also included "First," which became the band's highest-charting single when it topped the Billboard Alternative Songs chart in 2015. In 2016, Gallucci left the group and was replaced by We Barbarians' David Quon. That year, Cold War Kids issued the anti-Donald Trump single "Locker Room Talk" as part of the "30 Days, 50 Songs" project.
The following year, the band moved to Capitol for their sixth studio album, L.A. Divine. Inspired by their adopted hometown of Los Angeles, the LP peaked at number ten on the Billboard Top Rock Albums chart. A live album, Audience: Live September 24, 2017, Athens, GA arrived the following year. This Will All Blow Over in Time, a collection of the group's Downtown Records output, appeared in 2018. The following year, Cold War Kids kicked off a trilogy of mini-albums with that October's New Age Norms, Vol. 1, which folded hints of pop, funk, and disco, as well as more topical songwriting, into their sound. The band opted for a more danceable approach on August 2020's New Age Norms, Vol. 2, before capping things off with September 2021's New Age Norms, Vol. 3 and its funk-punk single "What You Say." A collaborative version of "What You Say" featuring Zella Day appeared in early 2022.