With his bold, swinging style and robust sound, Philadelphia native Christian McBride is one of the foremost jazz bassists of his generation. Initially coming to prominence as a Young Lion in the early '90s, McBride was championed by elders including Benny Carter and his longtime idol and mentor Ray Brown. He gained attention playing alongside similarly inclined contemporaries such as trumpeter Roy Hargrove, pianist Benny Green, and saxophonist Joshua Redman. His early albums, 1994's Gettin' to It and 1995's Number Two Express, displayed his hard-swinging, acoustic post-bop sound. However, he quickly proved his versatility and broad stylistic influences with 1998's Family Affair and 2000's Sci-Fi, embracing electric fusion, funk, and soul influences. Still, jazz remained his focus, as with his trio and Inside Straight quintet, both of which he debuted in 2013 on Out Here and People Music, respectively. He has earned more than five Grammy Awards, including two with his big band -- 2017's Bringin' It and 2020's For Jimmy, Wes and Oliver -- and for his work in the Trilogy trio with Chick Corea and Brian Blade. As a leader, he moves easily between small group dates like 2018's Christian McBride's New Jawn, to more ambitious large-ensemble projects like 2020's The Movement Revisited: A Musical Portrait of Four Icons. He also reunited with Redman, collaborating with his fellow '90s quartet bandmates Brad Mehldau and Brian Blade on 2020's RoundAgain and 2022's LongGone. In addition to performing, McBride is a well-known radio personality, having hosted The Lowdown: Conversations with Christian on satellite radio and Jazz Night in America on National Public Radio. His expertise has also been tapped for advisory positions, including Artistic Advisor for Jazz Programming at the New Jersey Performing Arts Center (NJPAC), Artistic Director for Newport Jazz Festival, and Associate Artistic Director at the National Jazz Museum in Harlem.
Born in 1972 in Philadelphia, McBride grew up in a musical family with a mother who taught school and a father who played bass with R&B bands like the Delfonics and Billy Paul, as well as Cuban percussionist Mongo Santamaria. Young McBride would often accompany his father to gigs, and it was during one of those times at the Atlantic City Jazz Festival that he saw legends Dizzy Gillespie, Dexter Gordon, and Ella Fitzgerald. The show had a lasting impact on McBride, who started playing the electric bass around age eight after asking for one as a Christmas present. Though his parents divorced, McBride's father remained active in his musical development and gave him his first lessons on the bass. Through his father, he developed a love of funk, jazz, and soul music. By his teens, he was playing upright bass in the school orchestra and the youth ensemble at Philadelphia's noted Settlement Music School. He played his first paying gig at 13, and by age 16 was working regularly in local jazz and R&B bands. He attended the Philadelphia High School for the Creative and Performing Arts, where he rubbed shoulders with classmates like Questlove and Black Thought of the Roots, keyboardist Joey DeFrancesco, and guitarist Kurt Rosenwinkel.
In 1989, McBride moved to New York City to attend the prestigious Juilliard School in Manhattan but left after one year to play with saxophonist Bobby Watson. Gigs and albums followed with luminaries including Roy Hargrove, Freddie Hubbard, Benny Green, Mulgrew Miller, Joshua Redman, Chris Potter, and more. He also worked closely with his idol and mentor, bassist Ray Brown, forming the all-star trio Super Bass with Brown and bassist John Clayton. In 1994, McBride made his debut as leader with Gettin' to It on Verve with pianist Cyrus Chestnut. Number Two Express followed a year later and featured saxophonist Kenny Garrett, pianist Chick Corea, and drummer Jack DeJohnette, among others. There were also notable outings with Herbie Hancock, Wallace Roney, Ryan Kisor, John Pizzarelli, and more.
McBride closed out the decade with A Family Affair, in which he played the electric bass and reconnected with his R&B roots. Also around this time, he began branching out, taking on the positions of artistic director of the summer jazz program at the University of Richmond, and embarking on what would be an 11-year run as artistic director of the Jazz Aspen-Snowmass summer program. He spent five years as creative chair for jazz programming at the Los Angeles Philharmonic Association. With 2000's Sci-Fi, McBride continued to explore his love of cross-pollinated fusion and funk. It was a sound he stuck with for his move to Warner Bros. for 2003's Vertical Vision. A year later, he earned his first Grammy playing on pianist McCoy Tyner's Illuminations. The three-disc Live at Tonic arrived in 2006 and showcased an even more wide-ranging mix of styles.
Having switched labels from Verve to Warner in the early 2000s, McBride made yet another label change, releasing the more straight-ahead New York Time on Chesky in 2006. He then joined pianist Bruce Hornsby and drummer DeJohnette for the 2007 trio album Camp Meeting. Two years later, he returned with Kind of Brown, his first album with his Inside Straight band. In 2009, he garnered his second Grammy Award for his contribution to pianist Chick Corea and guitarist John McLaughlin's Five Peace Band Live.
In 2011, the bassist introduced his big band with The Good Feeling on Mack Avenue. The album, which featured vocals by McBride's wife, singer Melissa Walker, took home the Grammy for Best Large Jazz Ensemble Album. He also issued the duets album Conversations with Christian that year, which featured performances with Angélique Kidjo, Sting, Dee Dee Bridgewater, and others. He then joined pianist Makoto Ozone and drummer Jeff "Tain" Watts for My Witch's Blue. People Music arrived in 2013 and found the bassist once again working with his Inside Straight ensemble.
2013 also saw the release of McBride's Grammy-nominated trio album Out Here with pianist Christian Sands and drummer Ulysses Owens, Jr. He picked up a second Grammy that year for his work on pianist Corea's Trilogy. Away from performing, McBride stayed active hosting The Lowdown: Conversations with Christian on satellite radio and Jazz Night in America on National Public Radio. He also continued his work as Artistic Advisor for Jazz Programming at the New Jersey Performing Arts Center.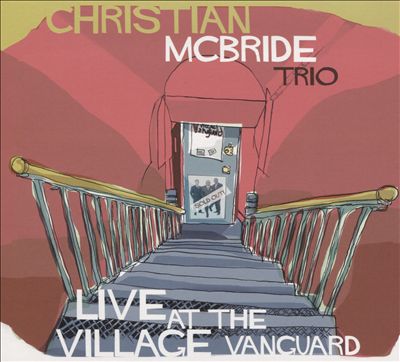 Another trio effort, Live at the Village Vanguard, arrived in 2015 and included the bassist's Grammy-winning performance of "Cherokee," which took home the award for Best Improvised Jazz Solo. He then returned to his big band for 2017's Bringin' It, which earned McBride his sixth Grammy Award for Best Large Jazz Ensemble Album. In 2018, he released Christian McBride's New Jawn, an adventurous, piano-less quartet album featuring trumpeter Josh Evans, tenor saxophonist Marcus Strickland, and drummer Nasheet Waits. A year later, he teamed up with Chick Corea and Brian Blade for the live Trilogy 2 album while earning a trio of Grammy nominations for his New Jawn LP.
In February 2020, McBride released his ambitious large-ensemble work The Movement Revisited: A Musical Portrait of Four Icons, celebrating the lives of famed civil rights leaders Rev. Dr. Martin Luther King, Jr., Malcolm X, Rosa Parks, and Muhammad Ali. That September, he paid tribute to legendary jazz artists Jimmy Smith, Wes Montgomery, and Oliver Nelson with the Grammy-nominated big-band album For Jimmy, Wes and Oliver. He also joined Joshua Redman for RoundAgain, a reunion of the saxophonist's '90s quartet with pianist Brad Mehldau and drummer Brian Blade. Another Live at the Village Vanguard, this time featuring a performance with Inside Straight during McBride's 2014 residency at the famed Manhattan club, arrived in November 2021. The following year, he was back with Redman's quartet for LongGone.