Since their formation in 1993, Finland's Children of Bodom wove various strains of heavy and extreme metal, melodic hooks, a flashy presentation, a healthy -- some would say excessive -- sense of humor, and the guitar pyrotechnics of lead guitarist Alexi Laiho into an instantly recognizable sound at once expansive yet difficult to pigeonhole. Beginning with their independently issued debut, Something Wild, on Spinefarm in 1997 (re-released by Nuclear Blast a year later) and underscored by an electrifying, wildly energetic, entertaining stage presence showcased on regional tours opening for acts such as Dimmu Borgir, word of mouth won the band a cult-like fan base that grew exponentially in the ensuing years, making them a global attraction. Several of their albums charted inside the Top 100 on the pop charts, while six more landed in the Top 20 at Hard Rock Albums list and on various other charts. 2003's Hate Crew Deathroll delivered an excellent example of their slice 'n' dice songwriting style, where grotesque, theatrical lyrics were juxtaposed with Laiho's richly combinative, shred-and-roll metal riffs and themes, which simultaneously offered ample evidence of their instrumental prowess and a firmly tongue-in-cheek, nearly satirical approach to HM themes. 2004's Are You Dead Yet? and 2006's audiovisual package Chaos Ridden Years: Stockholm Knockout Live were paramount in winning Laiho Metal Hammer's World's Best Guitarist designation for the year. 2008's Blooddrunk reached the Top 25, making it their highest-charting and best-selling album; its cover version of "Ghost Riders in the Sky" became a streaming hit. In 2013, Halo of Blood was noteworthy for not only charting but for reviews by several publications that claimed it might be the recording to take European death metal mainstream. Two years later, I Worship Chaos was released in a deluxe version that contained four covers including Bananarama's "Cruel Summer," the Plasmatics' "Mistress of Taboo," Kenny Loggins' "Danger Zone," and Amorphis' "Black Winter Day." They helped take the album to number one at home and into the upper half of the Top 200 in the States, while charting inside the Top 40 across the remainder of Europe.
Founded by lifelong friends Alexi Laiho (guitar/vocals) and Jaska Raatikainen (drums), the band originally formed under the name Inearthed. Along with bassist Samuli Miettinen, Laiho and Raatikainen mined their love of classic death metal for inspiration, channeling the aggression of bands like Entombed and Obituary into their sound. Though he was Inearthed's primary songwriter, Miettinen's time in the band was cut short when his family moved to the United States. The group soldiered on, recruiting Henkka Seppälä as a replacement, as well as expanding their lineup with a second guitarist, Alexander Kuoppala, and keyboardist Janne Wirman.
In 1997, after years of unsuccessfully courting labels with demo recordings, the band gained the attention of Belgian label Shiver, which signed the group with the intent to release their debut album, Something Wild. Inearthed quickly found their cup running over with interest when, right after they signed on with one label, a bigger label, Spinefarm Records, also became interested in the band. They eventually decided to go with Spinefarm, and changed their name from Inearthed to Children of Bodom (based on the Lake Bodom murders in their hometown of Espoo) so they could sign a new contract with the label, which eventually released their debut later that year.
Things took off quickly for Children of Bodom, who entered into a relentless European touring and recording schedule that resulted in the quick release of their second album, Hatebreeder, in 1999 and their third album, Follow the Reaper, the next year. The group had a big year in 2003 when, after releasing Hate Crew Deathroll, they were named Finnish Band of the Year at the Finnish Music Awards. This was also the year of their first world tour, though the tour would prove to be a double-edged sword when, despite gaining them exposure in North America, it resulted in the unexpected departure of Kuoppala, who found himself growing tired of a life spent on the road. The band recruited guitarist Roope Latvala, who was already well known as a founding member of Stone, to replace him, and continued to tour.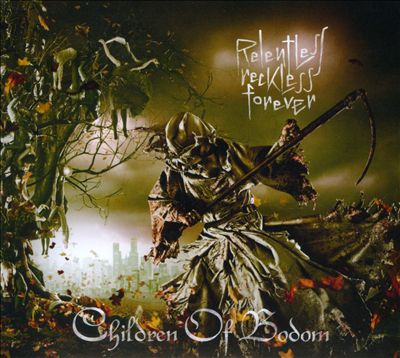 Children of Bodom's next album, Are You Dead Yet?, arrived in 2005, though the touring was cut short after Laiho injured his shoulder a couple of years later, forcing the band off the road while the guitarist recovered. This didn't stop them from working on new material, however, and their sixth album, Blooddrunk, appeared in 2008, followed by Relentless, Reckless Forever in 2011 and Halo of Blood in 2013. The group supported the release by appearing on that year's Mayhem Festival tour with Rob Zombie, Amon Amarth, and Mastodon.
In April 2015, Children of Bodom announced a new album. A month later, their Facebook page revealed that Latvala (a member since 2003) had left the band. Eschewing a proper studio to record in an empty warehouse, the quartet -- with Laiho handling all guitar parts -- attempted to capture the ambience of their live shows on a recording. A single, "Morrigan," was released on video and for digital download in September. The album, I Worship Chaos, followed in early October with the title track offered as a second single. Just in time to tour the album, they replaced Latvala with Daniel Freyberg (formerly of Norther). It would be three-and-a-half years before the band released another record, their longest gap between albums to that date.
Hexed appeared in March 2019, preceded by the single "Under Grass and Clover." Both catchier and more technical than previous releases, it had progressive and even jazz hints. Children of Bodom played what was billed as their final show in November 2019, and Laiho launched a new project, Bodom After Midnight. In early January 2021, the group announced that Alexi Laiho had died in late December 2020 due to long-term health issues; he was 41 years old.