The history of Cartola is intertwined with the history of urban carioca samba, from the 1920s through the end of the century. He was the partner of legendary Noel Rosa, he had his compositions recorded by virtually all acknowledged Brazilian interpreters, and he was a founder of Escola de Samba Estácio Primeira de Mangueira, (Samba School of Mangueira), one of the most famed samba schools of carioca Carnival (and the first Carnival association to employ the samba as a musical vehicle).
Until then, the groups (blocos) of participants (folios), were used to play and dance to marcha-rancho. Son of an amateur acoustic guitar player, Cartola learned to play the guitar by himself and by watching his father (he learned the cavaquinho, similar to the ukelele, as well). At 15 years old, his mother died and he lost the link between himself and his tyrannical father. Cartola abandoned school after completing junior high school, left home, and dedicated himself to Bohemianism and various part-time jobs. In April 28, 1928, he helped found the Samba School of Mangueira (a carioca hill over which the poor people established themselves) and was charged with being the school's master of harmony. The school's first parade, still in 1928, opened with the first samba composed by Cartola, "Chega de Demanda" ("Enough Fighting," an appeal to the cessation of violence amongst rival sambistas and malandrosof the hills).
The school of Portela already existed at that time, but the other schools only began to constitute themselves from 1932 on. People at the Estácio hill were already active as sambistas, composers and interpreters, but hadn't constituted the Estácio Samba school yet. Until then, the urban samba still hadn't absorbed influences of middle-class culture, which would only begin with Noel Rosa (1910-1937), a native sambista of Vila Isabel (one of Rio's traditional neighborhoods), of small bourgeoisie status and university culture; Orestes Barbosa (1893-1966), journalist, writer and popular composer; and Cartola, confessed reader of a few lines of Castro Alves, Gonçalves Dias, Olavo Bilac, Luís de Camões and his preferred, Guerra Junqueiro, whose A Velhice do Padre Eterno and A Morte de D. João he read completely, taking his literary studies as completed.
At this point, percussive instruments used in samba already included the surdo, the tamborim, the pandeiro, and the cuíca. The first contest of samba of the city of Rio de Janeiro took place on January 20, 1929. It included the participation of the two Samba schools already existing, Mangueira and Portela, whose samba "Não Adianta Chorar," by Heitor dos Prazeres, won. Mangueira presented "Beijos," Cartola's second samba, and "Eu Quero Nota," by Arturzinho.
In 1931, singer Mário Reis went to the hill of Mangueira to buy songs, the custom of those times not limited to the acquisition of full rights, but which involved the exclusion of the composers' names as well. Sold for 300 mil-réis, the samba "Que Infeliz Sorte" was at last recorded by Francisco Alves, as Mário Reis couldn't sing it. But Cartola never admitted to his authorship of the music and lyrics. Because Francisco Alves was a major, popular success as part of the permanent cast of Rádio Nacional, then the biggest mass-communication vehicle in Brazil, Cartola became known to a larger audience. He continued to sell the rights of his songs for the same price, creating for Alves the successes "Não Faz, Amor," "Tenho um Novo Amor," "Divina Dama," and "Diz Que Foi o Mal Que te Fiz."
In 1932, he began a partnership with Noel Rosa with the Samba "Não Faz, Amor." Noel began to frequent the Buraco Quente (Hot Hole), giving preference to Cartola. Even with the acknowledgment of critics and audience, money was always short. Cartola had to live by his wits, working as a fish, ice-cream, and cheese peddler, cambono de macumba (assistant for black magic rituals), and a mason. At the same time, though, he continued to perform functions of Mangueira's master of harmony and to compose Sambas of Carnival and middle-year. In 1932 Mangueira was the champion with the samba "Pudesse meu Ideal," by Cartola and Carlos Cachaça. In 1933, the school presented "Fita Meus Olhos," by Cartola and Baiaco, which was recorded 45 years later by the author.
In 1934, Mangueira didn't participate in the public contest, as it had won a specialized jury contest only one month before, and didn't want to risk losing that title. In 1935, the acknowledgment of samba schools by the dominant class was finally given through their inclusion in the official Carnival schedule by mayor Pedro Ernesto Batista. Portela won the contest that year, but Cartola's samba took second place, with the Samba "Brasil Terra Adorada," with partnerships by Carlos Cachaça and Arturzinho. The prestige of Cartola and Mangueira was broadcast as far as Germany with the Hora do Brasil show on January 29, 1936. Among the songs, "Liberdade," by Arlindo dos Santos and Cartola; "Pérolas para o Teu Colar," by Maciste Carioca and Cartola; "Dama Abandonada," by Cartola; "O destino Não Quis," by Carlos Moreira de Castro and Cartola; and a selections of sambas de partido alto by Cartola.
1936 proved to be a fertile period for Cartola; he composed five sambas with Carlos Cachaça: "Tudo Neste Mundo," "Sentido Pranto," "Primeira Volta," "Me Disseram," and "Quem Me Vê Sorrir." With Isaltino Custódio, Cartola composed "Deusa"and "Ingênua Criatura." In 1937, the Department of Tourism held a contest to elect the best composer of the several schools of the city. Cartola sang two sambas: "Partiu" and "Sei Chorar." (Cartola won the contest and received a gold medal.)
Even after gaining extensive support by the press, journalists, politicians, and artists, his monetary prospects were still dim. "Sei Chorar" remained unpublished until 50 years later, and "Partiu," a composition highly regarded by maestro Heitor Villa-Lobos, was unpublished. (The gold medal was pawned days after at the Caixa Econômica, due to his permanent financial difficulties.)
In 1940, as a consequence of F.D. Roosevelt's good neighbor policy, which was stimulated by the intention of solidification of the relations between the U.S. and Latin America in face of the second World War, conductor Leopold Stokowski arrived in Brazil, accompanied by the musicians of the All-American Youth Orchestra, which he'd organized, as well as a group of sound and recording engineers from Columbia Records. Their mission was two-fold: to spread the culture of America via orchestral concerts, and to compile and record the musical production of each visited country for posterity. Stokowski looked for Brazil's biggest erudite composer, Heitor Villa-Lobos, and asked him to choose the best carioca music. Villa-Lobos then gathered the town's best composers and interpreters: Pixinguinha, Luís Americano, Jararaca, Ratinho, Donga, Zé com Fome, Zé Espinguela, Mauro César, and the young soloist Janir Martins, complete with the gang of Mangueira, all performing under the command of Cartola. Villa-Lobos was an admirer of Cartola's music, and became a frequenter of his hut on the hill. He turned into a kind of godfather, introducing him to several opportunities, such as the movie Descobrimento do Brasil (1938).
From the 40 songs recorded by Stokowski, Columbia published only 16 on two collections of four 78 rpm records, under the title Columbia Presents: Native Brazilian Music by Leopold Stokowski. Cartola was represented by four compositions: "Meu Amor" and "Primeiro Amor," with Aluísio Dias; "Tristeza," with Orlando Batista; and "Quem Me Vê Sorrir," with Carlos Moreira de Castro and Carlos Cachaça. (Only the last one was included on the record.)
Between 1941 and 1947, Mangueira was a vice-champion, always with Cartola as master of harmony and official composer. But the election of Hermes Rodrigues to the presidency of the school marked the beginning of a long period of ostracism for Cartola. Rodrigues who, interested in the commercial aspect of Carnival, hired a professor to judge the sambas in the school's internal contest. With popular acceptance of his samba style declining, Cartola drowned himself in alcohol and disappeared from the artistic environment (he also barely survived a bout with meningitis and became even poorer and more miserable). His third wife, "Zica" (Euzébia Silva do Nascimento), a pastora who had been under his command at Mangueira, strived to make him return to artistic life, asking several artists and composers (Lan, Ari Barroso, Braguinha), to try to help, but ended up by failing due to their lack of interest of the old master.
He was washing cars in the humid dawn of Copacabana when he was encountered by a journalist, Sérgio Porto. With great effort and care, Porto brought Cartola to the Rádio Mayrink Veiga, for a short period; he also took him to other radio stations, made reporters interview him; and, in short, fought for his resurrection. At the end of the '50s, Cartola worked for the second time in a movie, the famous Orfeu de Carnaval ("Black Orpheus").
Soon after, he received permission to occupy a large house for free, the property of the city, where he created the idea of the restaurant and showroom ZiCartola, later established at the Rua da Carioca, 53. The ZiCartola was an enormous success from the start. It promoted cultural enthusiasm for samba and was an epochal event for spreading the hill's music among the carioca middle class. But Cartola and Zica's administrative amateurism made the enterprise a commercial failure, and the ZiCartola was sold to Jackson do Pandeiro in 1965.
In 1968, enjoying a more stable economic situation as a humble bureaucrat, Cartola received the donation of his lot, at rua Visconde de Niterói, 896, in Mangueira. With his own hands and old knowledge of masonry, he built his house with no help.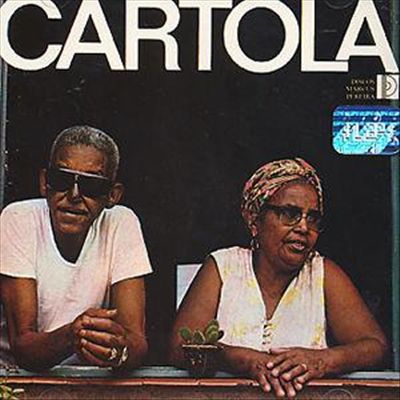 Overall, between 1929 and 1952, 13 songs were issued by Cartola in 78 rpm records. From 1957 to 1974, 20 more appeared, besides other special appearances he made as a composer. But it wasn't until 1974, at 65 years of age, that Angenor de Oliveira recorded his first LP, Cartola (Discos Marcos Pereira, 403.5007). Unanimously acclaimed by the critics and the public, the record wasn't a commercial success, as the record company, specialized in historic documentation and didn't have a competitive scheme of distribution.
In April, 1976, a second LP, Cartola (Discos Marcos Pereira, MPL 9.325) aroused even more enthusiasm in the press and presented the most successful of the Cartola's compositions: "As Rosas Não Falam." This record received the Golfinho de Ouro award from the Image and Sound Museum's Council of Popular Music. Cartola, whose self-imposed absence from participating in the Mangueira contests since 1949, finally decided to return in 1977. He received countless invitations for shows and presentations, his music was included in broadly popular soap operas, and his figure was portrayed in several TV documentaries.
At last, the old Cartola began to receive a little of the attention he deserved. A fourth LP, Cartola 70 Anos (RCA 103.0278), appeared in March, 1979 and enjoyed the usual flood of laudatory critics.
With close to 600 composed songs, and a tardy acknowledgment of his genius, Angenor de Oliveira the Cartola, died of cancer on Sunday, November 30, 1980. His simple, authentic, and unpretentious way of being and writing can be admired in his testimony to the Movimento newspaper (Rio de Janeiro, November 16, 1978): "I have a profound love for the flowers and for the women who had pretended me. One doesn't hit a woman even with a flower, and the flowers, one doesn't give them to any woman at all."