Influential German group Can brought an improvisatory approach to rock music, prioritizing textural experimentation and rhythmic interplay over pop hooks. Though its members came from avant-garde classical and jazz backgrounds, they embraced the energy and hypnotic rhythms of funk and psychedelic rock, producing a spontaneous yet highly disciplined form of groove-heavy experimental music. Can's albums were typically boiled down from lengthy, intense studio improvisation sessions, similar to Teo Macero's editing techniques on Miles Davis' late-'60s work, and the results ranged from sprawling sidelong epics to songs potent enough to be released as 45s, even making the pop charts on two occasions. Initially fronted by American artist Malcolm Mooney on 1969 debut Monster Movie, Japanese vocalist Damo Suzuki joined Can for several of their most iconic albums, including Tago Mago (1971) and Ege Bamyasi (1972). The band flirted with disco rhythms on 1976's Flow Motion, and later albums with former Traffic members Rosko Gee and Rebop Kwaku Baah explored Latin rock and fusion elements. Can formally disbanded in 1979, and all of its members concentrated on solo projects and other works, but they periodically re-formed for recording sessions and performances over the following two decades, and a reunion album with Mooney, Rite Time, was released in 1989. The band have remained a formative influence on countless alternative and experimental musicians; groups such as Radiohead, the Fall, Public Image Ltd., and the Jesus and Mary Chain have covered, name-checked, or written songs in tribute to Can, while the 1997 remix collection Sacrilege demonstrated the group's impact on ambient and electronic music. In addition to numerous reissues and anthologies, several collections of previously unreleased Can material have appeared, including the 2012 box set The Lost Tapes.
Keyboard player Irmin Schmidt and bassist Holger Czukay, both former students of legendary avant-garde composer Karlheinz Stockhausen, began working with free jazz drummer Jaki Liebezeit and guitarist Michael Karoli in 1968. Initially known as the Inner Space, the Cologne-based group released one single and recorded soundtracks for the films Agilok & Blubbo and Kamasutra (both of which were eventually released 40 years later). Flutist and electronic musician David C. Johnson also performed with the group during their early days, but soon departed, as he was disinterested in the more rock-based direction their music was taking. The band met African-American visual artist and poet Malcolm Mooney, and he became their first lead vocalist. His surrealist mantras and unhinged energy played a major role in shaping the group's sound. At his suggestion, they changed their name to the Can (chosen for its positive connotations in various languages), and their debut album, Monster Movie, appeared in 1969. The record's second side was taken up by "Yoo Doo Right," a 20-minute track reportedly edited down from a six-hour jam that only concluded when the amplifiers started smoking.
Mooney returned to America after reportedly suffering a nervous breakdown. Japanese busker Damo Suzuki, another eccentric performer known for his free-form, wildly dynamic vocal style, joined the group in May 1970, as they shortened their name to simply Can. Suzuki first appeared on the album Soundtracks, which included two final performances by Mooney before his departure. Non-album single "Turtles Have Short Legs" preceded the 1971 double LP Tago Mago (their first for United Artists Records), an ambitious fusion of improvised rock, funk rhythms, and musique concrète editing techniques that remains the group's most widely heralded work. 1972's Ege Bamyasi was no less groundbreaking, and significantly more accessible, with the single "Spoon" reaching the German Top Ten after being used as the theme to the TV miniseries Das Messer (The Knife), and "Vitamin C" enduring as the band's signature tune due to its sheer catchiness and subsequent exposure in several films and series. Suzuki's final album with Can, 1973's Future Days, was less intense and more atmospheric than their previous records, and equally enthralling.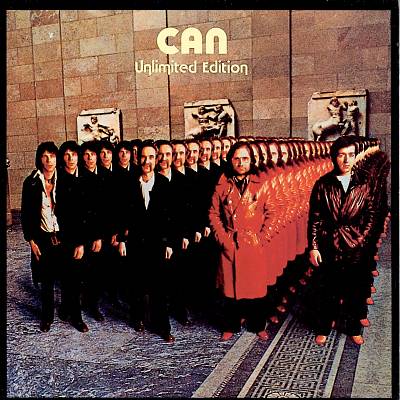 Suzuki left Can following the Future Days recording sessions; he married his girlfriend, became a Jehovah's Witness, and retired from music for several years. The group looked for a replacement vocalist but were unsuccessful, and vocal duties were split by Karoli and Schmidt. The rarities collection Limited Edition (later expanded as Unlimited Edition) appeared in 1974, preceding the studio album Soon Over Babaluma, a more abrasive effort than Future Days. Can then signed to Virgin Records in the U.K. and EMI/Harvest in Germany and greatly upgraded their recording setup (from two-track to 16), and the more professional-sounding Landed appeared in 1975. Flow Motion, its 1976 follow-up, was heavily influenced by disco and reggae rhythms, and its single "I Want More" surprisingly reached the Top 30 in the U.K., leading to a Top of the Pops appearance. Can continued shifting their direction with the addition of percussionist Rebop Kwaku Baah and bassist Rosko Gee, both former members of Traffic, who joined in 1977. After Saw Delight, Czukay departed the group, and the newer members played a more prominent role on 1978's Out of Reach and 1979's Can (aka Inner Space), which incorporated Latin rock, fusion, and disco elements.
Can dissolved at the end of the decade, and its members remained active as solo or studio musicians, with Czukay and Schmidt writing numerous albums, scores, and theatrical works. Several compilations and archival releases appeared, including Delay 1968, an early session issued in 1981. The group's original lineup, including Mooney, reunited for a series of recording sessions in France at the end of 1986. Following extensive editing, the album Rite Time was released by Mercury in 1989. The band recorded a song called "Last Night Sleep" for the soundtrack to Wim Wenders' film Until the End of the World in 1991.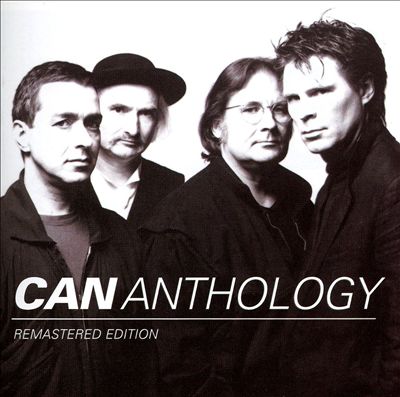 Can celebrated their 25th anniversary with 1994's career-spanning Anthology, and The Peel Sessions, collecting non-album material recorded for John Peel's BBC Radio 1 programs during the '70s, appeared in 1995. Sacrilege, a remix album including interpretations of Can tracks by several ambient, techno, and alternative artists (including the Orb, Sonic Youth, and U.N.K.L.E.), was released by Mute in 1997. Karoli, Liebezeit, and Schmidt recorded a version of "The Third Man Theme" with Jono Podmore in 1999, and the track appeared on Grönland Records' cover compilation Pop 2000, credited to Can. Box, a limited 30th anniversary set containing a video and two CDs of live recordings, appeared in 1999, and the discs were issued as the stand-alone Music (Live 1971-1977).
Michael Karoli died of cancer on November 17, 2001. Can DVD, containing a documentary and a live concert as well as a CD of the members' solo material, was released in 2003, and Mute kicked off an extensive Super Audio CD remaster campaign of the band's back catalog in 2004. In 2012, the label released The Lost Tapes, an expansive box set selected from over 50 hours of unheard studio outtakes and live recordings. Jaki Liebezeit and Holger Czukay both passed away in 2017. The self-explanatory compilation The Singles was issued the same year.