Burl Ives parlayed his talent as a folksinger into a wide-ranging career as a radio personality and stage and screen actor. He made his Broadway debut in the Rodgers & Hart musical The Boys from Syracuse in 1938, had his own radio show by 1940, and made his major-label recording debut in 1944. His first charting single was 1948's "Blue Tail Fly" with the Andrews Sisters, and he soon took traditional folk tunes like "Lavender's Blue (Dilly Dilly)" and "On Top of Old Smoky" to the U.S. Top 20. The reworked "Lavender Blue," sung by Ives in the film So Dear to My Heart, was nominated for an Oscar for Best Original Song in 1950. After winning the Academy Award for Best Supporting Actor for his role in 1958's The Big Country, Ives warmed himself to younger generations by voicing Sam the Snowman in the 1964 Rankin-Bass TV special Rudolph the Red-Nosed Reindeer. Included in the special were his versions of both the title song and Johnny Marks' "A Holly Jolly Christmas," both of which would appear on Christmas collections for decades to come. Ives continued to act onscreen and perform the occasional benefit concert until his death in 1995. When Billboard launched a Holiday Songs chart in 2011, both Ives' "A Holly Jolly Christmas" and "Rudolph the Red-Nosed Reindeer" appeared in the Top 40.
Born Burl Icle Ivanhoe Ives in Hunt City, Illinois on June 14, 1909, Ives first sang publicly at the invitation of his uncle, who invited him to perform at a soldiers' reunion event in town after overhearing him sing at home with his mother. Ives went on to attend the Eastern Illinois State Teachers College, where he played football before dropping out of school in 1929. He instead traveled the country, singing, playing banjo, and working odd jobs until he was offered the opportunity to perform on WBOW in Terre Haute, Indiana. He then re-enrolled in school, attending Indiana State Teachers College (later know as Indiana State University). In 1933, he moved to New York and took classes at Juilliard and New York University, studying acting with Benno Schneider and voice with Ella Toedt. During his time there, he also performed folk songs in Greenwich Village clubs. By the end of 1938, he had made his Broadway debut with a small role in Rodgers & Hart's The Boys from Syracuse, starring Eddie Albert. In 1939, Ives and Albert moved to Los Angeles, sharing an apartment together near Hollywood.
In 1940, Ives began to appear regularly on radio, including on his own CBS show, The Wayfarin' Stranger, which he named after one of his ballads. He cut his first album, Okeh Presents the Wayfarin' Stranger, in 1941. He eventually moved to a major label, Decca, in 1944, and made his film debut in Smoky in 1946. Amidst a plethora of music releases spanning children's songs, traditional folk, and hymns, his autobiography, Wayfaring Stranger, was published in 1948, and that year, he had his first Top 30 hit with "Blue Tail Fly" (known familiarly as "Jimmy Crack Corn"), which he recorded with the Andrew Sisters and the Vic Schoen Orchestra. In 1949, he hit number 16 on the U.S. singles chart with an Eliot Daniel (music) and Larry Morey (lyrics) version of the folksong "Lavender's Blue (Dilly Dilly)" released as "Lavender Blue" and performed by Ives in the film So Dear to My Heart. It was nominated for an Academy Award for Best Original Song. The same year, Ives moved briefly to Columbia Records. Around that time, and helping to usher in the 12-inch format, he also recorded a series of albums for Encyclopedia Britannica Films under the overall title Historical America in Song.
In 1951, Ives hit the Top Ten with a version "On Top of Old Smoky" recorded with Percy Faith & His Orchestra. By then, he had returned to Decca. He had two more Top 30 singles that decade with 1952's "The Wild Side of Life" (with Grady Martin and the Slewfoot Five) and 1954's "True Love Goes On And On" (with Gordon Jenkins & His Orchestra & Chorus). He played "Big Daddy" Pollitt in the Pulitzer Prize-winning Broadway drama Cat on a Hot Tin Roof from 1955 to 1956, a role he notably reprised in the 1958 film adaptation, where he was billed third, below Elizabeth Taylor and Paul Newman. In 1959, Ives won the Academy Award for Best Supporting Actor for his turn as Rufus Hannassey in the western epic The Big Country.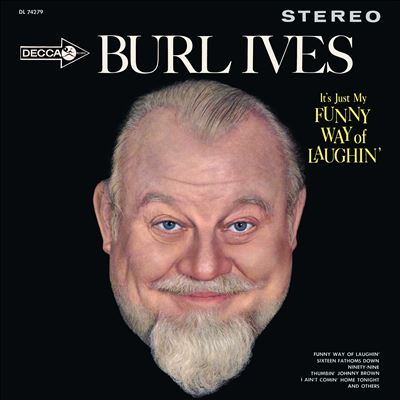 Now in his fifties, Ives had his second and third Top Ten hits with a pair of country songs from a series of recordings with Owen Bradley & His Orchestra; "A Little Bitty Tear" (also featuring the Anita Kerr Singers) reached number nine in 1961, and "Funny Way of Laughin'" peaked at number ten the following year. The latter song appeared on 1962's It's Just My Funny Way of Laughin' and won Ives a Grammy Award for Best Country Western Recording. He ultimately had the most enduring hit of his career with a song written by Johnny Marks in 1962 and used in the 1964 animated TV special Rudolph the Red-Nosed Reindeer. As the voice of host and narrator Sam the Snowman, Ives covered both "A Holly Jolly Christmas" and the already classic title song. "A Holly Jolly Christmas" eventually went as high as number four on the Hot 100 -- in the year 2020. At the time, Ives instead had a minor hit with "Pearly Shells (Popo O Ewa)" (with Owen Bradley & His Orchestra) and appeared in a series of movies, including the Walt Disney Studios musical Summer Magic (1963), the war comedy-drama Ensign Pulver (1964), and I Dream of Jeannie inspriation The Brass Bottle (1964). Ives remained in the public eye, acting increasingly on television throughout the '60s while making his final entry on the Billboard Adult Contemporary chart with a 1968 cover of Bob Dylan's "I'll Be Your Baby Tonight."
In the 1970s, Ives continued to release music including How Great Thou Art (1971) for Word, the country outing Payin' My Dues Again (1973) for MCA, and children's song collections for Disneyland Records. When Disneyland opened in 1974, he voiced animatronic host Sam Eagle for the America Sings attraction. His endorsement deals for TV and roles on shows like Little House on the Prairie and Roots kept in the public eye. Even after turning 70 in 1979 and semi-retiring to Washington State, he continued to take the occasional film or television role and perform at benefit concerts into the early '90s. Ives died of cancer at his home in Anacortes, Washington on April 14, 1995.
The Rudolph the Red-Nosed Reindeer special aired annually into the next millennium, and when Billboard introduced a Holiday Songs chart in 2011 that took into account sales, streaming, and radio airplay, Ives' "A Holly Jolly Christmas" and "Rudolph the Red-Nosed Reindeer" were both represented. They proved to be perennial favorites, with "A Holly Jolly Christmas" making Top Three appearances into the 2020s. Originally released in 2001, the collection 20th Century Masters: The Best of Burl Ives reached its highest chart position yet in January 2021, when it rose to number 24 on the Billboard 200.