As much a creative collective as an indie rock band, Broken Social Scene is a Toronto-based ensemble whose flexible lineup has included some of the best and best-known musicians from the city's left-of-center music community. Emerging in 2001 with Feel Good Lost, the group, whose membership has been as small as two and as large as 15, has created an eclectic body of work that's explored many stylistic avenues, from film music and ambient minimalism to brightly orchestrated Baroque pop, with highlights arriving via the Juno Award-winning You Forgot It in People (2003) and Broken Social Scene (2005), and the chart-topping Hug of Thunder (2017). Artists and acts associated with the group include Feist, Metric, Do Make Say Think, Amy Millan, Stars, Emily Haines & the Soft Skeleton, Jason Collett, K.C. Accidental, and Apostle of Hustle.
Broken Social Scene was founded in 1999 when Kevin Drew of K.C. Accidental and Brendan Canning of By Divine Right teamed up to collaborate on new music. After two years spent honing their compositions, Drew and Canning released the first Broken Social Scene album, 2001's Feel Good Lost. The album, primarily instrumental, was largely performed by Drew and Canning, though it also featured guest appearances by Evan Cranley of Stars, Bill Priddle from K.C. Accidental, Anthony Seck of Shalabi Effect, Charles Spearin of Do Make Say Think, and vocalist Leslie Feist. Justin Peroff, who played drums on the sessions, would soon become one of the group's mainstays, while BSS' live shows often included Andrew Whiteman (Stars), Emily Haines (Metric), James Shaw (Metric), John Crossingham (Raising the Fawn), Amy Millan (Stars), and Jason Collett.
Drew, Canning, Peroff, and Spearin were at the core of the band that cut Broken Social Scene's second album, 2002's You Forgot It in People, though the lineup had expanded to 11 musicians, including Cranley, Crossingham, Feist, Haines, Priddle, Shaw, and Whiteman. You Forgot It in People proved to be Broken Social Scene's breakthrough, earning rave reviews from critics and winning a Juno Award as Best Alternative Album. In 2003, BSS released a stopgap compilation, Bee Hives, which gathered B-sides from their singles as well as remixed tracks. The band returned with a self-titled third album in 2005; by this time, Broken Social Scene had grown even larger, with Ohad Benchetrit (Do Make Say Think), Torquil Campbell (Stars), and Martin Davis Kinack performing alongside the crew from You Forgot It in People. Like their second album, Broken Social Scene earned the group another Juno Award for Best Alternative Album, and they mounted an international tour. They also became last-minute headliners at Toronto's 2006 Virgin Festival, stepping in when original bill toppers Massive Attack were stranded in the U.K. due to visa problems.
Following the touring cycle for Broken Social Scene, the group went on hiatus as the members pursued individual projects. In 2007, Kevin Drew dropped a solo album under the banner "Broken Social Scene Presents," Spirit If …, and Brendan Canning followed suit with 2008's Something for All of Us. Both albums featured extensive contributions from other members of the band. (Drew would also release a series of four "Broken Social Scene Presents" EPs in 2007.) In 2009, author Stuart Berman published a book on BSS, This Book Is Broken, which was created with the cooperation of the band. The following year, Broken Social Scene became movie stars with the release of This Movie Is Broken, a romantic comedy by Canadian filmmaker Bruce McDonald that takes place at a BSS concert in Toronto.
In 2010, Broken Social Scene returned with an especially ambitious project. The album Forgiveness Rock Record was recorded in Toronto, New York, and Chicago, and included contributions from 28 different musicians, including members of Pavement and Death from Above 1979. Fans who pre-ordered the album also received a ten-song digital EP, Lo-Fi for the Dividing Nights, while also releasing seven different remixes of the track "All to All." Another critical success, the album was nominated for the Polaris Music Prize, and rose to number one on the Canadian sales charts. (In the United States, it peaked at 34, an impressive achievement for an independent release.)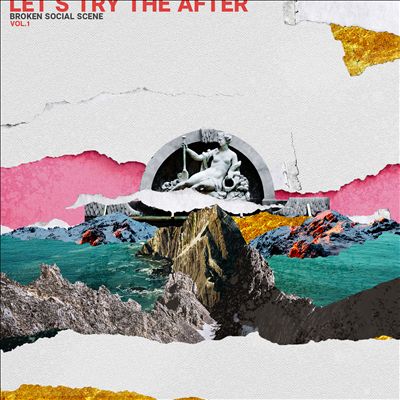 In late 2010, Broken Social Scene once again went on hiatus, though they re-formed for occasional concerts and festival appearances, and in 2013 they sponsored a literary competition, inviting authors to write short stories inspired by songs from You Forgot It in People. The 13 finalists' stories were published in a book titled The Broken Social Scene Story Project: Short Works Inspired by You Forgot It in People. The full 15-member edition of BSS reconvened to record their fifth album, Hug of Thunder, which was released in July 2017. In January 2019, the band issued the single "All I Want" ahead of the arrival of the Let's Try the After - Vol. 1 EP, which arrived the following month.