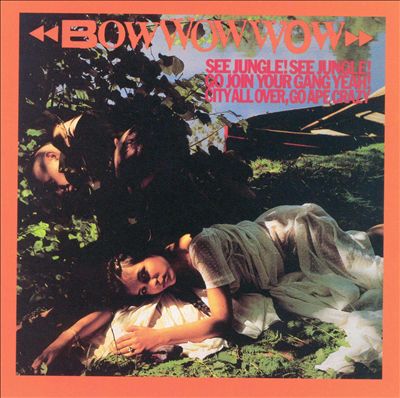 Not merely a vehicle for manager Malcolm McLaren's button-pushing antics, and responsible for considerably more than a hit cover, Bow Wow Wow remain synonymous with new wave. The band exemplified their era with visual and sonic cultural appropriations ranging from Mohawk hairstyling to Burundi-style drumming, lyrics that swung from suggestive to explicit, and a gleefully bestial spirit embodied by teenage singer Annabella Lwin. Formed in 1980, the band twice crashed the Top Ten in their native U.K. in 1982, with "Go Wild in the Country" and an update of the Strangeloves' "I Want Candy," the latter of which hit number 62 in the U.S. Bow Wow Wow broke up the following year and in their wake left only two proper albums (1981's See Jungle! See Jungle! Go Join Your Gang Yeah, City All Over! Go Ape Crazy! and 1983's When the Going Gets Tough, The Tough Get Going). Nonetheless, their place in pop history was secure long before Lwin and bassist Gorman reactivated the name for touring the following decade.
Bow Wow Wow were instigated in January 1980 by Malcolm McLaren. The former Sex Pistols manager had been sought out by Adam Ant to guide Adam and the Ants following disappointing sales of that band's Dirk Wears White Sox. McLaren instead met with the London-based Ants -- guitarist Matthew Ashman, drummer David Barbarossa, and bassist Leigh Gorman -- and talked the musicians into abandoning their frontman. After a period of several months that entailed auditions for over 200 singers, Annabella Lwin was added to the lineup. Thirteen years old at the time, Lwin was discovered at a laundromat by McLaren talent scout David Fishel. Shortly thereafter, she made her first recordings with the trio, who developed material from Ants rehearsal tapes, incorporating African rhythms derived from an eponymous single by Burundi Black.
Signed to a one-year deal with EMI in July 1980, Bow Wow Wow debuted that month with an ode to music piracy, "C·30 C·60 C·90 Go!," appropriately enough the first single released on cassette. The song peaked at number 34 on the U.K. pop chart. By the end of the year, the band recorded a session for John Peel's BBC program, made their live debut, and issued Your Cassette Pet, an eight-song tape promoted by McLaren as "a celebration of under-age sex." Its most explicit songs, written prior to the band's formation by McLaren with Stephane Pietri and Pierre Grillet, were intended for a musical described by the latter two as "a kind of soft-core rock 'n' roll musical for kids."
Bow Wow Wow became a carnivalesque live draw, and during a February 1981 performance featured a secondary singer, billed by McLaren as Lieutenant Lush, who became known as Boy George. The next month, Bow Wow Wow were on the singles chart again with "W.O.R.K. (N.O. Nah, No No My Daddy Don't)," on which Barbarossa's Stanley Clarke-inspired slap bass bubbled to the fore. The band's EMI deal expired and was replaced with an RCA contract, the first fruit of which was the "Prince of Darkness" single. That October, See Jungle! See Jungle! Go Join Your Gang Yeah, City All Over! Go Ape Crazy! arrived as the band's first proper album. Its biggest single was "Go Wild in the Country," a Top Ten U.K. hit. The LP sleeve's re-creation of Manet's Le Déjeuner sur l'herbe, photographed by Andy Earl, raised an objection from Lwin's mother, who prompted a Scotland Yard investigation regarding exploitation of a minor for immoral purposes. The U.S. edition of the album sported a different image. (The controversial photograph was later displayed at the National Portrait Gallery in London.)
Promotion for See Jungle! wound down in early 1982 with the number 45 placement of the album's title song. That June, Bow Wow Wow's cover of the Strangeloves' "I Want Candy," a 1965 hit that optimized the Bo Diddley beat, reached the U.K. chart, and became the band's second Top Ten hit. Weeks later in the U.S., as the lead track on the North American EP release The Last of the Mohicans, it reached number 62 on the Billboard Hot 100. An opportunistic compilation entitled I Want Candy cashed in on the success, released in the U.K. and U.S. with radically different track lists consisting primarily of previously released content. Without McLaren's involvement, Bow Wow Wow recorded their second and final proper album, When the Going Gets Tough, The Tough Get Going. The 1983 release was highlighted by "Do You Wanna Hold Me?," their ninth and final charting U.K. single.
Internal pressures led to the band's breakup prior to the end of 1983. Lwin was essentially removed from the lineup. Led by Ashman, the remaining members continued as Chiefs of Relief, who released a handful of singles and an album. Still with RCA, Lwin issued a solo album in 1986. She and Gorman resurrected the band the following decade (two years after Ashman died of complications from diabetes) primarily for the sake of touring. Numerous lineups throughout the ensuing years included temporary members such as No Doubt's Adrian Young and Novacaine's Phil Gough. In 2006, Sofia Coppola used three of the band's songs, including Kevin Shields remixes of "I Want Candy" and "Fools Rush In," for the soundtrack of the film Marie Antoinette. Gorman eventually resgrouped with a version of Bow Wow Wow that didn't include Lwin, though Lwin remained active herself. A thorough anthology titled Your Box Set Pet: Complete Recordings 1980-1984 was released in 2018 by the Cherry Red label.