Blind Faith were the band that introduced the world to the notion of a rock "supergroup," a combo featuring several musicians who had already achieved popularity and critical acclaim before joining forces to make music. Blind Faith also unwittingly established one of the most common features of supergroups -- most featured enough performers with strong résumés and egos to match that internal conflicts were all but inevitable, and as a consequence, they usually fell apart rather quickly. Despite a hit album and a financially successful international concert tour, Blind Faith managed to rise and fall in the space of less than a year, and ultimately proved to be a large but curious footnote in the careers of four giants of British rock: Eric Clapton, Steve Winwood, Ginger Baker, and Rick Grech.
Blind Faith were born of discord within two noted British acts of the late '60s. Cream were at the peak of their fame when the band broke up in 1969, in part because guitarist Eric Clapton was uncertain about the group's creative direction, but mainly because bassist Jack Bruce and drummer Ginger Baker found it all but impossible to see eye to eye. Meanwhile, vocalist and keyboard player Steve Winwood had founded Traffic after leaving the Spencer Davis Group to explore an adventurous brand of rootsy but instrumentally adept psychedelia informed by jazz and blues. After initial success, however, they had trouble negotiating egos as well as working out the balance of songwriting and instrumental work within the band, and in 1969, Traffic shut down.
Clapton and Winwood were friends and mutual admirers who had jammed together on several occasions, so when both found themselves at liberty following the breakup of their respective groups, they investigated the idea of forming a band together. One day, Ginger Baker stopped by while Clapton and Winwood were working out material, and he sat in on drums. Musically, Clapton and Winwood were happy with the way Baker's ambitious percussion melded with their new songs, which explored a more subtle blend of blues and R&B than Cream. While Clapton was wary of reuniting with Baker so soon after closing the book on Cream, Winwood's enthusiasm won out, and Baker joined the band. The group became a quartet with the addition of bassist Rick Grech, who had been playing with the celebrated U.K. band Family.
By May 1969, the quartet was recording an album with Jimmy Miller serving as producer. Given the massive commercial success of Cream and widespread curiosity about Clapton's next project, the new band -- dubbed Blind Faith by the tongue-in-cheek Clapton -- signed a lucrative record deal with Atlantic in the United States as well as Polydor in the U.K. Promoters were clamoring for a tour, and the band scheduled dates in Europe, the United States, and Canada. Blind Faith made their public debut with a show at London's Hyde Park on June 7, 1969. An estimated 100,000 people were on hand for the show, and while most in attendance seemed thrilled with the concert, Clapton in particular was not pleased with how loose and informal Blind Faith sounded on-stage. By the end of the month, Blind Faith had set out on a club tour of Europe, and the smaller shows allowed them better control of their sound and performances. When they hit America in July, however, they were booked into large arenas often saddled with dubious acoustics and poor sound systems. Fans eager to see the new band that was the talk of the rock press often battled with police and security as they rushed the stage, and the musicians were displeased with the chaotic atmosphere. It didn't help that Blind Faith had less than an hour's worth of new music to perform before they set out on tour; the band played North America for seven weeks, and by most reports they were rarely happy with their performances or the circumstances of the tour.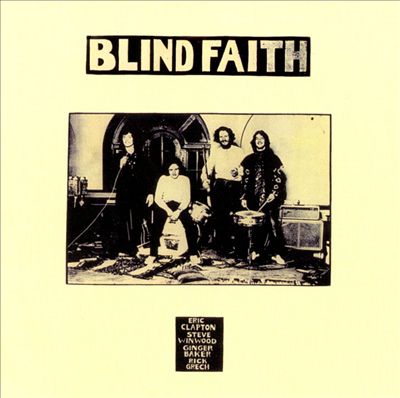 In August 1969, the Blind Faith album finally hit the streets, and while "Presence of the Lord" and "Can't Find My Way Home" quickly became FM rock staples and the album topped the charts in Britain and the United States, reaction to the project was less enthusiastic than many had expected. The band received negative press for the LP's cover, which featured a topless schoolgirl playing with a silver airplane model. (The sleeve was rejected in America in favor of a cover featuring a portrait of the band.) After Blind Faith returned home from the North American tour at the end of August, the members went their separate ways. Clapton joined Delaney & Bonnie & Friends on tour as a sideman, and next formed Derek & the Dominos, while Winwood re-formed Traffic, who became more successful than ever. Baker formed his own group, Ginger Baker's Air Force, which would feature Grech in the lineup. Grech also played briefly with Traffic, and in 1976 became involved with another ill-fated supergroup, KGB, featuring Michael Bloomfield, Carmine Appice, and Barry Goldberg.
Grech died in 1990, and Baker passed in 2019. While Clapton and Winwood would occasionally perform together, there has been no effort to revive Blind Faith; presumably their brief run in 1969 was enough for all involved.