Along with Duran Duran, Billy Idol was one of the first young pop/rock artists to achieve massive success in the early '80s due to the advent of MTV. Mixing his bad-boy good looks with an appealing blend of pop hooks, punk attitude, and dance beats, Idol quickly rocketed to stardom before hard living briefly derailed his career. Having already established himself in the late-'70s London punk scene as the frontman for Generation X, Idol was primed for pop stardom and spent the next decade churning out huge hits like "Dancing with Myself," "White Wedding," "Rebel Yell," and "Eyes Without a Face." A near-fatal motorcycle accident kept Idol out of the spotlight for the latter half of the '90s, but he staged a comeback in the 2000s with well-received efforts like Devil's Playground and Kings & Queens of the Underground. At the start of the 2020s, Idol began issuing a series of EPs including Roadside and The Cage.
Born William Michael Albert Broad on November 30, 1955 in Middlesex, England, he relocated with his family for a brief spell to New York before returning to England. After a stint at Sussex University only lasted a year, Broad found himself part of a group of teen punk rockers who befriended and followed the Sex Pistols, informally known as the Bromley Contingent. (Another member of the group was Siouxsie Sioux, eventual leader of Siouxsie & the Banshees.)
It wasn't long before Broad realized that he too could be the frontman of a punk band, and assumed the name Billy Idol shortly thereafter. After a stint playing guitar in a group called Chelsea (interestingly, the group featured future Clash guitarist Mick Jones and future Damned guitarist Brian James), Idol put down the guitar and picked up the mike; he then recruited bassist Tony James, drummer John Towe, and guitarist Bob Andrews to form Generation X in 1976. Named after a 1960s paperback, the band signed a recording contract with Chrysalis shortly thereafter (Towe was replaced with new drummer Mark Laff) and released the anthemic "Your Generation" late in 1977. An appearance on Top of the Pops helped propel the single and their 1978 self-titled debut into the spotlight; the latter was produced by Martin Rushent. The band released two more LPs, Valley of the Dolls in 1979 and Kiss Me Deadly two years later before splitting up.
Disappointed with Generation X's demise, Idol relocated to New York City, where he pursued a career as a solo artist. Hooking up with Kiss manager Bill Aucoin, Idol issued the 1981 EP Don't Stop (comprised of a cover of Tommy James' '60s hit "Mony Mony" and a pair of remixed Generation X tracks), which helped the singer score another record deal with his former band's label, Chrysalis. Idol found the perfect collaborator and partner in guitarist and Johnny Thunders lookalike Steve Stevens, and issued a self-titled debut in July of 1982. A pair of eye-catching videos for the tracks "White Wedding" and "Dancing with Myself" (the latter a remake of a Generation X composition) scored major air time on MTV, with both clips focusing on Idol's spiky, peroxide-blonde hair and Elvis-like sneer. The debut eventually obtained gold certification, and set the stage perfectly for Idol's big commercial breakthrough, 1984's Rebel Yell.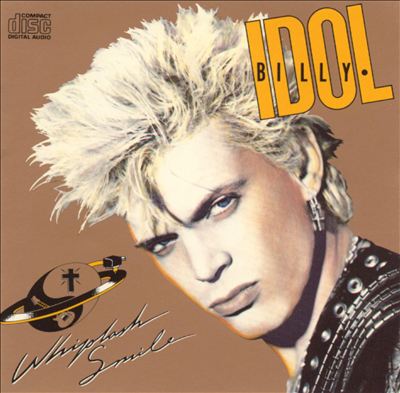 Rebel Yell became the best-selling album of his career (eventually going double platinum), spawning such big-time MTV/radio hits as the album's anthemic title track, "Eyes Without a Face," and "Flesh for Fantasy," establishing Idol as an arena headliner stateside. But with massive success came its many distractions, which prevented Idol from issuing a new studio album until three years after Rebel Yell. 1987's Whiplash Smile was another sizeable hit on the strength of such hits as "To Be a Lover" and "Sweet Sixteen," but failed to live up to the lofty expectations set by his previous releases. Stevens jumped ship shortly thereafter to launch his own band, Steve Stevens' Atomic Playboys (he was also eventually a member of Mötley Crüe singer Vince Neil's solo band), leaving Idol to fend for himself.
An eight-track best-of set, Vital Idol, was issued later the same year, spawning one of the year's most heavily played MTV videos -- a live version of the previously recorded cover of "Mony Mony" -- which helped keep Idol in the spotlight. He spent the next few years working on his fourth studio release, but reappeared in the summer of 1989 as part of an all-star rendition of the Who's Tommy, with Idol playing the role of the sadistic character Cousin Kevin. Around the time of Idol's next release, 1990's Charmed Life, the singer was involved in a serious motorcycle accident (in which he almost lost his leg), forcing him to walk with a cane for a period of time; the video for the album's lead-off single, "Cradle of Love," featured him filmed from the waist up. The ploy worked, as the single (which was also used as the theme song in the failed Andrew "Dice" Clay movie Ford Fairlane) was another smash hit, making Charmed Life the fourth Idol album in a row to achieve at least reach platinum sales.
Expectedly, several years passed before the release of Idol's next album, during which time he tried his hand at acting with a bit part in Oliver Stone's motion picture The Doors. By the time 1993's Cyberpunk surfaced, Idol had dropped his spiky peroxide hairstyle in place of dreadlocks, and experimented with techno beats. The move proved to be an unwise one, as the album tanked and sank from the charts. At the same time, Idol was knee deep in drug addiction, resulting in another close brush with death when he overdosed and had to be treated in a Los Angeles hospital in 1994. Not much was heard from him until 1998, when he made a cameo appearance (as himself) in the hit Adam Sandler/Drew Barrymore comedy The Wedding Singer, which resulted in renewed interest. Idol teamed up once again with Stevens, was the subject of a VH1: Behind the Music special (as well as a VH1 Storytellers episode for the channel, which was ultimately issued as an album), and issued a more extensive Greatest Hits set in 2001; the latter of which sold 500,000 copies in the U.S. alone. Next up was his first studio album since Cyberpunk, Devil's Playground, released on Sanctuary in 2005 and this was swiftly followed by the seasonal Happy Holidays for which he retained Brian Tichy and Derek Sherinian from the previous album's sessions.
2008 brought The Very Best of Billy Idol: Idolize Yourself, which was notable for including two previously unreleased tracks: "John Wayne" and "New Future Weapon." A worldwide tour on the same bill as Def Leppard ensued before 2009 brought In Super Overdrive Live, a video release of a performance in Chicago; Idol appeared at Donnington Park's Download Festival in 2010. A relatively quiet spell in his career was followed by a period of songwriting with Stevens and Circus Diablo frontman Billy Morrison. In time, recording sessions took place which led to the announcement of a seventh studio album of original material. Produced by Trevor Horn and preceded by Idol's New York Times best-selling memoir Dancing with Myself, Kings & Queens of the Underground appeared in October 2014. In 2020 Idol teamed up with Miley Cyrus for the song "Night Crawling," which appeared on her Plastic Hearts LP, and in 2021 he released his first new song in seven years, the pensive "Bitter Taste," which served as the lead single from the four-track EP Roadside. He continued working with the EP format on 2022's rousing The Cage.