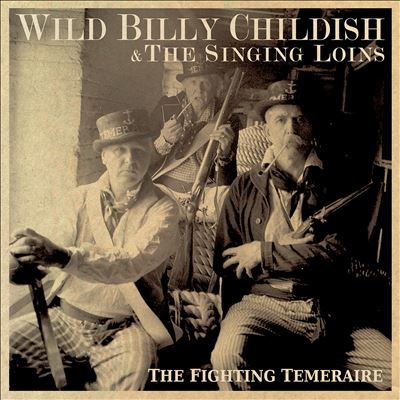 Few figures in the history of British rock have created a body of work as bold and unique as Billy Childish, and practically none have been as prolific. Between his many projects, Childish has released over 150 albums and even more singles since 1977, all dominated by the passionate, reedy bark of his vocals, the dirty, Link Wray-inspired roar of his guitar work, and a lyrical perspective that's a crazy quilt of deeply personal self-expression, pastiches of pop culture, pointed observations on the world around him, and tunes about good (and bad) times with the opposite sex. Childish is far more concerned with inspiration than artifice in rock & roll, and he prefers rough, lo-fi recording techniques utilizing vintage gear over clean, state of the art audio, for reasons both financial and aesthetic. (He sometimes records acoustic music, though it reflects the same rough-hewn vision, as on 2022's The Fighting Temeraire, a fierce folk effort credited to Wild Billy Childish & the Singing Loins.) His tireless output as a musician is even more remarkable given that he also has thriving careers as a poet, novelist, and visual artist, and is a devotee of both yoga and meditation. Artists as diverse as Mudhoney and Kylie Minogue have cited Childish as an influence (the band has covered his songs, and the pop star titled her 1997 album, Impossible Princess, after one of his volumes of poetry), though he has not always reciprocated their enthusiasm, and he's built an international following despite stubbornly avoiding major record labels and following his own path. Citing typical albums from the Childish oeuvre is all but impossible given its sheer bulk, but the compilations I Am the Billy Childish (1991), Archive from 1959: The Billy Childish Story (2009), and Punk Rock Ist Nicht Tot!: The Billy Childish Story 1977-2018 cover a broad enough cross-section of his catalog to be reliable introductions to his musical vision.
Billy Childish was born Steven John Hamper on December 1, 1959. He was raised in Chatham, Kent, England. He had a difficult childhood; his father was violent and often absent, he had a combative relationship with his brother, his undiagnosed dyslexia hobbled his efforts in school, and he was sexually abused by a family friend when he was nine years old. Despite -- or perhaps because of -- his challenging circumstances, Childish became passionately devoted to creative self-expression. He took up painting, writing poetry and fiction, and making music. The themes that connected his work were startling honesty, especially when discussing his own life, and an embrace of rough surfaces and spontaneous creation, emphasizing passion and impact over refined technique. At 16, Childish quit school and attempted to enroll at a local art college, which promptly rejected his application. Taking a job as an apprentice stonemason at the Chatham dockyards, he devoted his spare time to drawing and completed 600 sketches in six months. The strength of his work earned him entry into the Saint Martin's School of Art in 1978, though he quit after only a month. Saint Martin's welcomed him back in 1980, but his iconoclastic ideas about art and the graphic details of some of his poems disturbed both students and faculty, and he was asked to leave. With few qualifications for conventional employment, Childish subsisted on dole money for the next 15 years.
While his career in art ran into roadblocks, Childish was faring somewhat better in music. A devotee of raw, no-frills rock & roll of the '50s and '60s, as well as deep blues and American folk music, he was emboldened by the rise of punk rock, and in 1977, he formed a band called the Pop Rivets, taking the lead vocal spot alongside Will Power on guitar, Big Russ (aka Russell Wilkins) on bass, and Little Russ (aka Russell Lax) on drums. Adopting the D.I.Y. approach that became his lifelong modus operandi, the Pop Rivets played as many low-budget gigs as they could land, and after pooling their resources and borrowing 300 pounds from a friend, they cut their debut album, Greatest Hits, and released it on their own Hipocrite Music label. The group would tour in Germany and Switzerland and bring out a second LP, 1979's Empty Sounds from Anarchy Ranch, before breaking up in 1980.
Childish learned to play guitar, and his rough but energetic sound was front and center in his next group, Thee Milkshakes, whose approach owed no small debt to rock and pop sounds of the '50s and '60s as well as the British Invasion era. Joining Childish in the combo were Mickey Hampshire on guitar, Russell Wilkins on bass, and Bruce Brand on drums. Their first album, Talking 'Bout ... Milkshakes, arrived in 1981, and they would issue eight more before folding in 1984, with two more albums following after their breakup. Near the end of Thee Milkshakes' run, an offshoot group, the DelMonas, made their debut, with Childish and friends backing a trio of female vocalists. While Thee Milkshakes earned an audience in the U.K., it was Childish's next project, Thee Mighty Caesars, that was the foundation of his cult following in the United States. Thee Milkshakes' They Came, They Saw, They Conquered was briefly issued in America by Enigma Records' garage/psychedelic imprint Pink Dust, but the outspoken American garage rock label Crypt Records issued three Mighty Caesars albums in the United States (1989's John Lennon's Corpse Revisited and the collections English Punk Rock Explosion!! and Surely They Were the Sons of God), and they spread the word about Childish and his band to punk and garage rock fans across North America. Between 1985 and 1989, Thee Mighty Caesars (with Childish on guitar and vocals, John Agnew on bass, and Graham Day on drums) produced eight albums, and while they never officially announced a breakup, in 1989 Childish unveiled a new group, Thee Headcoats, including Allan Crockford on bass and Bruce Brand on drums. (During this period, Childish also cut the first of several collaborations with artist and poet Sexton Ming, 1987's Which Dead Donkey Daddy?) Thee Headcoats, with all its members wearing deerstalker hats as a visual trademark, would become Childish's most productive act, making their debut with the albums The Earls of Suavedom and Headcoats Down!, and soon bands like the Mummies, Mudhoney, and Nirvana were singing Childish's praises. The endorsement of the latter two acts would in part lead to Sub Pop Records issuing the third Headcoats album, 1990's Heavens to Murgatroyd, Even! It's Thee Headcoats! (Already), as well as the 1991 compilation I Am the Billy Childish, which included one song each off the 50 albums Childish had released with his various projects. In addition, Sub Pop would put out 1992's The Original Chatham Jack, an LP from his short-lived blues and calypso project Billy Childish & the Blackhands.
Thee Headcoats would record 19 albums and more than twice as many singles between 1989 and 1999, and spawned another offshoot girl group, Thee Headcoatees, featuring Holly Golightly, Ludella Black, Kyra LaRubia, and Bongo Debbie. Childish also teamed up with Don Craine of U.K. R&B cult heroes the Downliners Sect to create the collaborative band Thee Headcoats Sect, whose first album, Deerstalking Men, arrived in 1996. Childish retired Thee Headcoats banner in 1999, and launched yet another new group, the Buff Medways (abbreviated from Wild Billy Childish & the Friends of the Buff Medway Fanciers Association), the name inspired by a breed of chicken native to Kent and the surrounding Medway area. The group (which included Graham Day, Wolf Howard, and Johnny Barker) gave Childish an unusual degree of mainstream visibility when Graham Coxon of Blur, who was a fan of his work, released a pair of Buff Medways albums on his Transcopic label, Steady the Buffs (2002) and 1914 (2003).
By this time, Childish had also gained more recognition for his work outside music. He had been publishing poetry collections and chapbooks through his own Hangman Books since 1981, and in 1996, he unveiled his debut novel, My Fault, which dealt with the abuse he suffered as a child. The novel received positive reviews, and he published five more by 2015. He continued to create visual art, exhibiting works in a variety of media (woodcuts, collage, sketching, oil painting, and pinhole photography), and his art was exhibited in galleries in the United Kingdom, Europe, and the United States. In the '80s, Childish was romantically involved with Tracey Emin, who would go on to become a celebrated conceptual artist. In 1995, she created an installation she titled Everyone I Have Ever Slept With 1963-1995, which was a tent with a large number of names embroidered inside, including Billy Childish in especially large letters.
In 2005, the Buff Medways brought out their final album, Medway Wheelers, and with a new wave of garage punk acts hitting the charts, Childish found himself namechecked in the press by the Hives and the White Stripes, though Jack White would later engage in a war of words in the press after Childish told a reporter, when asked about the White Stripes, "I can't listen to that stuff. They don't have a good sound." The year 2006 saw Childish back in action with another combo, Wild Billy Childish & the Musicians of the British Empire, alongside Wolf Howard and Childish's wife Julie Hamper, aka Nurse Julie. The MBE's sound and attitude were lean and more informed by punk than garage rock, and their debut album, Punk Rock at the British Legion Hall, hit the streets in 2007. Neil Palmer, of the garage/psych group Fire Dept., collaborated with the MBE to form the Vermin Poets, who issued The Poets of England in 2010; the following year they reworked the lineup into the Spartan Dreggs, who generated four albums and seven singles between 2011 and 2012. Childish, Howard, and Julie reconfigured themselves again into a trio titled CTMF; Childish has suggested the name could mean Chatham Forts, Copyright TerMination Front, or Clarity Through Fuzz. They introduced themselves to the world with the 2013 LP All Our Forts Are with You. Childish took a fresh look at his passion for the blues with his combo Wild Billy Childish & the Chatham Singers, who blended the traditions of acoustic country-blues with the electrified report of post-war Chicago styles. They made their debut with 2020's Kings of the Medway Delta. Childish was an admirer and occasional collaborator with the Singing Loins, another Medway group who played a raw, impassioned version of acoustic folk and blues. Following the death of their lead singer, Chris Broderick, in January 2022, the Singing Loins joined forces with Childish to cut an album to honor his memory. The result, The Fighting Temeraire by Wild Billy Childish & the Singing Loins, was issued by Damaged Goods in November 2022.