Finding inspiration in the righteous anger of punk rock and the socially conscious folk tradition of Woody Guthrie and Bob Dylan, Billy Bragg was the leading figure of the anti-folk movement of the '80s. For most of the decade, Bragg bashed out songs solo with his electric guitar, singing about politics and love. While his lyrics were bitingly intelligent, they were also warm and humane, and he wrote melodies just as strong and memorable. Bragg's trailblazing early releases are collected on 1987's Back to Basics; 1991's Don't Try This at Home was a successful effort to balance politics and pop; 1998's Mermaid Avenue saw Bragg teaming with Wilco to set unheard Woody Guthrie lyrics to music; 2008's Mr. Love & Justice reflected a greater maturity without compromising his vision, and 2021's The Million Things That Never Happened was a country-influenced paean to resilience in hard times.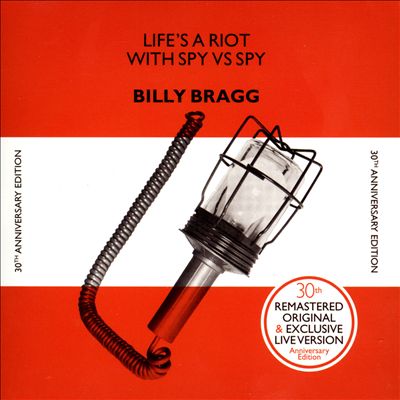 Billy Bragg began performing in the late '70s with the punk group Riff Raff, which lasted only a few months. He then joined the British Army, yet he quickly bought himself out of his sojourn with £175. After leaving the Army, he began working at a record store; while he was working, he was writing songs that were firmly in the folk and punk protest tradition. Bragg began a British tour, playing whenever he had the chance to perform. Frequently he would open for bands with only a moment's notice. Soon, he had built a sizable following, as evidenced by his first EP, Life's a Riot with Spy vs. Spy (1983), hitting number 30 on the U.K. independent charts. Brewing Up with Billy Bragg (1984), his first full-length album, climbed to number 16 in the charts.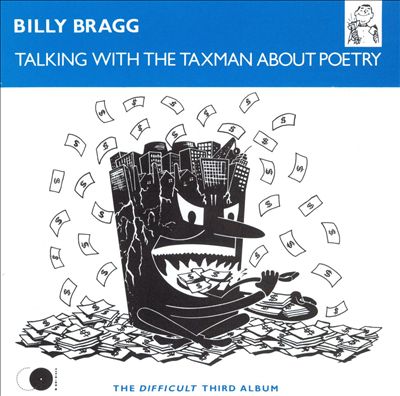 During 1984, Bragg became a minor celebrity in Britain, as he appeared at leftist political rallies, strikes, and benefits across the country; he also helped form the "Red Wedge," a socialist musicians' collective that also featured Paul Weller. In 1985, Kirsty MacColl took one of his songs, "New England," to number seven on the British singles chart. Featuring some subtle instrumental additions of piano and horns, 1986's Talking with the Taxman About Poetry reached the U.K. Top Ten.
Bragg's version of the Beatles' "She's Leaving Home," taken from the Sgt. Pepper Knew My Father tribute album, became his only number one single in 1988 -- as the double A-side with Wet Wet Wet's "With a Little Help from My Friends." That year, he also released the EP Help Save the Youth of America and the full-length Workers Playtime, which was produced by Joe Boyd (Fairport Convention, Nick Drake, R.E.M.). Boyd helped expand Bragg's sound, as the singer recorded with a full band for the first time. The following year, Bragg restarted the Utility record label as a way of featuring non-commercial new artists. The Internationale, released in 1990, was a collection of left-wing anthems, including a handful of Bragg originals. On 1991's Don't Try This at Home, he again worked with a full band, recording his most pop-oriented and accessible set of songs; the album featured the hit single "Sexuality." Bragg took several years off after Don't Try This at Home to concentrate on fatherhood. He returned in 1996 with William Bloke.
In 1998, he teamed with the American alternative country band Wilco to record Mermaid Avenue, a collection of performances based on unreleased songs originally written by Woody Guthrie. Reaching to the Converted, a collection of rarities, followed a year later, and in mid-2000 Bragg and Wilco reunited for a second Mermaid Avenue set. While touring in support of Mermaid Avenue, Vol. 2, Bragg formed the Blokes in 1999 with Small Faces keyboardist Ian McLagan. Lu Edmonds (guitar), Ben Mandelson (lap steel guitar), Martyn Barker (drums), and Simon Edwards (bass) solidified the group while Bragg moved from London to rural Dorset in early 2001. One year later, the Blokes joined Bragg for England, Half English, his first solo effort since William Bloke.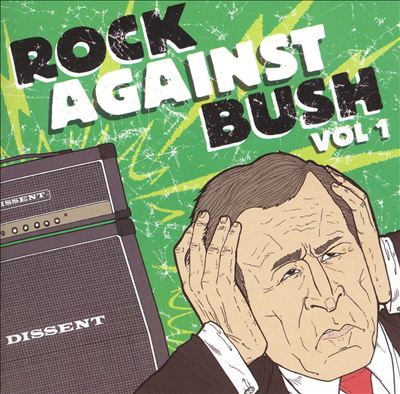 In 2004, Bragg collaborated with Less Than Jake for "The Brightest Bulb Has Burned Out," a track included on the Rock Against Bush, Vol. 1 compilation. The two-CD Must I Paint You a Picture? The Essential Billy Bragg appeared in 2003 with initial copies featuring a third bonus CD of collectibles and rarities. The Yep Roc label released the box set Volume 1 in 2006. The set included seven CDs and two DVDs of previously unavailable live footage, and the label simultaneously reissued four titles from Bragg's early back catalog in expanded editions. Billy Bragg spent the next year recording in London, Devon, and Lincolnshire, and 2008 saw the release of Mr. Love & Justice, his first solo effort in six years. Although the Blokes served as Bragg's backing band on the album, a limited-edition package also included a second disc comprised of intimate solo recordings. The bare-bones Woody Guthrie-inspired Tooth & Nail arrived in early 2013 and the following year brought the DVD & CD set, Live at the Union Chapel, which included an encore performance of Life's a Riot with Spy vs. Spy in its entirety as a bonus feature.
In the spring of 2016, Bragg teamed up with American singer, songwriter, and producer Joe Henry to make an album of folk songs inspired by the legacy of the American railroad system. Recorded with a portable recording rig while Bragg and Henry rode an Amtrak line from Chicago to Los Angeles, Shine a Light: Field Recordings from the Great American Railroad was released in September 2016, and followed by a joint concert tour. In November 2017, in the wake of the political upheavals brought on by Brexit in the U.K. and the election of Donald Trump in the United States, Bragg released a six-song EP of topical material, Bridges Not Walls.
In 2019, Bragg paid homage to his earlier work with The Best of Billy Bragg at the BBC 1983-2019, a compilation of BBC radio sessions with DJs from John Peel to David Jensen. To date the earliest known recordings of Bragg's best-known songs, the remastered BBC sessions captured what Bragg described as "the thrill of putting something out there for the very first time." 2019 also saw the publication of The Three Dimensions of Freedom, a 56-page paperback essay penned by Bragg on the themes of freedom of speech, accountability, and equality. Bragg intended to tour in 2020 and began recording a new album shortly thereafter, but the COVID-19 pandemic led to the tour and initial recording sessions being canceled. Instead, he passed along demos of his songs in progress to producers Romeo Stodart and Dave Izumi Lynch, who in turn created backing tracks for the tunes, with Bragg later adding guitar and vocals. The finished album, The Million Things That Never Happened, was released in October 2021.