Few singers have possessed a baritone as rich and comforting as that of Bill Withers. Even smaller in number are the songwriters who have shared the West Virginian's natural ability to articulate a comprehensive range of emotions and perspectives -- jubilation and gratitude, jealousy, and spite -- with maximal levels of conviction and concision. Late to arrive, the everyman R&B paragon had just turned 33 when "Ain't No Sunshine," the unfading ballad off Just as I Am (1971), made him a sudden and unlikely success story, within one year an aircraft mechanic-turned-million-selling, Grammy-winning artist. Through the next ten years, Withers continued to meld soul, gospel, folk, and funk with rare finesse. He collected more gold singles with "Lean on Me" and "Use Me," both off the similarly successful Still Bill (1972), reached the same height with Menagerie (1977), led by "Lovely Day," and was handed a second Grammy for "Just the Two of Us" (1981), his collaboration with Grover Washington, Jr. Early to leave, Withers made his last statement with Watching You Watching Me (1985), closing a songbook that has served as a bountiful resource for artists from a multitude of stylistic persuasions. Given his flowers before his death at the age of 81, Withers was inducted into the Songwriters Hall of Fame and the Rock and Roll Hall of Fame.
The son of a maid and a coal miner, William Harrison Withers, Jr. was born in Slab Fork, West Virginia on July 4, 1938, and was raised in nearby Beckley. He wrote his first song at the age of four, but his talent wouldn't truly manifest for another three decades. Withers spent his late teens and most of his twenties in the U.S. Navy, where he served as an aircraft mechanic. Discharged after nine years of service, Withers relocated to San Jose, where he worked as a milkman, made aircraft parts, and eventually worked on planes. While at an Oakland club to see Lou Rawls, Withers overheard how much the star would be profiting from the gig, and was consequently motivated to buy a guitar and develop his singing and writing skills. Withers soon made his recorded debut with the self-composed "Three Nights and a Morning," an uptempo hardscrabble shouter produced, arranged, and released by Mort Garson, but the 1967 single was a one-off. A little later, having moved to Los Angeles and landed another aircraft mechanic job -- more specifically as a toilet installer -- Withers invested in recording a demo. The Watts 103rd St. Rhythm Band's Ray Jackson, one of the musicians hired to help, took the tape to the Stax label's Forest Hamilton, who arranged to have Sussex Records' Clarence Avant meet Withers. Physically moved by an original titled "Grandma's Hands," Avant signed Withers to Sussex.
Quickly matched by Avant with Booker T. Jones and most of the producer, keyboardist, and bandleader's partners in the M.G.'s, along with Stephen Stills (guitar), Jim Keltner (drums), and Chris Ethridge (bass), Withers cut Just as I Am, a 12-song set with ten originals. The album entered the Billboard's Top LP's chart in June 1971. "Harlem," the stomping opener, was released as the first single, but radio DJs favored the mournful ballad on the B-side, "Ain't No Sunshine." Sussex responded with a pressing that switched designations, and the new A-side scaled to number three on the Hot 100 (and number six on the R&B chart). The subsequent "Grandma's Hands" almost cracked the Top 40 (number 18 R&B). Just before Still Bill reached its number 39 peak, Withers was heard on another Sussex product, J.J. Johnson's score for the Bill Cosby vehicle Man and Boy, and a few months later, he granted "Cold Bologna" -- on which he also played guitar -- to the Isley Brothers' Givin' It Back. The following March, "Ain't No Sunshine" was up for two Grammy awards and won Best Rhythm & Blues Song. Withers was also nominated for Best New Artist, which went to Carly Simon.
Withers had hit the road with a band featuring Ray Jackson on keyboards, drummer James Gadson, bassist Melvin Dunlap, and guitarist Benorce Blackmon -- all from the Watts 103rd St. Rhythm Band -- plus percussionist Bobbye Hall. It was with this crew, during a brief break in touring, that Withers recorded and produced his follow-up. Even more successful than the debut, Still Bill reached number four on the album chart after its May 1972 entry. "Lean on Me" and "Use Me" were consecutive hit singles. The gospel-rooted former topped the pop and R&B charts. The latter, a funky and altogether very different proposition, peaked at number two on both. Before the next studio album, Withers scored his fifth Top 20 R&B hit with the late-1972 non-album single "Let Us Love," and his third straight Top Ten R&B LP with 1973's Live at Carnegie Hall. Recorded the previous October, the double live album contained among its fresh material "I Can't Write Left-Handed," an anti-war narrative, and a reclamation of "Cold Bologna" (titled "Cold Baloney"), which formed the back end of a spirited closing medley fronted by "Harlem." Around this time, Withers also co-wrote and played on the title track of José Feliciano's Compartments.
Still supported by his core band, plus the harp of Dorothy Ashby and an appearance from Feliciano, Withers closed out his Sussex phase with +'Justments. The confrontational and aching set entered the charts in April 1974, the same month he and actor Denise Nicholas, married the previous January, filed for divorce. Peaking at number seven R&B, it yielded the Top 20 R&B singles "The Same Love That Made Me Laugh," "You," and "Heartbreak Road." Nicholas wrote the tender standout "Can We Pretend." Also during 1974, Withers performed at the historic Zaire 74 music festival with the likes of James Brown, B.B. King, and future collaborators the Crusaders, and he composed and produced two cuts on Gladys Knight & the Pips' I Feel a Song.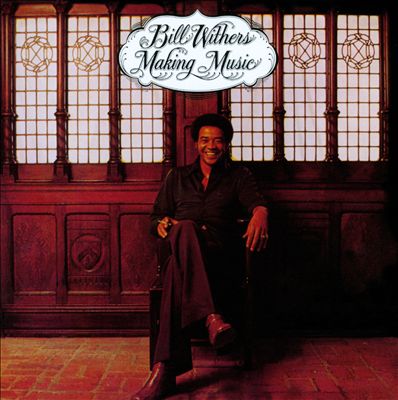 In 1975, Bobby Womack sought Withers out to share lead vocals on the charting single "It's All Over Now," the title of which coincidentally mirrored the condition of Sussex Records. Withers pulled up stakes and settled with Columbia, where he would release the rest of his music. From 1975 through 1978, Withers issued a new album on an annual basis. While the first Columbia release, Making Music, contained names from the Sussex-era band in the songwriting credits, it set the tone for the rest of Withers' output with an extensive cast of high-profile session players, including the Brothers Johnson, Wah Wah Watson, Ralph MacDonald, and Ray Parker, Jr., while Larry Nash joined Withers as co-producer. Highlighted by the number 10 R&B single "Make Love to Your Mind," Making Music crested at number seven on the R&B chart. Blackmon and Dunlap returned for the Withers-produced Naked & Warm, which didn't spawn any major singles but contained "Close to Me," a swashbuckling number akin to "Use Me," and the 11-minute "City of the Angels," one of the artist's most adventurous numbers, Co-produced with Keni Burke, Clifford Coulter, and Clarence McDonald, Menagerie put Withers back in the upper reaches of the charts in 1977 with the soaring Skip Scarborough collaboration "Lovely Day," the singer's fifth Top 40 pop hit (number six R&B). 'Bout Love, steered by Paul Smith, capped the '70s output and placed two more singles on the R&B chart.
Although seven years passed between 'Bout Love and studio LP number eight, Withers was a semi-active collaborator for most of the time that separated the albums. In addition to his early outside work, Withers had continued to branch out later in the '70s with a showcase on Quincy Jones' I Heard That!!, and with Clifford Coulter, he co-wrote and co-produced a song for Hodges, James & Smith. Withers entered the '80s by co-producing Coulter's The Better Part of Me and fronting "Soul Shadows" for the Crusaders. More notably, he teamed with saxophonist Grover Washington, Jr. (who was among the first to reinterpret "Ain't No Sunshine" and "Lean on Me"), co-writing "Just the Two of Us" with Ralph MacDonald and William Salter, and providing the vocal for the song. The ballad appeared on Washington's 1980 album Winelight, was out as a single early the following year, and became a Top Five hit on the Hot 100, R&B, and adult contemporary charts. Nominated for four Grammys, it made Withers a two-time winner of the award for Best Rhythm & Blues Song.
Following Withers wasn't as easy for the next few years. His relationship with Columbia became increasingly strained by material the label deemed unworthy of release. This wasn't helped by the suggestion that Withers cover Elvis Presley. There was the stray 1981 single "U.S.A," and from 1982 through 1984, Withers contributed in varying capacities to recordings by Don Henley (background vocals on "Unclouded Day"), Michel Burger (co-writing and singing lead on "Apple Pie"), and Ralph MacDonald (the same roles on "In the Name of Love"). Watching You Watching Me, Withers' last album, finally arrived in 1985. Commercially, it fared marginally better than 'Bout Love. It was pieced together from sessions dating from 1981 through the year of release, an era in which the sound of contemporary R&B was rapidly developing. Drum machines and synthesizers, fairly common tools earlier in the decade, were all but compulsory by the time Withers bowed out. Very few of his fellow veteran contemporaries -- the Isleys among them -- made a smooth transition.
It was one such predominantly electronic recording that led to Withers' third Grammy. Club Nouveau's cover of "Lean on Me" became a number one pop hit in 1987 and earned the vocal group a nomination for Best Rhythm & Blues Performance, while Withers, as the writer, received the nod for Best Rhythm & Blues Song. In a way, it was a culmination of the almost-innumerable times Withers' songs -- not just the big hits, but also deep cuts such as "Let Me in Your Life" and "Who Is He (And What Is He to You)?" -- had been covered and reinterpreted. The acknowledgment didn't budge Withers, who was content to remain outside the music industry, apart from appearances on recordings by only a handful of artists, including Marcus Miller and Jimmy Buffett, through the mid-2000s. Withers was inducted into the Songwriters Hall of Fame in 2005, and four years later took part in the 2009 documentary Still Bill. In 2015, as his works continued to be covered and sampled across genres, Withers was inducted into the Rock and Roll Hall of Fame. He died from heart complications on March 30, 2020.