Universally hailed as the king of the blues, the legendary B.B. King was without a doubt the single most important electric guitarist of the last half of the 20th century. His bent notes and staccato picking style influenced legions of contemporary bluesmen, while his gritty and confident voice -- capable of wringing every nuance from any lyric -- provided a worthy match for his passionate playing. Between 1951 and 1985, King notched an impressive 74 entries on Billboard's R&B charts, and he was one of the few full-fledged blues artists to score a major pop hit when his 1970 smash "The Thrill Is Gone" crossed over to mainstream success (engendering memorable appearances on The Ed Sullivan Show and American Bandstand). After his hit-making days, he partnered with such musicians as Eric Clapton and U2 and managed his own acclaimed solo career, all the while maintaining his immediately recognizable style on the electric guitar.
The seeds of Riley B. King's enduring talent were sown deep in the blues-rich Mississippi Delta, where he was born in 1925 near the town of Itta Bena. He was shuttled between his mother's home and his grandmother's residence as a child, his father having left the family when King was very young. The youth put in long days working as a sharecropper and devoutly sang the Lord's praises at church before moving to Indianola -- another town located in the heart of the Delta -- in 1943.
Country and gospel music left an indelible impression on King's musical mindset as he matured, along with the styles of blues greats (T-Bone Walker and Lonnie Johnson) and jazz geniuses (Charlie Christian and Django Reinhardt). In 1946, he set off for Memphis to look up his cousin, a rough-edged country blues guitarist named Bukka White. For ten invaluable months, White taught his eager young relative the finer points of playing blues guitar. After returning briefly to Indianola and the sharecropper's eternal struggle with his wife Martha, King returned to Memphis in late 1948. This time, he stuck around for a while.
King was soon broadcasting his music live via Memphis radio station WDIA, a frequency that had only recently switched to a pioneering all-Black format. Local club owners preferred that their attractions also held down radio gigs so they could plug their nightly appearances on the air. When WDIA DJ Maurice "Hot Rod" Hulbert exited his air shift, King took over his record-spinning duties. At first tagged "The Peptikon Boy" (an alcohol-loaded elixir that rivaled Hadacol) when WDIA put him on the air, King's on-air handle became "The Beale Street Blues Boy," later shortened to Blues Boy and then a far snappier B.B.
King had a four-star breakthrough year in 1949. He cut his first four tracks for Jim Bulleit's Bullet Records (including a number entitled "Miss Martha King" after his wife), then signed a contract with the Bihari Brothers' Los Angeles-based RPM Records. King cut a plethora of sides in Memphis over the next couple of years for RPM, many of them produced by a relative newcomer named Sam Phillips (whose Sun Records was still a distant dream at that point in time). Phillips was independently producing sides for both the Biharis and Chess; his stable also included Howlin' Wolf, Rosco Gordon, and fellow WDIA personality Rufus Thomas.
The Biharis also recorded some of King's early output themselves, erecting portable recording equipment wherever they could locate a suitable facility. King's first national R&B chart-topper in 1951, "Three O'Clock Blues" (previously waxed by Lowell Fulson), was cut at a Memphis YMCA. King's Memphis running partners included vocalist Bobby Bland, drummer Earl Forest, and ballad-singing pianist Johnny Ace. When King hit the road to promote "Three O'Clock Blues," he handed the group, known as the Beale Streeters, over to Ace.
It was during this era that King first named his beloved guitar "Lucille." Seems that while he was playing a joint in a little Arkansas town called Twist, fisticuffs broke out between two jealous suitors over a lady. The brawlers knocked over a kerosene-filled garbage pail that was heating the place, setting the room ablaze. In the frantic scramble to escape the flames, King left his guitar inside. He foolishly ran back in to retrieve it, dodging the flames and almost losing his life. When the smoke had cleared, King learned that the lady who had inspired such violent passion was named Lucille. Plenty of Lucilles have passed through his hands since; Gibson has even marketed a B.B.-approved guitar model under the name.
The 1950s saw King establish himself as a perennially formidable hitmaking force in the R&B field. Recording mostly in L.A. (the WDIA air shift became impossible to maintain by 1953 due to King's endless touring) for RPM and its successor Kent, King scored 20 chart items during that musically tumultuous decade, including such memorable efforts as "You Know I Love You" (1952); "Woke Up This Morning" and "Please Love Me" (1953); "When My Heart Beats like a Hammer," "Whole Lotta' Love," and "You Upset Me Baby" (1954); "Every Day I Have the Blues" (another Fulson remake), the dreamy blues ballad "Sneakin' Around," and "Ten Long Years" (1955); "Bad Luck," "Sweet Little Angel," and a Platters-like "On My Word of Honor" (1956); and "Please Accept My Love" (first cut by Jimmy Wilson) in 1958. King's guitar attack grew more aggressive and pointed as the decade progressed, influencing a legion of up-and-coming axemen across the nation.
In 1960, King's impassioned two-sided revival of Joe Turner's "Sweet Sixteen" became another mammoth seller, and his "Got a Right to Love My Baby" and "Partin' Time" weren't far behind. But Kent couldn't hang onto a star like King forever (and he may have been tired of watching his new LPs consigned directly into the 99-cent bins on the Biharis' cheapo Crown logo). King moved over to ABC-Paramount Records in 1962, following the lead of Lloyd Price, Ray Charles, and before long, Fats Domino.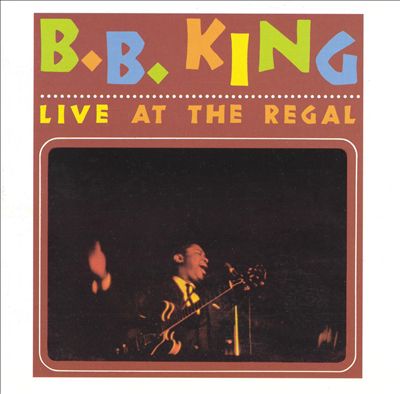 In November of 1964, the guitarist cut his seminal Live at the Regal album at the fabled Chicago theater and excitement virtually leaped out of the grooves. That same year, he enjoyed a minor hit with "How Blue Can You Get," one of his many signature tunes. "Don't Answer the Door" in 1966 and "Paying the Cost to Be the Boss" two years later were Top Ten R&B entries, and the socially charged and funk-tinged "Why I Sing the Blues" just missed achieving the same status in 1969.
Across-the-board stardom finally arrived in 1969 for the deserving guitarist, when he crashed the mainstream consciousness in a big way with a stately, violin-drenched minor-key treatment of Roy Hawkins' "The Thrill Is Gone" that was quite a departure from the concise horn-powered backing King had customarily employed. At last, pop audiences were convinced that they should get to know King better: not only was the track a number-three R&B smash, it vaulted to the upper reaches of the pop lists as well.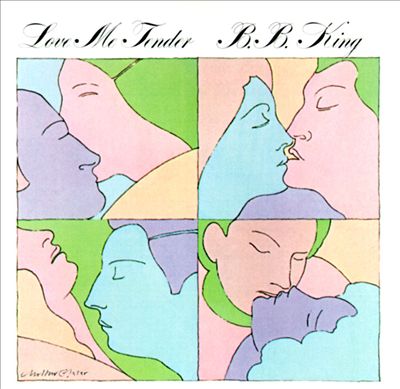 King was one of a precious few bluesmen to score hits consistently during the 1970s, and for good reason: he wasn't afraid to experiment with the idiom. In 1973, he ventured to Philadelphia to record a pair of huge sellers, "To Know You Is to Love You" and "I Like to Live the Love," with the same silky rhythm section that powered the hits of the Spinners and the O'Jays. In 1976, he teamed up with his old cohort Bland to wax some well-received duets. And in 1978, he joined forces with the jazzy Crusaders to make the gloriously funky "Never Make Your Move Too Soon" and an inspiring "When It All Comes Down." Occasionally, the daring deviations veered off-course; Love Me Tender, an album that attempted to harness the Nashville country sound, was an artistic disaster.
Although his concerts were consistently as satisfying as anyone in the field (King asserted himself as a road warrior of remarkable resiliency who gigged an average of 300 nights a year), King tempered his studio activities somewhat. Nevertheless, his 1993 MCA disc Blues Summit was a return to form, as King duetted with his peers (John Lee Hooker, Etta James, Fulson, Koko Taylor) on a program of standards. Other notable releases from that period include 1999's Let the Good Times Roll: The Music of Louis Jordan and 2000's Riding with the King, a collaboration with Eric Clapton. King celebrated his 80th birthday in 2005 with the star-studded album 80, which featured guest spots from such varied artists as Gloria Estefan, John Mayer, and Van Morrison. Live was issued in 2008; that same year, King released an engaging return to pure blues, One Kind Favor, which eschewed the slick sounds of his 21st century work for a stripped-back approach. A long overdue career-spanning box set of King's over 60 years of touring, recording, and performing, Ladies and Gentlemen...Mr. B.B. King, appeared in 2012. Late in 2014, King was forced to cancel several shows due to exhaustion; he was later hospitalized twice and entered hospice care in the spring. He died in Las Vegas, Nevada, on May 14, 2015.