The Avengers VI may seem like another one of those archival rock & roll discoveries of the 1960s, endlessly fascinating to the mavens of surf music but easily overlooked by most listeners -- but listeners would be doing themselves a serious disservice to overlook this particular band. These guys were not only good -- they were superb, and all the more remarkable for a band whose median age was around 16 when they turned semi-professional and 17 when they cut their only surviving sides (which do, indeed, live up the group's reputation). The Avengers VI started out as trio of school friends from the same neighborhood in Anaheim, CA. Rick Bastrup, Bob Gallant, and Curt Pickelle, all in their mid-teens in early 1964, had been buddies practically since they'd all been old enough to walk, and all three had developed a liking for surf music as embodied by the likes of Dick Dale and the Lively Ones, and all of those various aliases (the Rip-Chords, etc.) utilized by Gary Usher, Terry Melcher, and Bruce Johnston. What's more, they liked the music well enough to start mimicking the sounds they heard on the records, first informally and then with actual instruments. Rick Bastrup started out on drums before switching to guitar, after Bob Gallant got serious enough in his percussive aspirations to purchase a better drum kit that his friend could visualize owning at the time; meanwhile, Curt Pickelle took that same cue to abandon the guitar in favor of the bass, and suddenly they had the makings of a viable trio, and began working out their favorite instrumentals. They became a quartet with the addition of Jim Goodwin on another guitar, figuring the more of the latter instrument the merrier, as most of the best surf bands -- including their personal favorites, the Pyramids and the Astronauts -- had at least three. There came a day in 1964 when the quartet decided to put their pride and social standing in their local circle on the line by taking a job playing a local junior high school dance in Anaheim. It could have been a disaster, but all four were astounded to discover that the kids didn't just dance to what they played, but actually liked them, and simply ate up the numbers that they were forced to repeat from their limited repertory (which, at that point, consisted of "Tequila" and a handful of other similar instrumentals). Perhaps the response had something to do with the fact that Bastrup and company were just a couple of years older than their audience, which allowed the younger teens to take to heart what they were hearing and dancing to, or that they genuinely loved the music and what they were doing. All of those hours of wearing out singles like "Pipeline" and "Tequila," learning all the parts just right, paid off. But according to Bastrup, in an interview for an essay by music scholar Robert J. Dalley, they got a 25 percent bonus, a whole extra $10 above the $40 they were to have received for the night, and that was in a time when $10 represented at least seven movie admissions, more than 20 gallons of gasoline, or 90 to 100 comic books, and was a lot more than most teenagers got for a week's allowance, and a lot more than most adults ever spent on haircuts, even with a tip.
The quartet was doing well enough, but there was also one aspect of their dynamic that distinguished them from most other high school-level bands -- they never seemed to stop looking for ways to improve their show or their collective musicianship. It wasn't long after they started playing local school dances that the band crossed paths with an older kid -- a whole year ahead of them -- named Jim Ferguson, who was more serious about the guitar than Bastrup and Goodwin combined had been up to that point (and they were pretty serious). Ferguson practiced eight hours a day and could write and even read music, and was so good that he was almost a ringer in terms of competing with other high school bands, already playing at a level that Bastrup and Goodwin were only beginning to glimpse as possibilities for themselves. It was like adding surf guitar's answer to Eric Clapton to their lineup, and it wasn't long after when they added a sixth man, Mike DeYoung, to the group, on organ. DeYoung had all of the formal musical training that the others had missed, including a serious knowledge of classical music. To listen to the resulting recordings, there are times when DeYoung and Ferguson sound, respectively, like the Jon Lord and Ritchie Blackmore of the California surf scene, except that they sound happier working with each other. Indeed, one gets a sense from their recordings that all six of these musicians genuinely liked working with each other, which, between their youth and the vibe flowing around good surf music at the time, was a recipe for considerable success.
They were soon getting booked well beyond the city limits of Anaheim, throughout Orange County, including the Disneyland Space Bar, and in a lot of ways their success was a total anomaly. Most of the existing surf bands had been in somewhat of a retreat, or at least a period of "no growth" in their audience or bookings, all because of the onslaught of the British Invasion in 1964. An increasing number of younger teens wanted to hear something closer to Merseybeat or some other British-imported sound, yet somehow the Avengers VI came on the scene in the midst of that musical turmoil and disarray and built a serious following on a wide local level and even regionally (California's sheer size distorts the level of their achievement, Orange County otherwise being so big that, had they had that audience in Iowa or Nebraska, or even Ohio or Illinois, they'd have been opening for national-level bands). Part of their secret was their musical range -- kids loved the Avengers VI for obvious reasons, but adults could also appreciate a band whose repertory encompassed not only covers of familiar surf instrumentals such as "Pipeline," but also mood music and soundtrack-spawned pieces, including Henry Mancini's "Mr. Lucky" and Max Steiner's "Theme from a Summer Place," and Edvard Grieg's "Hall of the Mountain King." The latter was arranged by Bastrup and Ferguson, who also composed originals of no small merit. By the end of 1965, they were also one of the best-equipped instrumental bands working in Southern California, using their ever-rising fees and bookings to purchase top-flight Fender guitars and amps that did justice to their sound, and even utilizing a light-show on-stage, all of which only helped to further enhance their fees. Within two years of their debut, they were getting booked alongside bands like the Astronauts that they'd been idolizing only two years earlier, and they were all still in their teens.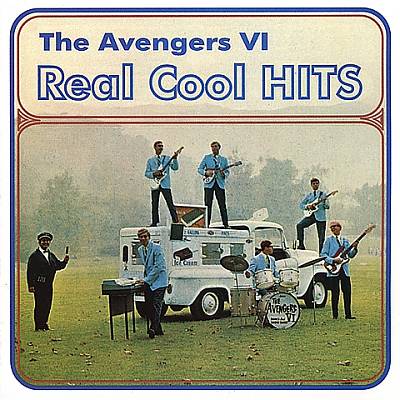 The Avengers VI were good enough that they long outlasted the surf music boom, carrying on well into the psychedelic era. They did add vocals to their sound, and evidently weren't bad in that department, but remained known for their surf-style instrumentals for an amazingly long period of time, right into 1968, and were still getting bookings. In 1966, they also met producer George Garabedian, who owned a small California-based label called Mark 56. The group ended up recording an entire album at his studio, reportedly in one all-night session, entitled Real Cool Hits, which was packaged and released through Good Humor Ice Cream, which sold it from their trucks. The record was great but this proved a less-than-ideal means of distribution, and the Good Humor company's subsequent financial hard times didn't help. But the album was just common enough so that it showed up in used record bins and at garage sales in and around Southern California for decades to come, allowing a cult following to coalesce around the Avengers VI during the 1970s and beyond. For their part, the band ceased to exist at the end of 1968, a remarkable four-year run -- with most of the members not having reached their twenties -- that ended only over the inevitable musical disagreements that spring up over time in all bands. Even with the split, in mid-1969, Bastrup, Pickelle, Ferguson, and Goodwin re-formed as the Californians, who specialized in a wider, more varied sound encompassing far more vocals and embracing folk-rock and its more progressive offshoots. They lasted into the early '70s, getting good bookings in Southern California -- including performances at Disneyland -- and though they never recorded commercially, they did cut demos during the early '70s.
Real Cool Hits outlasted the Avengers VI by decades, and over the years has surfaced in several unauthorized versions on CD and one legitimate edition, mastered from original tapes and released by Bacchus Archives. It's one of the very few archival discoveries of its kind that needs no explanation or apology to be appreciated, along with the band that made it. In the listening as much as the history behind it, that album and the band are what '60s rock & roll was (or should have been) all about.