At various times in his long career, saxophonist, composer, playwright, and educator Archie Shepp has been regarded as a musical firebrand, cultural radical, soulful throwback to the jazz tradition, contemplative veteran explorer, and global jazz statesman. During the '60s, he was viewed as possibly the most articulate and intense member of the free jazz generation, issuing records such as Fire Music, The Way Ahead, and The Magic of Ju-Ju to speak hard truths about social injustice and the anger he felt. His tenor sax solos are searing, harsh, and unrelenting, played with a vivid intensity. During the mid-'70s, his work employed a fatback/swing-based R&B approach evoking Duke Ellington and Ben Webster (exemplified on Body and Soul and On Green Dolphin Street), while in the '80s, on recordings such as Mama Rose, he mixed straight bop, ballads, and blues that displayed little of the fury and fire of his earlier days. Throughout the '90s, Shepp recorded with a slew of bands for many labels, toured, and taught. His latter-day highlights include 2004's Blue Ballads, 2011's Wo! Man with Joachim Kuhn, and 2013's I Hear the Sound with his Attica Blues Orchestra.
Shepp was born in Florida in 1937 but raised in Philadelphia. He studied piano, clarinet, and alto saxophone during elementary and high school before focusing on tenor saxophone. He still occasionally plays soprano saxophone and piano. He studied dramatic literature at Goddard College from 1955 to 1959 and earned his bachelor's degree. He played alto sax in dance bands and sought theatrical work in New York. After encountering John Coltrane in 1958, Shepp switched to tenor; he worked with Cecil Taylor (The World of Cecil Taylor) in 1960, and Gil Evans (Into the Hot, 1961), co-led groups with Bill Dixon, and played in the New York Contemporary Five with Don Cherry and John Tchicai. He led his own bands into the mid-'60s with Roswell Rudd, Bobby Hutcherson, Beaver Harris, and Grachan Moncur III. His early Impulse! albums -- On This Night, Four for Trane, Fire Music, etc. -- included poetry and quotes from James Baldwin and Malcolm X. Shepp's releases sought to paint an aural picture of African-American life, and included compositions based on historical incidents such as the Attica uprising and massacre (Attica Blues, 1969) that grafted mutant funk and R&B onto vanguard big-band jazz). Shepp turned to academia in the late '60s, teaching at SUNY in Buffalo, then the University of Massachusetts at Amherst, where he remained for more than three decades. He also produced plays in New York, among them The Communist in 1965 and Lady Day: A Musical Tragedy in 1972 with trumpeter/composer Cal Massey. In the mid-'70s, Shepp's playing began to shift on his albums. He substituted a more celebratory, and at times reflective attitude on recordings such as A Sea of Faces and There's a Trumpet in My Soul. In 1977, Shepp and pianist Horace Parlan teamed up for Goin Home, an intimate collection of folk and gospel songs that registered on the charts across Europe and won acclaim at home. Shepp toured and recorded extensively in Europe during the '80s, cutting another album with Parlan (Trouble in Mind) as well as Looking at Bird, a set of Charlie Parker-associated tunes with Niels-Henning Ørsted Pedersen. Also in 1980, he appeared in a duo with drummer Max Roach on the seminal Hat Hut outing The Long March. In 1982, Shepp cut one of his best-known outings, Mama Rose, with Jasper van't Hof. The saxophonist recorded for a wide variety of labels. Besides Impulse!, he led dates for BYG, Artista Freedom, Black Saint, Soul Note, Enja, Horo, Denon, Timeless, and many more. He continued recording and touring at a prolific pace: His discography includes more than 100 albums and 300 as a sideman. During the '80s alone, he issued more than 20 albums, and played on dozens more. Among these are En Concert a Banlieues Bleues with Chris McGregor's Brotherhood of Breath, Three for Freedom with Mal Waldron, and Little Red Moon for Soul Note.
During the '90s, Shepp refused to slow down. Still teaching, he spent time writing and having his plays staged, as well as touring, lecturing, and recording. He issued Body and Soul with bassist Richard Davis (1991), The Tenors of Yusef Lateef and Archie Shepp, and Perfect Passions (both 1992), as well as Something to Live For (1997), a standards collection with John Hicks, George Mraz, Eddie Henderson, and Idris Muhammad. He closed the century with Conversations: Archie Shepp Meets Kahil El'Zabar's Ritual Trio for Delmark in 1999.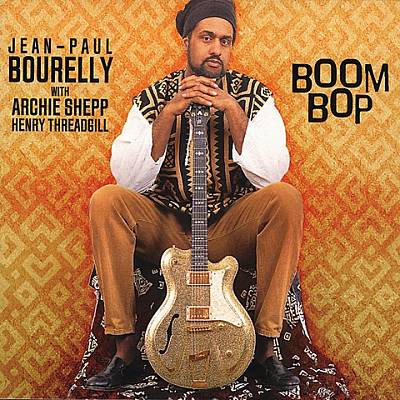 As the 21st century dawned, Shepp had evolved from the provocative free jazz icon of his youth to elder jazz statesman. In 2000, he was co-billed with Henry Threadgill as a featured performer on Jean-Paul Bourelly's Boom Bop and issued a pair of duo offerings over the next couple of years, including Live in New York with Roswell Rudd and Left Alone Revisited with Mal Waldron. In 2005, Shepp founded Archie Ball, his own label, and two years later issued the pioneering Gemini, a jazz and hip-hop collaboration that featured Public Enemy's Chuck D as vocalist. In 2009, he released Phat Jam in Milano with an all-star cast that included Cochemea Gastelum, Oliver Lake, Hamid Drake, and Joe Fonda. Two years later, Shepp teamed with pianist Joachim Kuhn for Wo!man, a duo set that charted in Europe.
Splitting his time living and working between New York and Paris, France, Shepp reassembled the Attica Blues group as the Attica Blues Orchestra for I Hear the Sound, recorded at two jazz festivals in June of 2013. His ensemble comprised younger Europeans and American stars including Amina Claudine Myers on piano and vocals, Ambrose Akinmusire on trumpet, Famoudou Don Moye on drums and percussion, Philippe Durand on guitar, Reggie Washington on bass, and Cecile McLorin Salvant on vocals. That same year, Shepp appeared with the Joachim Kuhn Trio on Voodoo Sense for ACT.
Shepp did not record for the next six years though he did perform. In 2016, he became an NEA Jazz Master. In 2020, he released the album Ocean Bridges, a collaboration between the saxophonist and nephew Jason Moore (rapper and children's author Raw Poetic) and DJ/producer Earl Davis (aka Damu the Fudgemunk). Moore had sent numerous projects to Shepp over the previous two decades, but after the saxophonist heard current work by his nephew with Damu the Fudgemunk, he signed on. Ocean Bridges was improvised live in the studio, placing it firmly in the jazz and freestyle wheelhouse. It was released on Redefinition Records in May 2020.
In December, the 83-year-old saxophonist issued a single and video of the spiritual "Sometimes I Feel Like a Motherless Child" in duo with pianist Jason Moran to announce their February 2021 album Let My People Go on the saxophonist's Archie Ball label. The full-length collected their duet performances from 2017 and 2018.