Singer and French pop enthusiast April March's life would make for a good memoir, though some might not believe its twists and turns, like her stints as an animator for Pee Wee's Playhouse and Ren & Stimpy, hanging out with Brian Wilson, backing Ronnie Spector in concert, and making records around the globe with top-notch producers and players as diverse as Jonathan Richman and Tony Allen. She started out in the early '90s cutting her version of the classic French ye-ye sound, making a big splash with the song "Chick Habit," which turned up in Quintin Tarantino's Death Proof, and her debut album, 1999's Chrominance Decoder. She expanded on those to make garage punk with the Makers, jangly indie rock with Los Cincos, modern orchestral pop on 2002's Triggers with producer Bertrand Burgalat, and slacker indie and disco with Steve Hanft on 2008's Magic Monsters. No matter the setting, March's innate sense of style and her charming voice fit perfectly. It even works when mixed into swirling psychedelia, as on the 2013 album she made with Aquaserge. By the time of her March 2021 album In Cinerama, she had expanded her reach to include Afro-pop, West Coast sunshine pop, and horn-filled '60s soul.
Born Elinor Blake on April 20, 1965, March's interest in France took root in nursery school, where she began learning French from a cartoon puppet named Monsieur Hibou ("Mr. Owl"). Her Francophilia grew in 1979, when she briefly attended junior high in France as an exchange student. She graduated from Phillips Academy Andover in 1983, after which she moved back to New York City to become a cartoon animator at Archie Comics. She graduated to the animation department for Pee Wee's Playhouse in 1984, and created the animated tarot card for Madonna's "Who's That Girl" video.
In early 1987, Blake formed her first band with fellow vocalists Lisa Dembling and Lisa Jenio, a female garage rock-meets-girl group trio named the Pussywillows. They stalled out when she took a year-long break to attend Disney's character animation program; when she returned, the band recorded and released 1988's Spring Fever! EP. The record's vintage sound and girl group attitude helped earn the Pussywillows an opportunity to serve as backing vocalists for Ronnie Spector at Madison Square Garden toward the end of 1990. The Pussywillows split up the following year, with Blake quickly assembling a new band, the Shitbirds, who were inspired by classic '70s punk. Blake was then hired as an animator and writer for The Ren & Stimpy Show, a gig that required her to move to Los Angeles, where she began recording under the name April March, releasing the "Voo Doo Doll"/"Kooky" single for the Kokopop label in 1992. While working on Ren & Stimpy, she met the illustrious power popper Andy Paley when he came in for a meeting regarding a soundtrack album for the show. He and Blake hit it off and she began singing on his demos and on soundtracks he produced. Through Paley, she became friendly with the Beach Boys' Brian Wilson and ended up doing some recording with him as well. She also fell in with Jonathan Richman, a noted lover of French music, who plays guitar on some songs Paley and Blake (and the Shitbirds) recorded for the French label Eurovision. The results of these sessions were released in 1994 on the Gainsbourgsion! EP and in 1995 on the Chick Habit EP, issued by Sympathy for the Record Industry. Both releases showed the depth of her love and understanding of French pop as filtered through a girl group lens. She continued recording with the Shitbirds, though they split up soon after issuing their debut album, Famous Recording Artists, in 1995. That label wrapped up all the songs from those early sessions on the 1996 collection Paris in April.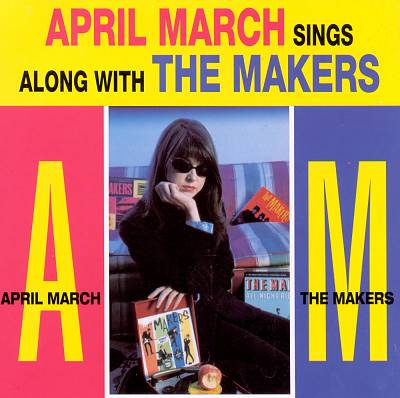 One fan of Blake's work as April March was French producer Bertrand Burgalat, who offered her a chance to make a record with him in France. Sessions took place in studios in Paris and London with guests including Louis Phillipe on guitar and Thee Headcoatees on backing vocals. During some downtime in the recording process, March hooked up with fellow SFTRI artists the Makers for the grungy garage rock collaboration April March Sings Along with the Makers. She also hit the studio with the Bassholes to lay down a noisy cover of ESG's "Moody" and the punk-blues raver "Microscope Feeling" for a single that was released on SFTRI In 1996. The Burgalat sessions were released as Superbanyair in Japan and France. The album is a lovely blend of March's enthusiasm and Burgalat's sophisticated production; it truly sounds like a lost French pop classic from the late '60s.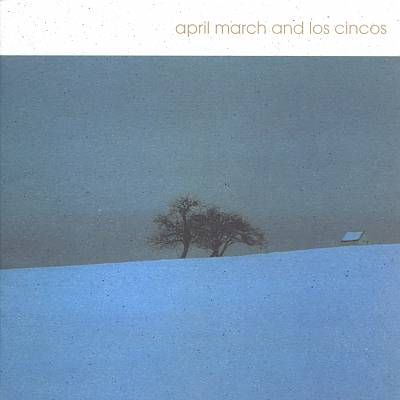 Her next move was to collaborate with the California indie rock band Los Cincos, making one album that had a smoky, late-night feel (April March and Los Cincos) for SFTRI and one for the Japanese label Horen with a looser, more '60s approach complete with psychedelic backing choirs and vintage keys (April March and Los Cincos featuring the Choir). Somewhat surprisingly, considering how many other albums featuring March were on the shelves in the U.S. at the time, it took until 1999 for the Burgalat session to be issued there. With the addition of a few songs that were new to the release, a title change to Chrominance Decoder, and a new label -- Ideal Records, an off-shoot of the Dust Brothers-helmed Nickel Bag Records -- the record was released in 1999. The Brothers themselves provided remixes of two tracks from the album, "Sugar" and "Nothing New." When it came time to record another album, March reteamed with Burgalat and a team of French musicians to create a more modern sound that included drum machines, strings, horns, and far less nostalgia. It took three sessions, spaced very far apart, to get the record together; it finally came out in 2002. Titled Triggers, it was released by Tricatel in France and PIAS everywhere else. March and a live band set off on a six-week European tour to support it. After some time off, March came back with a splash in 2007 when the song "Chick Habit," her reinterpretation of Serge Gainsbourg's "Laisse Tomber les Filles" she had recorded 15 years earlier, appeared in the Quentin Tarantino film Death Proof. Magic Monsters, combining West Coast slacker indie, laid-back disco, and the prerequisite French pop, came out on the Martyrs of Pop label in 2008. After a detour into acting -- she appeared in two films (Slap the Gondola! in 2009 and Cet Air La in 2010) by French experimental filmmaker Marie Losier -- she made guest appearances on Laetitia Sadier's debut solo album The Trip, and Fugue, the first French-language release by Mehdi Zannad (aka Fugu). Also performing on that album was keyboardist Julien Gasc of the band Aquaserge. He and March had met a few years earlier when he was part of her backing band for a concert in Paris. They decided it was a good idea for her to collaborate with Aquaserge and began trading music back and forth between the band's barn in the French countryside and March's New Jersey apartment. The resulting album was produced by John McEntire and is definitely the most dreamily psychedelic entry in March's catalog. French artist Benjamin Schoos' label Freaksville did the honors in 2013. She teamed with Burgalat to provide backing vocals on the Dynamite! soundtrack and recorded a single with Schoos in 2014 titled "J'ai Essayé De T'Aimer," then took another extended break from music. She returned in 2017 on a single for Third Man Records covering the White Stripes song "We're Going to Be Friends" and appeared on the 2019 album Rouen Dreams by Jean-Emmanuel Deluxe & Friends. Her connection with Third Man continued when she joined one of the label's artists, Olivia Jean, on the 2021 Palladium EP, where the singers each take on the same three songs in their own fashion.
During this time, March was also working on an album with producer Mehdi Zannad and a cast list that included many previous collaborators like Andy Paley, Petra & Rachel Haden, Danny Frankel, and Bennet Rogers, as well as new compatriots like legendary drummer Tony Allen, vocalist Lola Kirke, and Marilyn Rovell Wilson of Spring. 2021's In Cinerama touches on familiar sounds like girl group and French pop (though from later in the '60s) while also folding in confessional soft rock, lilting Afro-pop, string- and horn-heavy orchestral pop, and loads of vocal harmonies along the way, becoming March's most diverse offering to date.