Anuel AA is a Puerto Rican MC whose thoroughly urban music seamlessly melds reggaeton and trap. He is one of the Boricua rappers who spearheaded the Latin trap movement. His uncompromising lyrics heavily detail sex ("Sola"), drugs ("Ayer"), and murder ("Nunca Sapo"). While his songs (and those of other Latin trap stars) are too risqué to be played on the radio, he quickly gained millions of followers through posting videos online and an intensely active social media presence -- mostly while in prison. According to many, Anuel AA is the true king of Latin trap since many other genre stars rose to prominence during his absence. His three studio albums -- 2020's Emmanuel and 2021's Los Dioses (with Ozuna) and Las Leyendas Nunca Mueren -- all hit number one on the Top Latin Albums chart.
Born Emmanuel Santiago Gazmey, his father, José Gazmey, was the vice-president of the A&R department of Sony Music Entertainment's Puerto Rican division. After Anuel AA began posting songs online in 2010, they racked up thousands of hits from around the world. With assistance from Ñengo Flow, Ozuna, Arcángel, and others, his gritty, bouncy sound and aggressive lyric attack gained popularity via millions of views for his early singles and remixes, and came to the attention of Rick Ross, who signed him to the Latin division of Maybach Music Group. Anuel AA released a well-received mixtape in February 2016.
He was arrested on charges of gun possession when various firearms and ammunition were discovered in the trunk of a car in which he was a passenger, resulting in the #FreeAnuel hashtag campaign among his international fan base. Nevertheless, his management continued uploading songs from his vault while he was incarcerated. He even managed to record new material behind bars. "Yesterday 2" featured collaborations from J Balvin, Nicky Jam, and Cosculluela. Anuel AA continued recording while inside; however, he often sang through phones during calls. His videos resonated with fans and racked up over 500 million views. Numerous songs featuring his voice appeared with some regularity. Ozuna labeled him a guest on "Bebé," the hit single from his successful 2017 album Odisea -- which spent 32 consecutive weeks comfortably atop Billboard's Top Latin Albums. Released in December 2016, a remix of Anuel AA's own "Sola" had noteworthy guests such as Daddy Yankee and Wisin participating. Other singles sporting Anuel verses included Arcángel's "Rojo," Farruko's "Liberace," and Ñengo Flow's "47." Some earned RIAA Latin certifications. Anuel AA received a platinum certification for the single "Ayer," produced by DJ Nelson.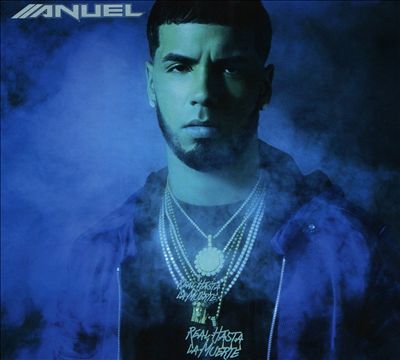 Anuel AA, who spent no less than 90 days in solitary confinement, surprised the music world by releasing the full-length album Real Hasta La Muerte to streaming and digital platforms in 2018. It debuted at number 51 on the Billboard 200 and claimed the top spot on Top Latin Albums, taking Odisea down a peg. The Ozuna-assisted party anthem "Brindemos" appeared at number 48 on Hot Latin Songs before an actual video was released. After being awarded the Billboard Latin Music Award for New Artist of the Year in 2019, Anuel AA issued a barrage of tracks off his 2020 album Emmanuel, including the Karol G collaborations "Secreto" and "China," the latter of which also included Daddy Yankee. New tracks continued to leak out into 2020, and in May of that year Anuel AA appeared alongside Nicki Minaj on a remix of Black Jonas Point's song "La Bebe." Other collaborators on the full-length included Travis Barker (on a Spanish cover of Bob Marley's "No Woman, No Cry"), Karol G, Tego Calderon, Bad Bunny, Farruko, Lil Wayne, Zion, and more. The 22-track Emmanuel entered the Top 200 at number eight and was eventually certified six times platinum (Latin).
In January 2021, Anuel AA released Los Dioses, a collaborative album with Ozuna. It became his third set to top Billboard's Latin Albums chart. Later in the year, "Location" (with Karol G) and "Los de Siempre" (with Chris Jedi) appeared. In November, he issued Las Leyendas Nunca Mueren. It debuted at number one on the Hot Latin Albums chart and began its run on the Top 200 at number 29. He followed it with a completely sold out, eight month tour.
In March 2022, the reggaetonero was back. He issued the single "Si Tu Me Busca," in collaboration with rapper/girlfriend Yailin la Mas Viral. It peaked at number 12 on Latin Digital Songs and charted in eight countries. May's "¿Qué Nos Pasó?," hit in over a dozen. On June 10, he and Yailin la Mas Viral announced their surprise marriage. In July, "La Llevo Al Cielo" (ft. Ñengo Flow) charted in more than 20 countries including the United States and Puerto Rico. Anuel AA followed with the video single "Malo," with collaborative help from Randy and Zion. It registered more than 14 million views during its first week of release. On July 29, he cancelled his long-planned U.S. tour in order to "recharge his batteries" and finish his fourth album.