Multi-talented Zephire "Andre" Williams wore many musical hats during his long career: recording artist, songwriter, producer, road manager, and so on. The Father of Rap was born November 1, 1936 in Chicago, Illinois and was raised in a housing project by his mother, who died when Williams was six years old. Thereafter, Williams' aunts raised the precocious lad, who had already become quite the character. The R&B legend is best known for co-writing and producing "Twine Time" for Alvin Cash & the Crawlers, "Shake a Tail Feather" by the Five Dutones, and a greasy solo recording, "Bacon Fat," where Williams talked over a funky, crude rhythm.
A slick, street-smart, dapper Dan, music was one of Williams' hustles. He ventured to Detroit in his late teens and befriended Jack and Devora Brown, the owners of Fortune Records. He started singing with the Don Juans, a group in which the Browns titled their 45s according to who sang lead, something Gwen Gordy and Billy Davis later did with the Voicemasters. At Fortune, Williams became adept at putting songs together. To date, he has more than 230 compositions registered with BMI. In 1956, Fortune issued seven singles by Williams, all but two co-billed with the Don Juans: "Going Down to Tia Juana," "It's All Over," "Bacon Fat," "Mean Jean," "Jail Bait," "The Greasy Chicken," and "Country Girl." "Bacon Fat" and "Jail Bait" were solo shots; the former got a boost from Epic Records, which took over the distribution when the demand got too great for Fortune to handle. Fortune also released "Ooh Ooh Those Eyes" by Don Lake & the Don Juans, and two by pianist Joe Weaver & the Don Juans, "Baby I Love You" and "Baby Child," in 1956. Little Eddie & the Don Juans recorded the first Don Juans record on Fortune, "This Is a Miracle" b/w "Calypso Beat," in 1955. Williams later sang with the Five Dollars, who released records on Fortune from 1956 to 1957, and were billed as Andre Williams & the Five Dollars on a 1960 release.
Doing his Fortune stint, Williams kept busy playing the popular clubs in Detroit and other locales, including the Flamingo Club in Memphis, Tennessee. His biggest solo hit, "Bacon Fat," was created during a drive to the Flamingo. When he got back to Detroit he persuaded Devora Brown to book a session. Fortune's recording studio was in the back room of a record shop the Browns owned. "Bacon Fat" was Williams' third single for Fortune; he didn't even have the lyrics written, but hurried and did so on a napkin while Devora busied herself setting up the studio mikes. Thank God for DJ Frantic Eddie Durham, who observed the session. He was the only one who understood what was going on. Everyone else, including Joe Weaver, thought Williams was wasting time and money with this talk-singing. Williams and Durham proved them wrong when "Bacon Fat" took off, becoming, with "The Wind" by Nolan Strong & the Diablos, Fortune's most popular record. Williams started talking instead of singing because he knew he couldn't compete vocally with Nolan Strong, Clyde McPhatter, Little Willie John, Jackie Wilson, and others. He created a new style that was later adapted by Harvey Fuqua ("Any Way You Wanna"), Jerry-O, Shorty Long, Bootsy Collins, and others.
After Fortune, Williams languished with Berry Gordy and Motown from 1961 to 1965. He signed as an artist, producer, and writer. His only 45, "Rosa Lee" b/w "Shoo Ooo," was scheduled for release on Gordy's short-lived Miracle label, but was never issued. Gina Parks, a friend from the Don Juans, enjoyed a couple more solo releases on Motown labels but none scored. Williams co-wrote Little Stevie Wonder's first record, "Thank You for Loving Me"; "Oh Little Boy What You Do to Me," the flip of Mary Wells' "My Guy"; an early Eddie Holland single, "If Cleopatra Took a Chance," and "Mojo Hannah," recorded first by Henry Lumpkin, then Marvin Gaye (outside of Motown it's been remade by Tami Lynn, the Ideals, the Neville Brothers, and others).
His relationship with Berry Gordy was one of mutual respect, but stormy. He never conformed to Gordy's way of doing things, and the four years he spent at Motown weren't consecutive. When Williams got under Gordy's skin, Gordy fired him; Williams would leave for a few months and produce a hit for someone on another label, and Gordy would invite him back. Williams was still associating with Motown when he masterminded "Shake a Tail Feather" for the Five Dutones and "Twine Time" for Alvin Cash & the Crawlers, on George Leaner's Onederful Records in Chicago. Williams cut a lot of tracks for the Contours; by his estimate he supervised at least two albums' worth of material for the wild, raucous, dancing group, but few were released. During this time Williams co-wrote "Girls Are Getting Prettier," a non-hit for Edwin Starr on Ric Tic Records. At one point, Williams was Starr's road manager.
By 1965, Williams left Motown for good to sign with Chicago's Chess Records and had a string of R&B releases including "The Stroke," "Girdle Up," "Humpin' Bumpin' & Thumpin'," and "Cadillac Jack." His legend grew. A nefarious character but a good entertainer, Williams wore lavender suits, and continued to entertain crowds at bucket-of-blood-type establishments. He produced and wrote for more acts than he remembers, including "The Funky Judge" by Bull & the Matadors on Toddlin' Town Records. An 18-month stint with Ike Turner led to Williams' hitting rock bottom; after the experience he returned to Chicago a full-blown street junkie and was on the verge of self-destruction for years. His biggest period as an artist came around 1960 when Fortune released the LP Jail Bait. He contributed to many sessions, including some for Parliament, Jesse James, Funkadelic, the Red Hot Chili Peppers, the Spinners, Trey Lewd (George Clinton's son), and Amos Milburn. He produced tracks for Mary Wells when she left Motown for 20th Century Fox Records.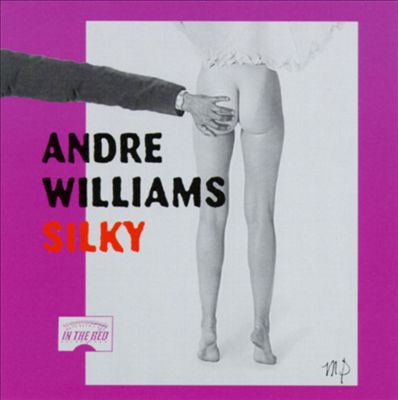 Williams moved to Queens, New York, and again became active in the business of music. He performed at much better venues then he did during his Jail Bait years, dazzling audiences with his swagger and loud, pimpish wardrobe. He released more albums in the '90s than he did during the first 40 years of his career, including Silky and Directly from the Streets. The Black Godfather and Fat Back & Corn Liquor followed in 2000. He paired with the New Orleans Hellhounds for 2008's Can You Deal with It? on Bloodshot Records. For 2010's That's All I Need, also on Bloodshot Records, Williams worked with Detroit musicians, including members of the Dirtbombs, the Witches, and the Volebeats, as well as the Funk Brothers' Dennis Coffey. Not slowing down one bit, Williams teamed with Coffey again, along with guitarist Matt Smith and guests Jim White, Greasy Carlisi, Jim Diamond, and Don Was for a funky psychedelic-folk-rock-garage-R&B romp, Hoods and Shades, which appeared on Bloodshot early in 2012.
Night & Day was his second full-length release of 2012, and second collaborative LP with Toronto alt-country act the Sadies (following 1999's Red Dirt). Sessions for Night & Day were begun in 2008 amid Williams' troubles with drugs and the law, but rounded out a few years later when he returned to the studio clean and sober. It was finally released in the spring of 2012. Williams, sober and free of legal problems, was on a creative roll. Life, recorded in Detroit, and led by the controversial (and very tongue-in-cheek) single "Blame It on Obama," appeared in October that same year. After an uncharacteristically long layoff of four years, Williams returned with an album celebrating his former hometown, 2016's I Wanna Go Back to Detroit City. Released a few months before Williams' 80th birthday, the album included contributions from Dennis Coffey, Matthew Smith, and Dan Kroha. Before 2016 was out, Williams dropped a second album, Don't Ever Give Up. The title proved to be sadly ironic; it was the last album Williams would release before his death on March 17, 2019.