The career of singer, songwriter, and producer Aloe Blacc has been filled with sharp creative turns reflective of a diverse listening background. Since starting with underground rap recordings, he's had a crossover hit rooted in gritty soul ("I Need a Dollar," 2010), a global country/folk-EDM smash produced by Avicii ("Wake Me Up," 2013), and an album nominated for a Grammy (Lift Your Spirit, also 2013), all followed with a set that has further refined his amiable hybrid approach (All Love Everything, 2020). Despite a broad range of recordings throughout a career that dates back to the latter half of the 1990s, Aloe has consistently maintained a blue-collar everyman quality -- as enhanced by his rustic tenor voice -- with most of his writing rooted in reality yet typically feel-good and uplifting in nature. Along with fellow traveler Mayer Hawthorne, Aloe made the revered independent label Stones Throw an unlikely and unintentional launching pad for sustained above-ground success.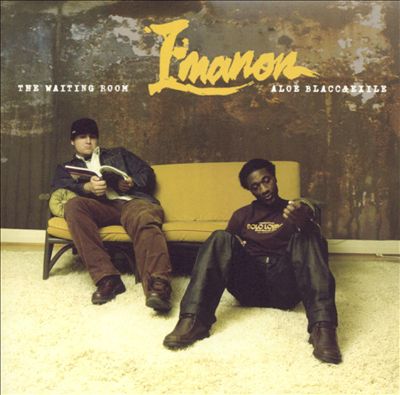 Aloe Blacc, born Egbert Nathaniel Dawkins III to Panamanian immigrants, was raised in California's Orange County. He absorbed styles such as cumbia, merengue, and salsa in his household, and eventually hip-hop in his environment. While in elementary school, he began playing trumpet and started writing rhymes. These pursuits continued through high school. As simply Aloe, he made his recorded debut as a teenager in 1996 on Imaginary Friends, a mixtape by Exile (credited then as Eksile). Aloe and Exile continued to work together as Emanon, primarily through the 12" single format, and in 2004 released a proper album, The Waiting Room. By this time, Aloe had fallen hard for the works of classic soul artists such as Donny Hathaway and Marvin Gaye, and while studying at the University of Southern California had also pored over contemporaneous folk-rock recordings.
A few low-key solo Aloe releases issued amid Emanon activity led to an affiliation with Peanut Butter Wolf's Stones Throw label. The deal yielded two albums of considerably different makeup. Shine Through, released in 2006, was a patchwork exemplified by an off-center update of Sam Cooke's "A Change Is Gonna Come" and a Spanish-language salsa version of John Legend's "Ordinary People." For the comparatively refined Good Things, issued four years later, Aloe focused on songwriting, emphasizing universal and timeless lyrics, and left the production to Leon Michaels and Jeff Dynamite. Its foundation in vintage soul and funk was indicated several months ahead of release with lead single "I Need a Dollar." Licensed outside the U.S. to a number of major labels, the song was most successful in the U.K. (via Epic), where it reached number two on the pop chart. It went Top Ten in several other territories and was used as the theme for the HBO series How to Make It in America. Aloe's next release was with Roseaux, a French group guided by Radio Nova figure Emile Omar. Recorded between his solo albums but not issued until 2012, Roseaux stylistically ranged from bossa nova to folk-rock with covers of songs originally recorded by the motley likes of D.J. Rogers, the Police, Blaze, and Pearl Jam.
Aloe signed with major-label Interscope prior to the end of 2012, but his next big move was in support of producer Avicii. Aloe co-wrote and fronted "Wake Me Up," a country/folk-EDM hybrid that reached number one in Avicii's native Sweden while topping dozens of charts elsewhere, thus becoming one of 2013's biggest global pop hits. The week the song peaked in the U.S. at number four, Aloe released the polished and composite-oriented Lift Your Spirit, produced primarily by DJ Khalil with contributions from Pharrell Williams, Theron Feemster, and Rock Mafia. The album coincidentally entered the Billboard 200 at number four. It featured an "acoustic" version of "Wake Me Up" but was highlighted by the anthemic "The Man," a retro-contemporary fusion of gospel, soul, and pop that quoted Elton John's "The Man." The single reached number eight in the U.S. and topped the U.K. chart. Its parent release was subsequently nominated for a Grammy in the category of Best R&B Album.
Between albums, Aloe became increasingly involved with philanthropic efforts and multiplied his number of featured collaborations by recording with artists including Fashawn ("Something to Believe In"), Owl City ("Verge"), Zedd ("Candyman"), and Tiësto ("Carry You Home"). He also collaborated with wife Maya Jupiter, contributed to The Hamilton Mixtape, and kept Emanon afloat with Exile. Aloe issued a handful of stand-alone solo cuts across 2016 and 2017 that led to increased activity in 2018. He was featured in America's Musical Journey and recorded "My Story" for the documentary, then released "Make Way" and "Brooklyn in the Summer" as supplemental singles. He also issued a holiday-themed album, Christmas Funk.
Aloe continued to expand his collaborative network and release new material throughout 2019 and 2020. He co-starred on consistently uplifting tracks by the likes of Avicii (the posthumous hit "SOS"), Lost Frequencies ("Truth Never Lies"), David Guetta ("Never Be Alone"), Flight Facilities ("Better Than Ever"), Young Bombs ("Better Day"), and Mesto ("Don't Worry"). The positive energy carried into the making of All Love Everything, Aloe's fourth proper album, which arrived in the fourth quarter of the latter year.