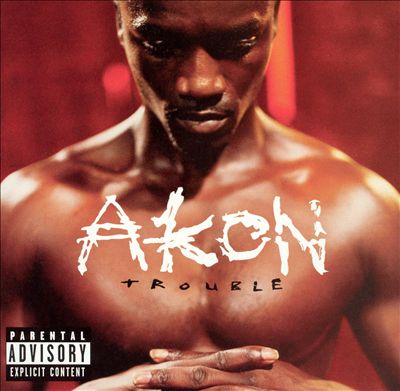 Mixing smooth R&B vocals with hip-hop grooves, Senegalese-American singer, producer, and entrepreneur Akon first gained fame with the single "Locked Up," from his 2004 debut album, Trouble. A Top Ten hit in the U.S. and U.K., the song helped Trouble go platinum, a certification achieved several times over on subsequent albums including 2006's Konvicted and 2008's Freedom. Along with his music, Akon founded his own Konvict label, helping launch the careers of artists including T-Pain, Lady Gaga, and Kardinal Offishall. He has showcased these label connections on 2013's Konvict Mixtape, Vol. 1 and 2017's Konvict Kartel, Vol. 2.
Born Aliaune Damala Badara Akon Thiam in St. Louis, Missouri, in 1973, Akon grew up in Senegal before he and his family (including his father, jazz percussionist Mor Thiam) returned to the United States and settled in New Jersey when he was seven. There he discovered hip-hop for the first time, as well as crime. He was eventually jailed, but he used the time -- a total of three years, he claimed -- to work on his musical ideas. Upon release, Akon began writing and recording tracks in a home studio. The tapes found their way to SRC/Universal, which eventually released Trouble, Akon's debut LP, in June 2004. The album was an interesting hybrid of Akon's silky vocals with East Coast- and Southern-styled beats. The success of the song "Locked Up," a Top Ten Billboard Hot 100 hit, made Akon a star and desired collaborator. After appearing on Young Jeezy's "Soul Survivor," his number of guest appearances seemed to multiply each month. Konvicted, his second album, was released in November 2006. Soon enough, two of the album's singles, "I Wanna Love You" and "Smack That," made their way to the upper regions of the Billboard charts.
A significant stylistic shift occurred with Freedom, his third album. The December 2008 release avoided the rugged hip-hop/R&B hybrid of his earlier work and courted a broader audience with a dance-oriented Europop sound. Despite the bold change, the album repeated Konvicted's chart success by peaking within the Top Ten of the Billboard 200; "Right Now (Na Na Na)," its most successful single, reached the Top Ten of the Hot 100. Akon slowed his own output but subsequently collaborated with dozens of artists, including David Guetta (the world-wide smash "Sexy Bitch," 2009), Artists for Haiti ("We Are the World 25 for Haiti," 2010), parodists the Lonely Island ("I Just Had Sex," 2010), and close friend Michael Jackson ("Hold My Hand," 2010). A fourth album, Stadium -- originally planned for a 2010 release -- was delayed several times and eventually abandoned altogether. However, the single "Angel" did emerge in September 2010. Also that year, Akon collaborated with Dr. Dre on the track "Kush."
Another stand-alone single, "Dirty Work" featuring Wiz Khalifa, arrived in February 2013 and was followed that November by "So Blue." After signing a new contract with Atlantic, Akon issued several singles in 2015 and 2016 including "Want Some," "Hypnotized," and "Good Girls Lie." He then joined Chris Brown and Gucci Mane for the Michael Jackson-tribute single "Moon Walk." The following year, he issued the mixtape Konvict Kartel, Vol. 2. In 2019, Akon released the Latin-influenced single "Get Money," featuring Puerto Rican rapper/singer Anuel AA. It was the first track from his fourth studio album, 2019's El Negreeto, issued on his own Akonik imprint.