A seminal Bronx DJ during the 1970s, Afrika Bambaataa ascended to godfather status with "Planet Rock," the 1982 hip-hop classic that blended the beats of hip-hop with techno-pop futurism inspired by German pioneers Kraftwerk. Even before he began recording in 1980, Bambaataa was hip-hop's foremost DJ, an organizer and promoter of the large block parties during the mid- to late '70s that presaged the rise of rap. After the success of "Planet Rock," he recorded electro-oriented rap only sparingly, concentrating instead on fusion -- exemplified by his singles with ex-Sex Pistol John Lydon and fellow godfather James Brown. Bambaataa had moved to the background by the late '80s (as far as hip-hop was concerned), but the rise of his Zulu Nation collective -- including De La Soul, Queen Latifah, A Tribe Called Quest, and the Jungle Brothers -- found him once more being tipped as one of rap's founding fathers.
Born in the Bronx on April 17, 1957, Afrika Bambaataa Aasim took his name from a 19th century Zulu chief. Beginning in 1977, Bambaataa began organizing block parties and breakdancing competitions around the Bronx. His excellent turntable techniques and knowledge of music led many to proclaim him the best DJ in the business (though Grandmaster Flash and DJ Kool Herc were more innovative), and his record debut -- as a producer -- came in 1980 with Soul Sonic Force's "Zulu Nation Throwdown." The single was a rallying cry for the Zulu Nation, a group of like-minded Afrocentric musicians who only gained fame in the late '80s but had been influencing the rise of hip-hop crews since the late '70s.
Aside from more production credits on several later singles during 1980-1981, Afrika Bambaataa didn't become an actual recording artist until 1982. He signed with Tommy Boy Records and released his first single, "Jazzy Sensation," early that year. "Planet Rock" followed in June and quickly exploded. Recorded with the help of producer/dancefloor authority Arthur Baker and assimilating the melody of Kraftwerk's "Trans-Europe Express," the single hit number four on the R&B charts (but missed the pop Top 40) and joined the Sugarhill Gang's "Rapper's Delight" as one of the early classics of hip-hop. (Grandmaster Flash's "The Message" followed just three months later.) In the single's wake came dozens of electro groups and recordings, though none touched the quality of "Planet Rock" -- except, perhaps, Bambaataa's own follow-up, "Looking for the Perfect Beat." Out of those electro groups came several predominant dance styles of the 1980s and '90s: Detroit techno, Miami bass, and, to a more limited extent, Chicago house.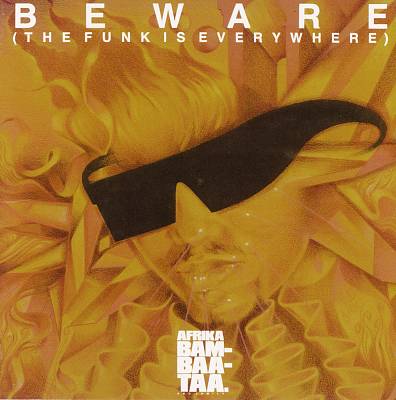 Freed somewhat by his newfound popularity, Afrika Bambaataa began branching out in 1984, recording "Unity" with help from James Brown and "World Destruction" with John Lydon (as Time Zone). That same year, Bambaataa delivered an album debut of sorts, Shango Funk Theology, recorded as Shango with Material personnel Bill Laswell and Michael Beinhorn. A virtually LP-length single titled "Funk You!" appeared in 1985, after which Bambaataa recorded his proper album debut, Beware (The Funk Is Everywhere). He left Tommy Boy in 1986 after an album compilation of "Planet Rock" mixes, and signed with Capitol. The first album release for the label was 1988's The Light, recorded as Afrika Bambaataa & the Family, which included contributions from George Clinton, UB40, Bootsy Collins, and Boy George. Three years later, Bambaataa's third album, 1990-2000: Decade of Darkness, was released on Capitol, coinciding with his career retrospective Time Zone, released on his own Planet Rock Records. Bambaataa recorded erratically during the '90s, but returned to the mainstream in 1997 with Zulu Groove. The new millennium brought the release of Hydraulic Funk on Strictly Hype, and Electro Funk Breakdown followed in early 2001.
Starting in the early 2000s, Bambaataa also performed as a voice actor on the kung-fu-meets-hip-hop TV series Kung Faux, which also featured the voices of Biz Markie, Jean Grae, and Sadat X during its run. In 2004, he worked with artists including WestBam, Manu Dibango, and Gary Numan on Dark Matter Moving at the Speed of Light, which featured a cover of Numan's "Metal" that spawned a 2005 remix EP. The following year, Bambaataa collaborated with Jamelia, Mekon, and the Bassheads, and he was nominated for induction into the Rock and Roll Hall of Fame in 2007. In 2012, he began a three-year term as a visiting scholar at Cornell University, with his archives arriving at the school in 2013 (a 2016 National Endowment for the Humanities grant helped the university maintain the collection of vinyl albums, books, papers, and video and audio recordings). In 2017, Bambaataa released "Bring It Up," an EDM-tinged single released by Dance Floor Corporation.