Championed by fellow rapper Drake and The Fader magazine before he released his first full-length project, self-proclaimed hood outcast A$AP Rocky became one of the biggest breakout stars of the 2010s. When the decade was over, the rapper had a pair of number one albums with Long.Live.A$AP (2013) and At.Long.Last.A$AP (2015), and a Top Ten entry with third LP Testing (2018). These full-lengths were promoted with some of the most popular songs of the era, most notably the Grammy-nominated Top Ten pop hit "Fuckin' Problems," plus seven additional singles that went either platinum or multi-platinum. Supported by A$AP Mob and eager collaborators ranging from Kendrick Lamar and 2 Chainz to Skepta and Skrillex, Rocky himself has assisted with hits headlined by Selena Gomez ("Good for You"), G-Eazy ("No Limit"), and Famous Dex ("Pick It Up").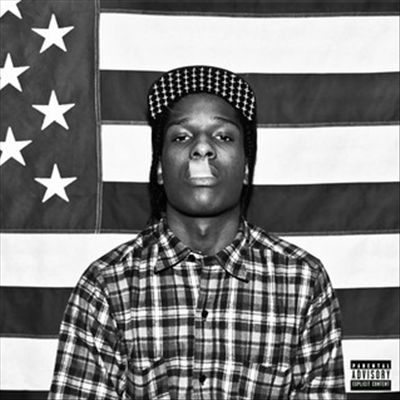 A$AP Rocky, born Rakim Athelaston Mayers and also known as Lord Flacko, gave up slinging drugs in his native Harlem and started rapping after he moved to Elmwood Park, New Jersey. By the time he completed his GED, he had attained underground clout for tracks such as "Peso and Trilla," promising cuts bearing the boisterous spirit of Harlem's Diplomats and the casual swagger of Houston's UGK as influences. In 2011, Rocky released his first full-length project, the street album Live.Love.A$AP. After he signed a reportedly large RCA deal -- one that also enabled him to establish the A$AP Worldwide label with fellow A$AP Mob member A$AP Yams -- the album was re-released in February 2012. Still without an official debut album, the rapper rounded out the year with a nomination for the BBC Sound of 2012 poll, played Lana Del Rey's husband in the singer's "National Anthem" video, and landed a spot in a television commercial for the popular video game FIFA Soccer 13. He was also featured on a remix of Rihanna's "Cockiness (I Love It)," and appeared on a slew of other tracks, including ScHoolboy Q's gold-certified "Hands on the Wheel."
This all primed Rocky for true takeoff with his official debut album, Long.Live.A$AP. Released in January 2013, it topped the Billboard 200. Its biggest single, "Fuckin' Problems" (featuring Kendrick Lamar, Drake, and 2 Chainz), peaked at number eight on the Hot 100, went multi-platinum, and was nominated for a Grammy in the category of Best Rap Song. The second single, "Wild for the Night" (with Skrillex and Birdy Nam Nam), likewise went multi-platinum. It was followed in May 2015 by At.Long.Last.A$AP. Executive produced by Danger Mouse and Juicy J, it became Rocky's second number one LP, supported with a trio of platinum hits: "Lord Pretty Flacko Jodye 2 (LPFJ2)," "Everyday" (featuring Rod Stewart, Miguel, and Mark Ronson), and "LSD" (its video was up for a Grammy).
Over the next two years, Rocky was very much in demand as a featured collaborator. Among the singles on which he appeared were Selena Gomez's "Good for You" and G-Eazy's "No Limit" -- both Top Ten pop hits -- as well as the Black Eyed Peas' "Where Is the Love?," Mura Masa's "Love Sick," and Famous Dex's "Pick It Up." In May 2018, following an appearance on the Uncle Drew soundtrack, Rocky returned with his third solo album, Testing, which hit the Billboard 200 at number four. "A$AP Forever" and "Praise the Lord (Da Shine)," respectively featuring Moby and Skepta, became Rocky's seventh and eighth platinum-certified singles as a headliner. He finished out the decade with a handful of featured appearances and singles, including the charting "Babushka Boi." Rocky was largely quiet during 2020 but kicked off the following year with the slowthai collaboration "MAZZA" and solo contribution to the Judas and the Black Messiah soundtrack called "Rich Nigga Problems." More collaborations followed in 2022, including "Doja" with $not and "Lost and Found Freestyle 2019" with Tyler, The Creator and Nigo.