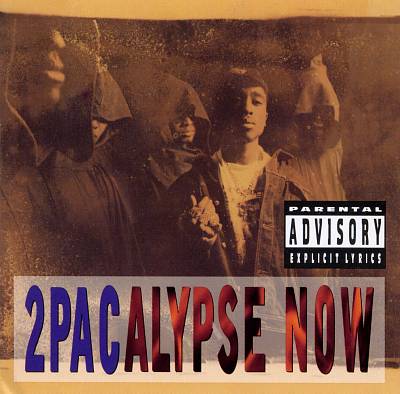 A natural ability to appeal to hedonists and revolutionaries alike, combined with charismatic star power and unapologetic threat, made 2Pac one of the most fascinating and successful rappers of the '90s. These qualities, along with his oft-imitated but never replicated flow, have made him an enduring influence on hip-hop decades after his tragic death. 2Pac emerged in 1991 as an ancillary member of Digital Underground, appearing on the group's Top Ten R&B/hip-hop single "Same Song," and by the end of the year earned a reputation as a firebrand with his acclaimed solo debut, 2Pacalypse Now. This was followed at the top of 1992 with a star-making performance in the crime thriller Juice, his first of many major acting roles. In only a few more years, 2Pac racked up a slew of varied Top 20 pop hits, from "I Get Around" and "Keep Ya Head Up" to "Dear Mama" and the chart-topping "California Love," and put together a concurrent streak of platinum full-lengths, namely Strictly 4 My N.I.G.G.A.Z. (1993), Me Against the World (1995), and All Eyez on Me (1996). Even considering the turbulent life he led, his murder in September 1996 came as a shock. 2Pac's legacy has grown exponentially with help from over a half-dozen Top Ten posthumous releases, a greater number of documentaries, and an induction into the Rock and Roll Hall of Fame.
The son of two Black Panther members, Tupac Amaru Shakur was born in New York City. His parents had separated before he was born, and his mother moved him and his sister around the country for much of their childhood. Frequently, the family was at the poverty level, but Shakur managed to gain acceptance to the prestigious Baltimore School of the Arts as a teenager. While he was at the school, his creative side flourished, as he began writing raps and acting. Before he could graduate, his family moved to Marin City, California, when he was 17 years old. Over the next few years, he lived on the streets and began hustling. Eventually, he met Shock-G, the leader of Digital Underground. The Oakland-based crew hired him as a dancer and roadie, and as he toured with the group, he worked on his own material. In January 1991, Shakur made his first recorded appearance as 2Pac on "Same Song," a number seven R&B/hip-hop hit from the group's This Is an EP Release. He also appeared on their second full-length, Sons of the P, issued that October. A month later, 2Pac released his solo debut, 2Pacalypse Now, for Interscope Records. The album reached number 63 on the Billboard 200 and eventually went gold with help from "Brenda's Got a Baby," a single that peaked at number 23 on the R&B/hip-hop chart. More attention came from Vice-President Dan Quayle, who condemned the lyrics of "Soulja's Story" while campaigning for re-election that year.
2Pac's profile was raised considerably by his acclaimed role in the Ernest Dickerson film Juice, which led to a lead role in John Singleton's Poetic Justice the following year. By the time the film hit theaters, 2Pac had released his second album, Strictly 4 My N.I.G.G.A.Z., which became a platinum recording, peaking at number four on the R&B/hip-hop chart (number 24 on the Billboard 200) and launching the Top Ten R&B/hip-hop singles "I Get Around" and "Keep Ya Head Up," which peaked at number 11 and 12, respectively, on the Hot 100. Late in 1993, he acted in the basketball movie Above the Rim.
As 2Pac sold records and earned praise for his music and acting, he began having serious altercations with the law. He faced numerous criminal and civil cases, and in 1994 was found guilty of sexual assault. The day before the verdict was announced, he was robbed, beaten, and shot by three men while he was in the lobby of a New York City recording studio. In February 1995, 2Pac was sentenced to 18 months to four-and-a-half years in prison, and began serving his sentence later that month. He was in jail when his third album, Me Against the World, was released in March. The record entered the Billboard 200 at number one, making 2Pac the first artist to top the chart while serving a prison sentence. While he was in prison, he accused the Notorious B.I.G., Puffy Combs, Andre Harrell, and his own close friend Randy "Stretch" Walker of orchestrating his New York shooting. 2Pac served only eight months of his sentence, as Suge Knight, the president of Death Row Records, arranged for parole and posted bond for the rapper. By the end of the year, 2Pac was out of prison and working on his debut for Death Row. Meanwhile, 2Pac received his first two Grammy nominations. Me Against the World was up for Best Rap Album, while the ballad "Dear Mama," a number nine pop hit, was among the nominees for Best Rap Solo Performance.
2Pac's Death Row debut, All Eyez on Me, was the first double-disc of original material in hip-hop history. It debuted at number one upon its February 1996 release, and would be certified quintuple platinum by the fall. Although he had another hit album, a number one pop single (the Dr. Dre collaboration "California Love"), and three more Grammy nominations to his credit, 2Pac was tiring of hip-hop and started to concentrate on acting. During the summer of 1996, he completed two films, the thriller Bullet and the dark comedy Gridlock'd, which also starred Tim Roth. He also made some recordings for Death Row, which was quickly disintegrating without Dre as the house producer, and as Knight became heavily involved in illegal activities.
At the time he was murdered, in September 1996, there were indications that 2Pac was considering leaving Death Row, and maybe even rap, behind. None of those theories can be confirmed, just as the reasons behind his shooting remain mysterious. Following an altercation in the lobby of the MGM Grand Las Vegas, 2Pac was shot four times while riding in Knight's sedan. He was admitted to the University Medical Center of Southern Nevada, and died from his wounds six days later, on September 13.
Hundreds of mourners appeared at the hospital upon news of 2Pac's death, and the entire entertainment industry mourned his passing. There were no leads in the case, but many believed the tragedy would end the much-hyped East Coast/West Coast hip-hop rivalry. Sadly, six months after the murder of 2Pac, the Notorious B.I.G. was murdered under similar circumstances. As 2Pac's profile increased in the wake of his death, a series of Top Ten posthumous releases followed. Among the first were Don Killuminati: The 7 Day Theory (issued under the alias Makaveli in 1996), R U Still Down? (Remember Me) (1997), and Still I Rise (1999), as well as the Top 40, Grammy-nominated single "Changes." Additional albums Until the End of Time (2001), Better Dayz (2002), Loyal to the Game (2004), and Pac's Life (2006) followed the next decade. There have been well over a dozen 2Pac documentaries, such as the Academy Award-nominated Tupac: Resurrection. In 2017, 2Pac was inducted into the Rock & Roll Hall of Fame by Snoop Dogg.